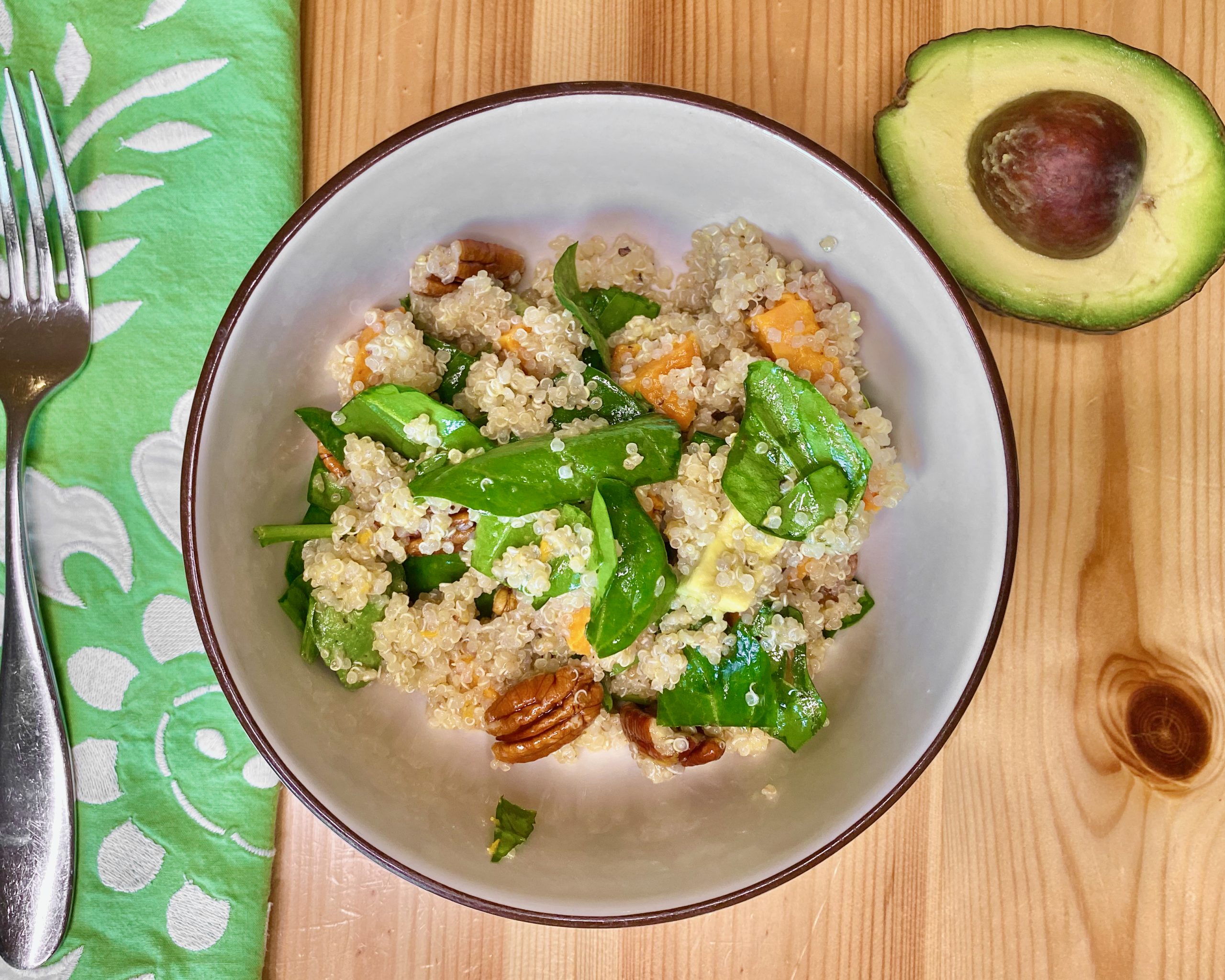 I'm usually too busy through-out the day to make a healthy lunch for myself.  I'm more of a grab-n-go type of gal when it comes to lunches.  Unfortunately, most lunches that I go to grab aren't as healthy as I'd like them to be, and does "coffee" count as lunch?  That's why I absolutely love this salad:  it's both filling and healthy.  I'm able to prepare it, pop it in the fridge, and know it will provide me with delicious meals for the next couple of days.  Enjoy my recipe for this hearty and delicious quinoa salad. I hope it will fill some of your lunch-time voids too.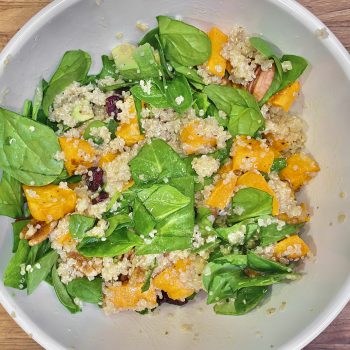 Quinoa Spinach Salad with Lemon Vinaigrette
A hearty salad that is both filling and delicious.
Ingredients
1

cup

Quinoa

2

cups

Chopped Spinach

1

Sweet Potato

1

Avocado

1

Cup

Pecans

Lemon Vinaigrette Dressing
Lemon Vinaigrette Dressing
1/4

cup

Fresh Lemon Juice

1 1/2

tsp

Dijon Mustard

1/4

cup

Olive Oil

1

tsp

Sugar

Salt and Pepper to taste
Instructions
Make the quinoa according to the directions on the package.

While quinoa is cooking, peel and cube the sweet potato. Toss with salt, pepper and olive oil. Spread the sweet potato out onto the roasting pan and cook in the 375 degree oven for 10-15 minutes, or until easily pierced with a fork. Let cool

Wash and chop the spinach

In a large bowl combine cooked quinoa, spinach, roasted sweet potato, pecans and avocado. Add the lemon vinaigrette and toss thoroughly. Add salt and pepper to taste. Serve or refrigerate.
Lemon Vinaigrette
Whisk together fresh lemon juice, dijon mustard, olive oil and sugar. Add salt and pepper to taste.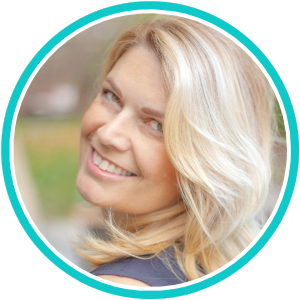 Mom of two and seeking sanity in the everyday. Let's chat about family, school struggles, travel, and living our best life. Located in the San Francisco Bay area.