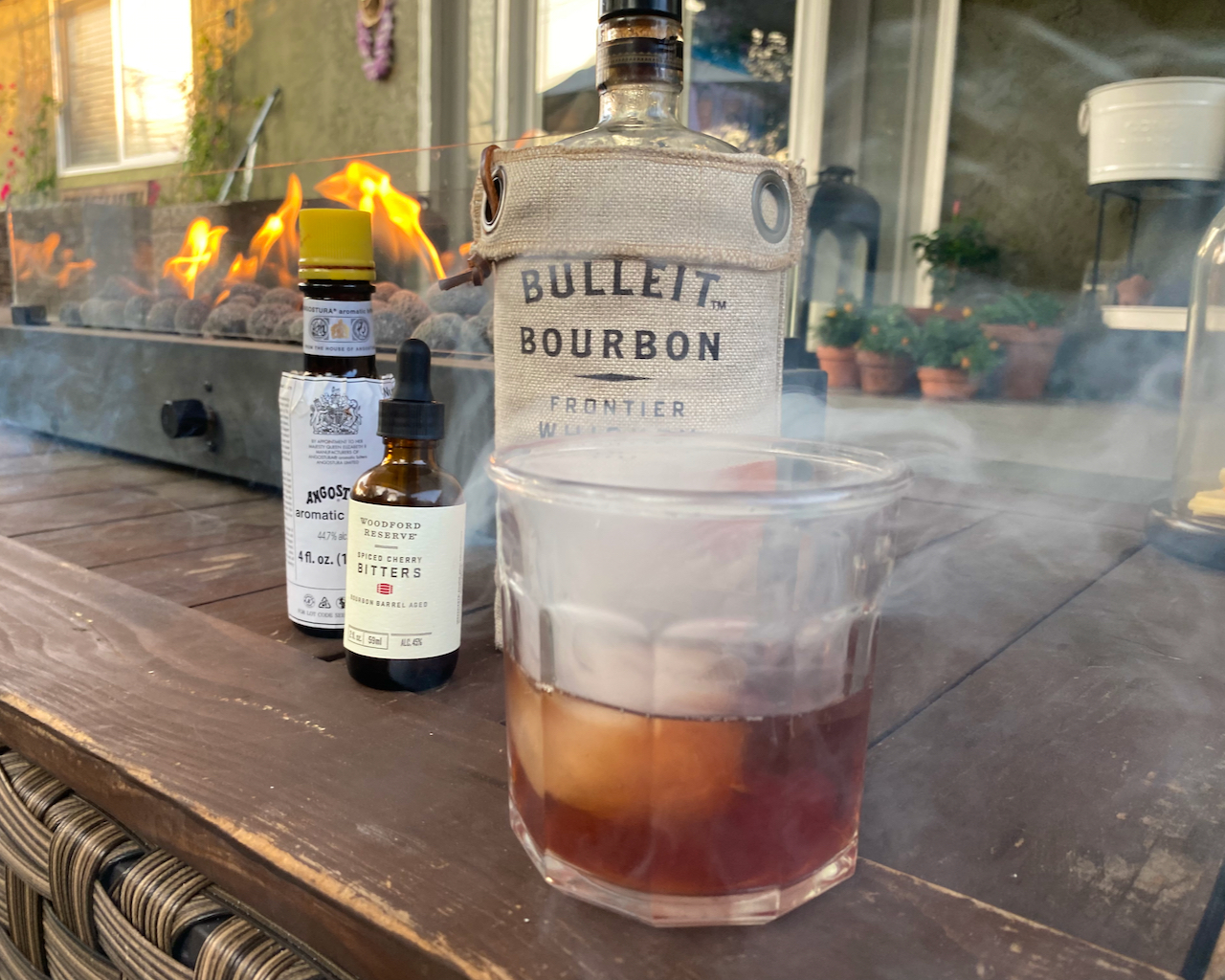 This summer my husband and I were able to, against all odds, sneak away for a kid-free night in Saugatuck, Michigan. While we were there, we happened to dine at a restaurant that featured a Smoked Old Fashioned on its menu.  This cocktail voodoo was unknown to us, a smoked cocktail, so of course we had to give it a try! We love smoked meats… smoked cheese… so why not a smoked drink?
There were some important choices to make. What flavor of bitters we would like in our Old Fashioned? Cherry? Peach? Apple?  Next we had to choose the type of wood chips we wanted to smoke our drinks.  Cherry? Pecan? Maple? Home Depot twisted lumber? Okay, I made that last one up. After making these critical decision, which would transform the flavor of our cocktails, our server was off to have them crafted. Some time passed as we chatted… probably about our kids as we can't escape them, and out of nowhere our server arrived with our drinks in large, round-bottom flasks filled with the pecan wood smoke that we had chosen.  She swirled the drinks round-and-round in the flask to properly infuse the smoke into the cocktail. The pour from the flask to the glass was mesmerizing… it flowed with the mixed cocktail into the tumbler like a smokey waterfall.  As I took in the vision of the smoke lingering in my glass like some magical concoction, I realized it's the presentation and ritual that makes this drink as fun to create as it is delicious to drink. Delicious it was!
Returning home, we began reminiscing about how much we loved the flavor and fanfare of those smokey drinks.  Before I knew it, my husband was online purchasing our own smoke infuser.  Our journey in creating our finely-honed Smoked Old Fashioned drinks at home was about to begin.  He found one, reasonably priced, online. So far it works great. Instead of purchasing a beaker, he decided to channel his inner-midwest mindset and use a mason jar with a lid.  He drilled a hole into the lid that fit the smoker perfectly — it is the same size of the tube connected to the smoker. It actually works fantastic! We later purchased a fancy 500ml Volumetric Flask, but we actually ended up liking the mason jar better.  We also upped our game and bought a glass dome that can be used to smoke cocktails while in their glass or other things like meats and cheeses. It works great for food, but, again, the mason jar wins for cocktails. So, it looks like we are keeping our trusty mason jar hack. Perhaps we'll fancify it a bit as a side project.
Below is our our Finely-Honed Smoked Old Fashioned recipe using Cherry Bitters, Angostura Bitters, and Pecan Wood Chips.  I've linked all our gear, including the cool-looking volumetric flask in case you want to try it, so you can make your own smoked drinks at home. Oh! These drinks pair nicely with my Quinoa Spinach Salad!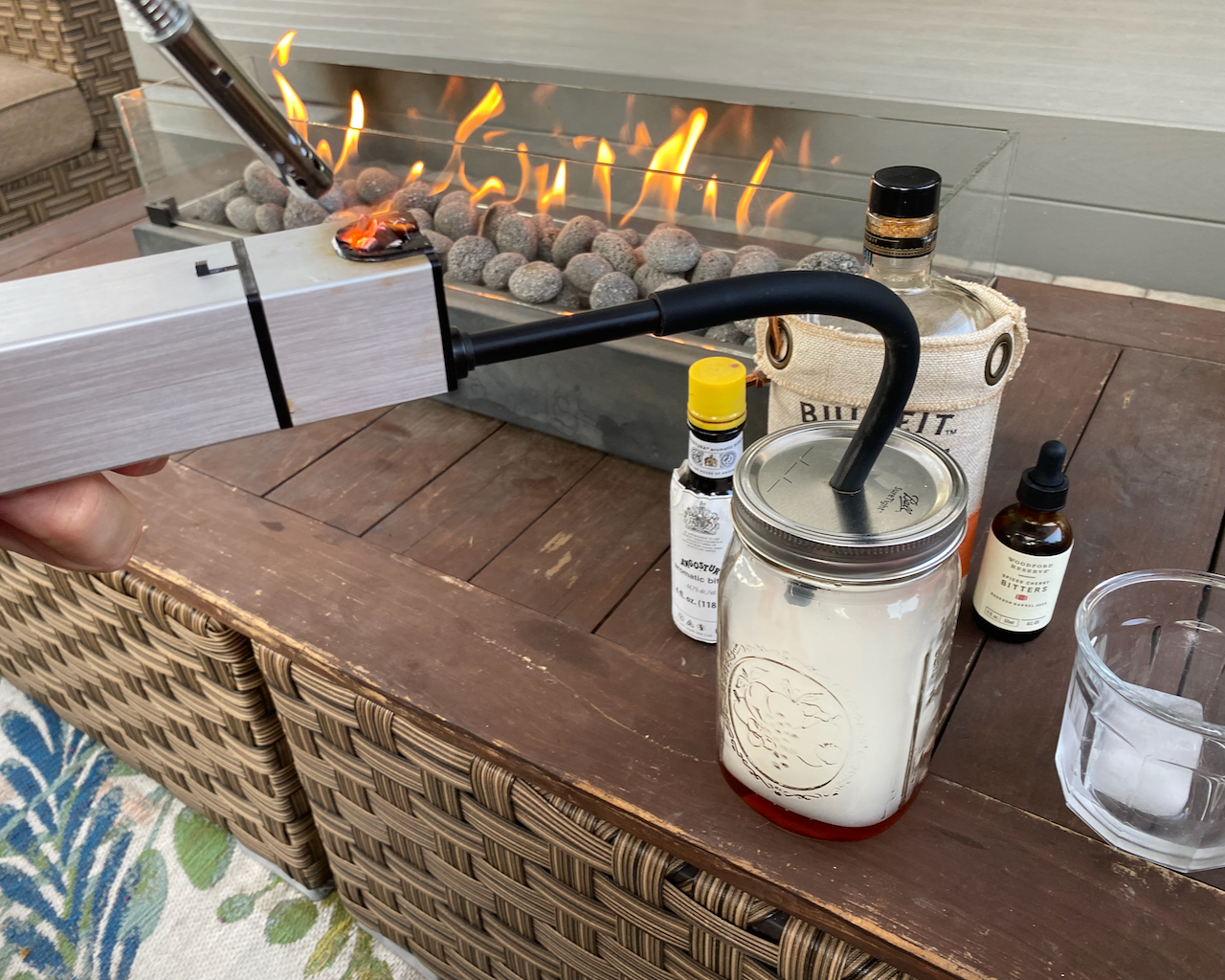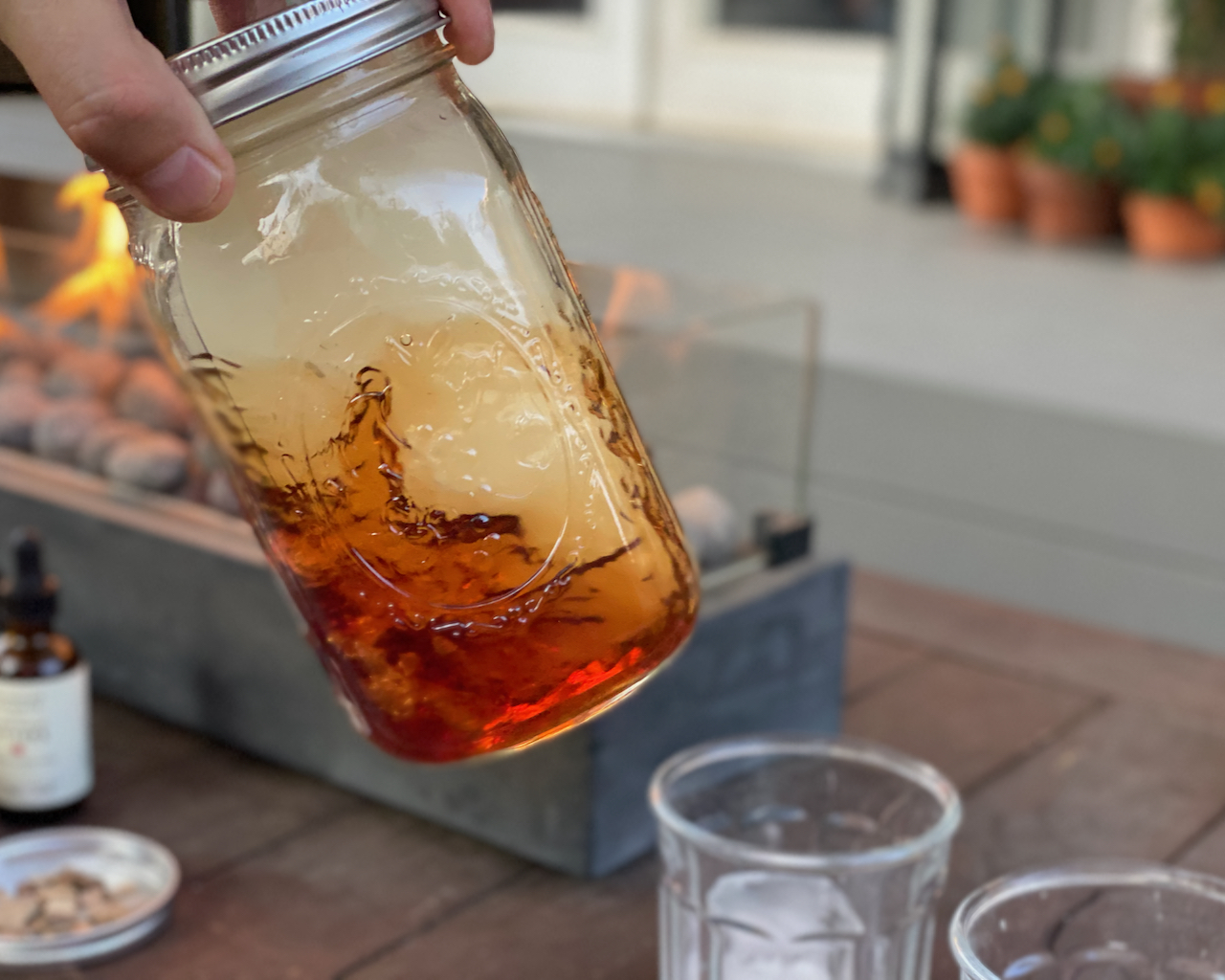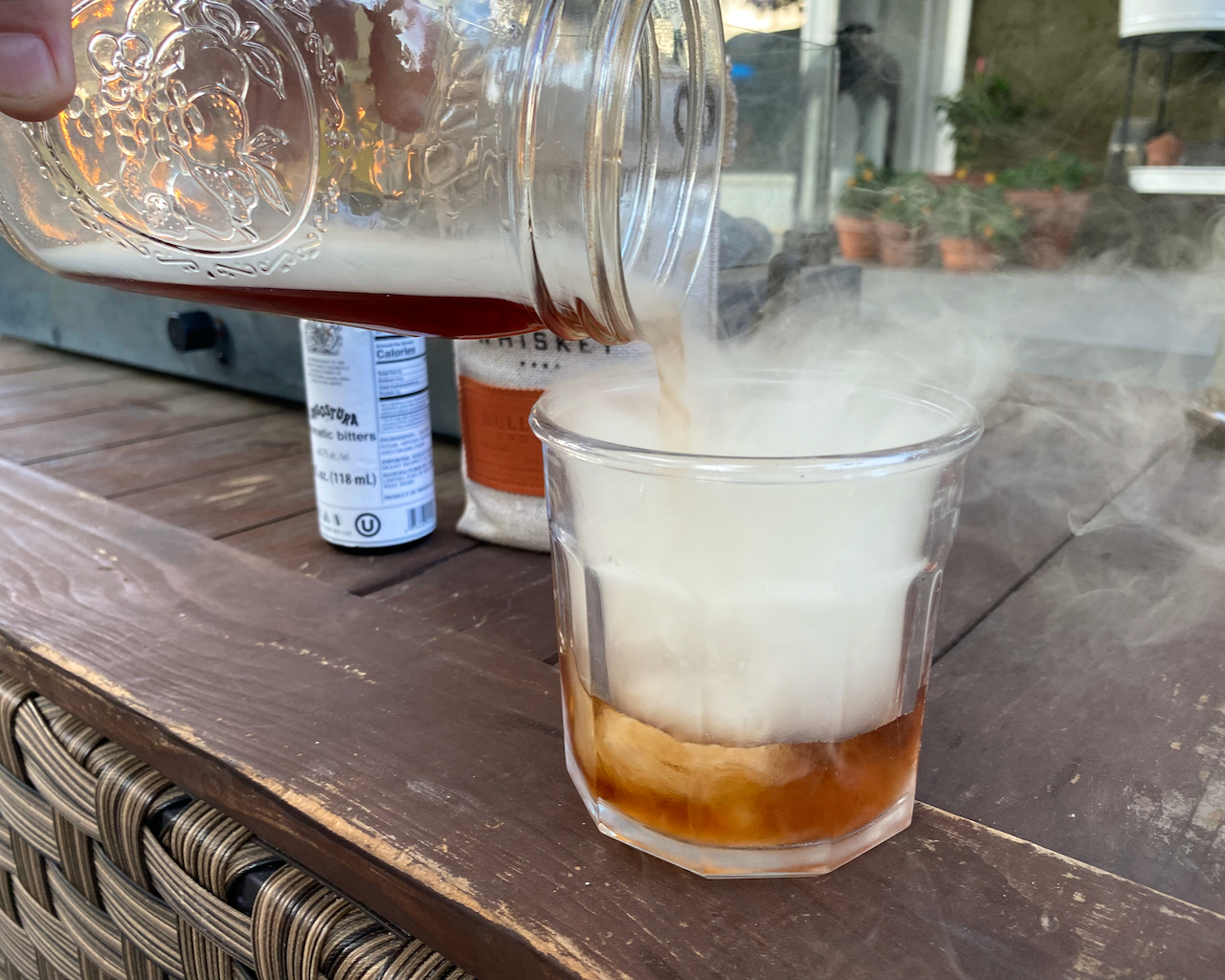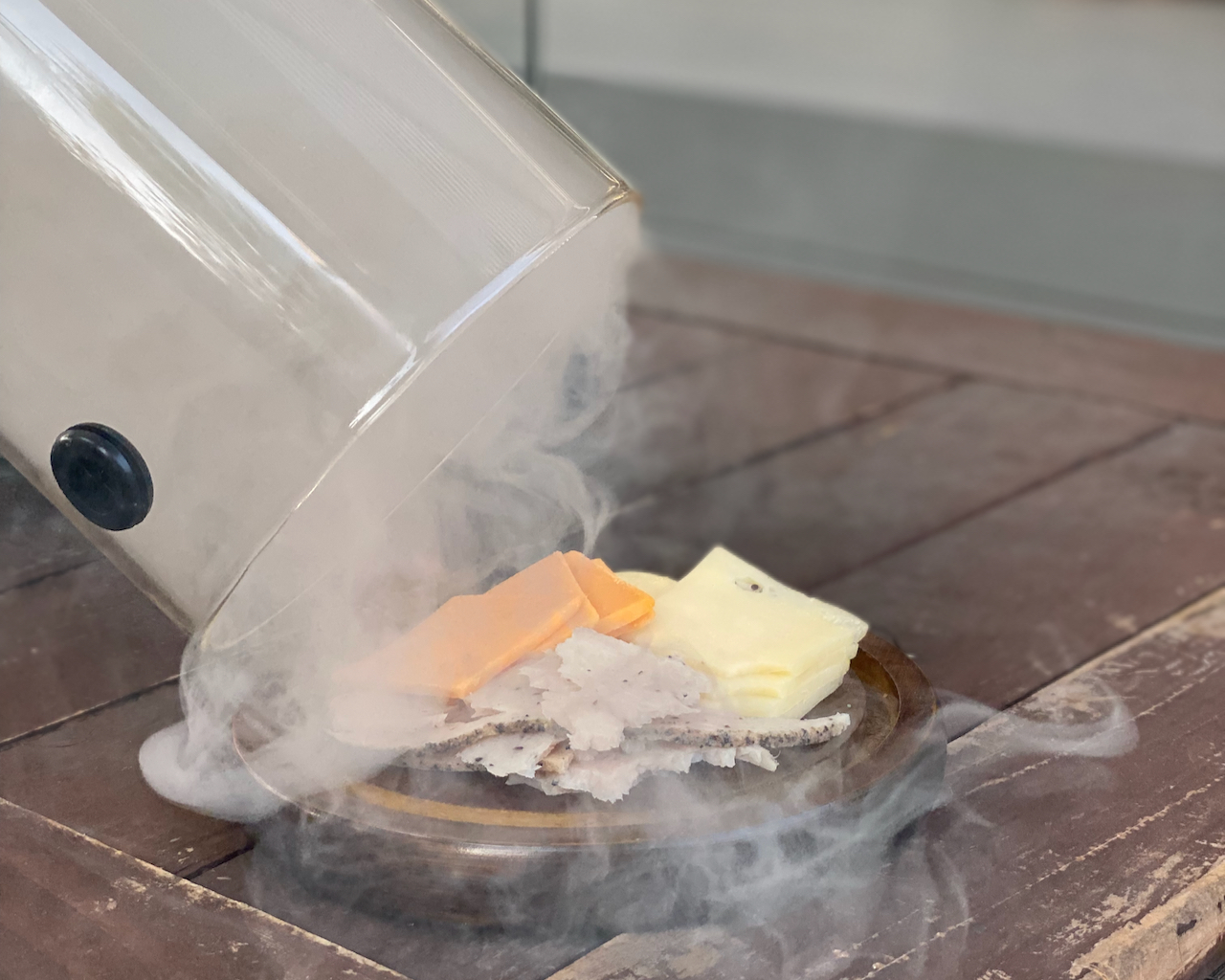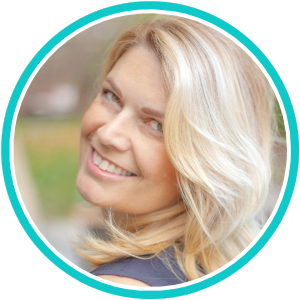 Mom of two and seeking sanity in the everyday. Let's chat about family, school struggles, travel, and living our best life. Located in the San Francisco Bay area.