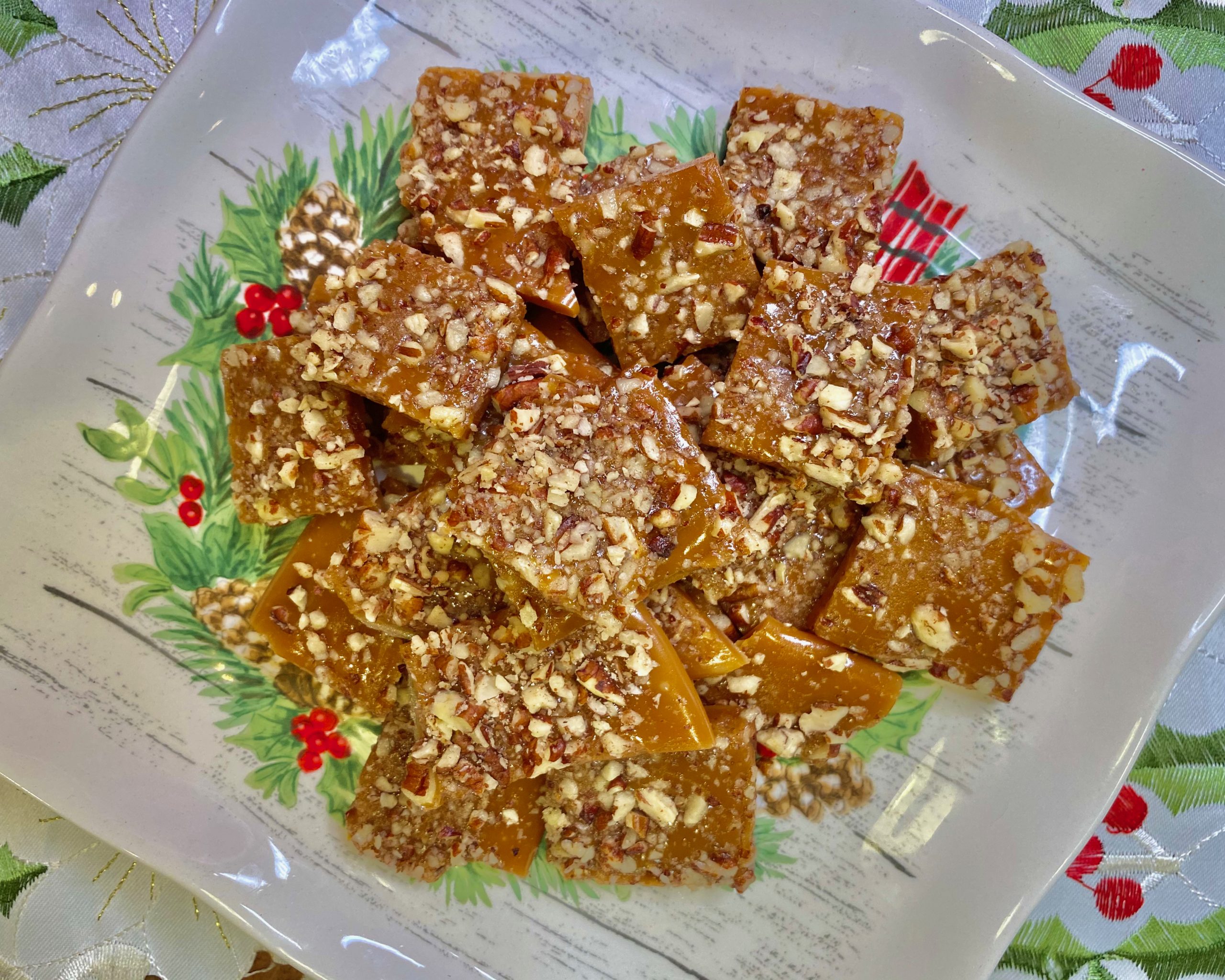 As  a child I have fond memories my Grandpa making the most delicious pecan english toffee and pecan caramel the world has ever known. He did this every Christmas, and it is a memory I will cherish always. I still remember the many hours he put into making them, continually stirring the candy, being ever so careful until it hit just the right temperature. After they cooled I also remember being recruited to wrap the candies… oh, so many candies.
I never want to forget the taste of these sweet treats, so as an adult I decided to continue the tradition and start making the same toffees and caramels for our holidays. They are a labor love and full of sweet nostalgia… and completely worth the effort. To be honest, to date I have yet to share my grandpa's special caramel recipe with anyone… perhaps someday I will, but today is all about the other family favorite: Pecan english toffee.
Below I am sharing our yummy English Toffee recipe. They are just as delicious as the caramels, but are much easier and quicker to make. Before you begin, make sure you have a good candy thermometer. Trust me, I learned from experience that an exact temperature and a good candy thermometer make or break this recipe. I hope you enjoy the toffees as much a we do. I dare you to try and eat just one. Happy Holidays!  If you are looking for other delicious sweet treats be sure to check out my recipe for old fashion cobbler.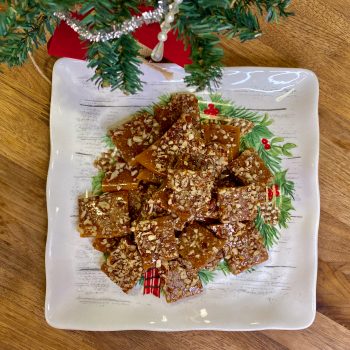 Pecan English Toffee
Toffee is a candy originating in England. This recipe gives the toffee a texture that is brittle at first and then quickly becomes chewy as it melts in your mouth. The best part is it is quick and easy to make. It is the perfect holiday treat!
Equipment
Candy Thermometer

Wooden Spoon

Pot

Pot Holders

Cookie Sheet

Pizza Cutter

Measuring Spoons

Measuring Cup
Ingredients
1

cup

granulated sugar

1/2

lb

salted butter

1

tsp

vanilla

1

tbsp

water

1

cup

pecans

finely chopped
Instructions
Combine sugar, butter, vanilla and water in a pot. 

Cook over medium to medium/high heat stirring constantly until candy reaches 290 degrees. 

Remove from heat and pour onto buttered pan or cookie sheet. 

Immediately sprinkle with pecans before the candy cools.

As the candy starts to cool take a pizza cutter to gently cut in "cracking points" in the soft toffee. These lines make it easier to break or cut the toffee into perfect squares after it has cooled.

Set aside and let cool... usually about 15 to 20 minutes.

Once cooled, break the toffee along the "cracking points"... and enjoy!
Notes
I hope you enjoy this toffee recipe... it is a family favorite! You can always find this recipe and much more at stayingblinde.com.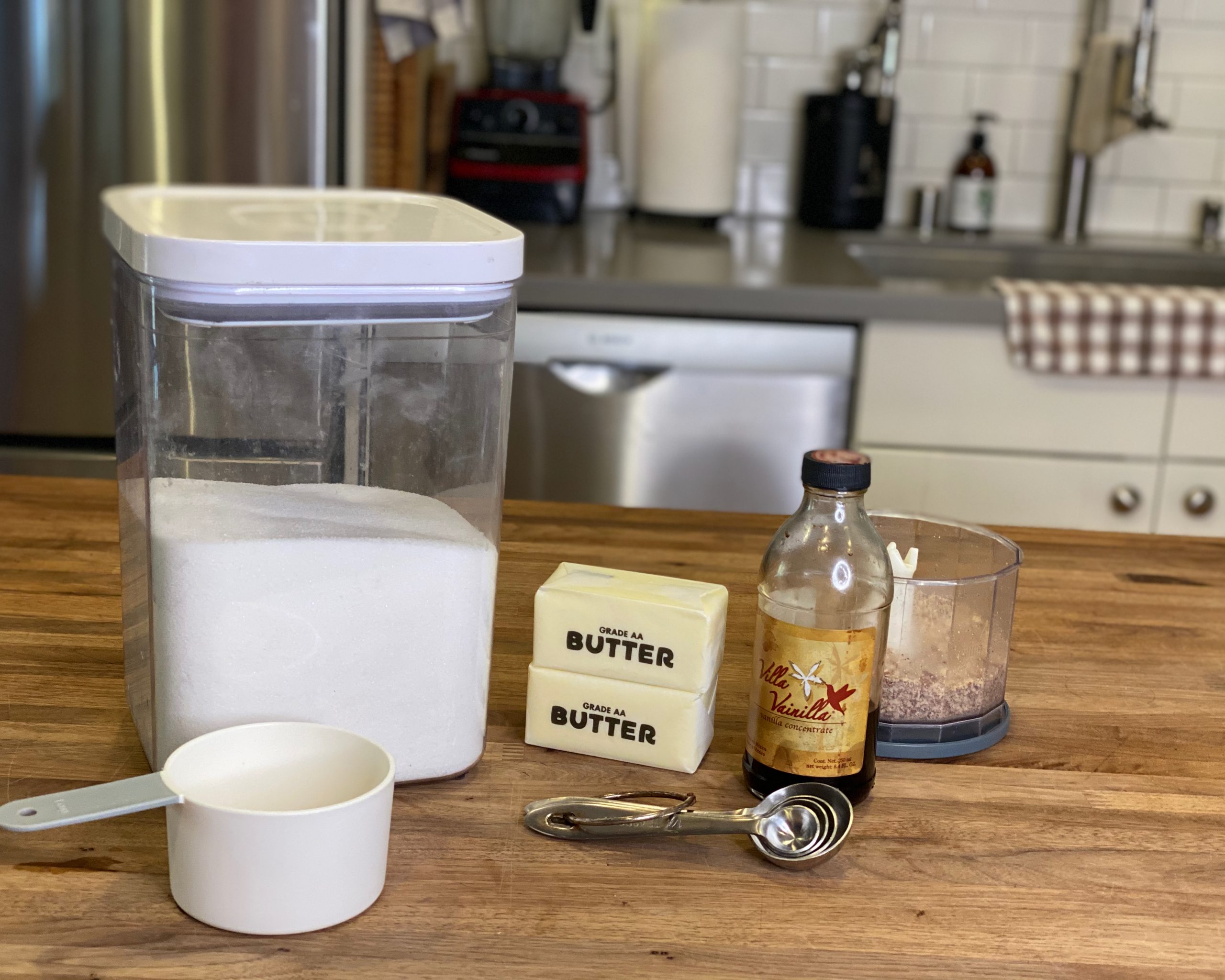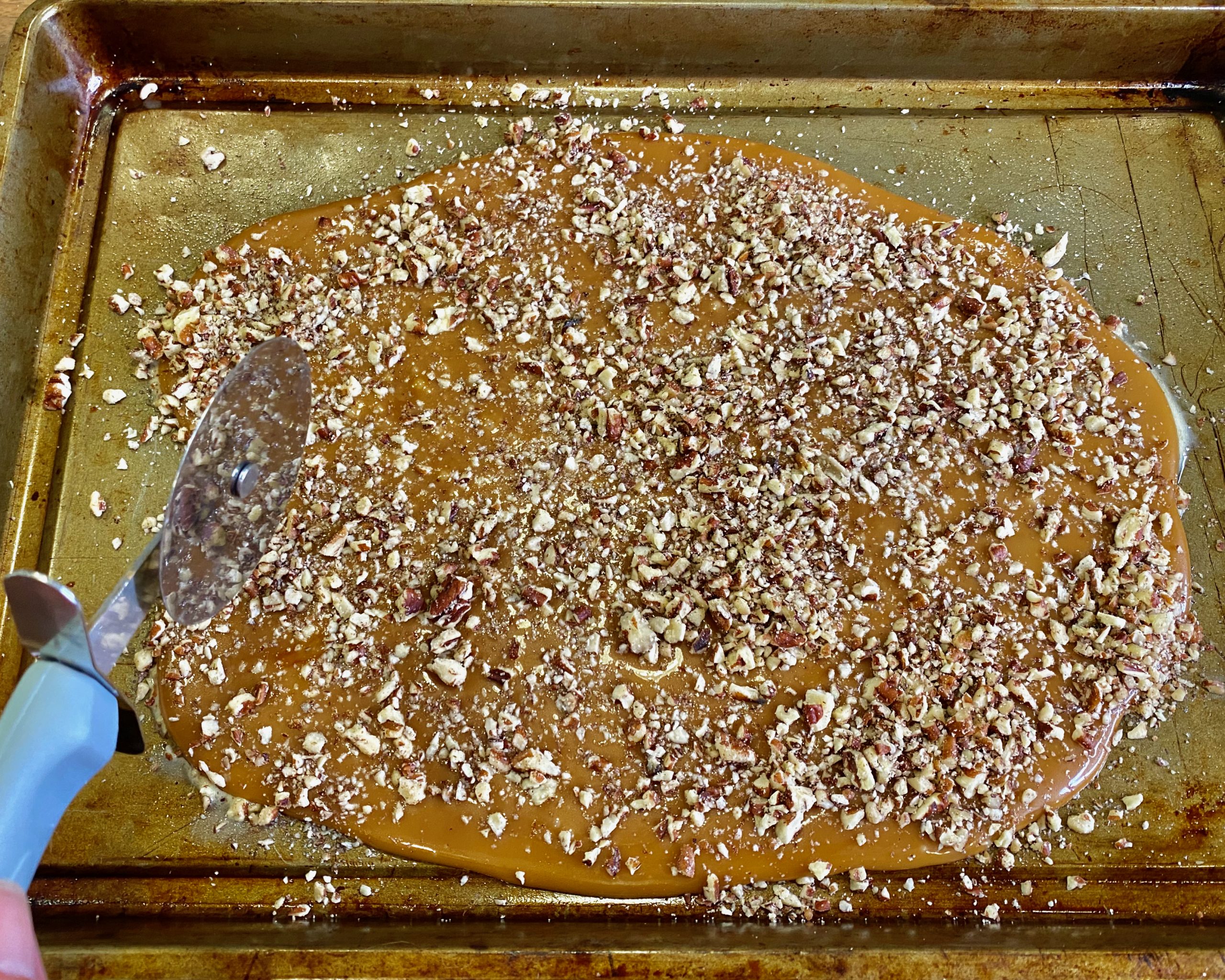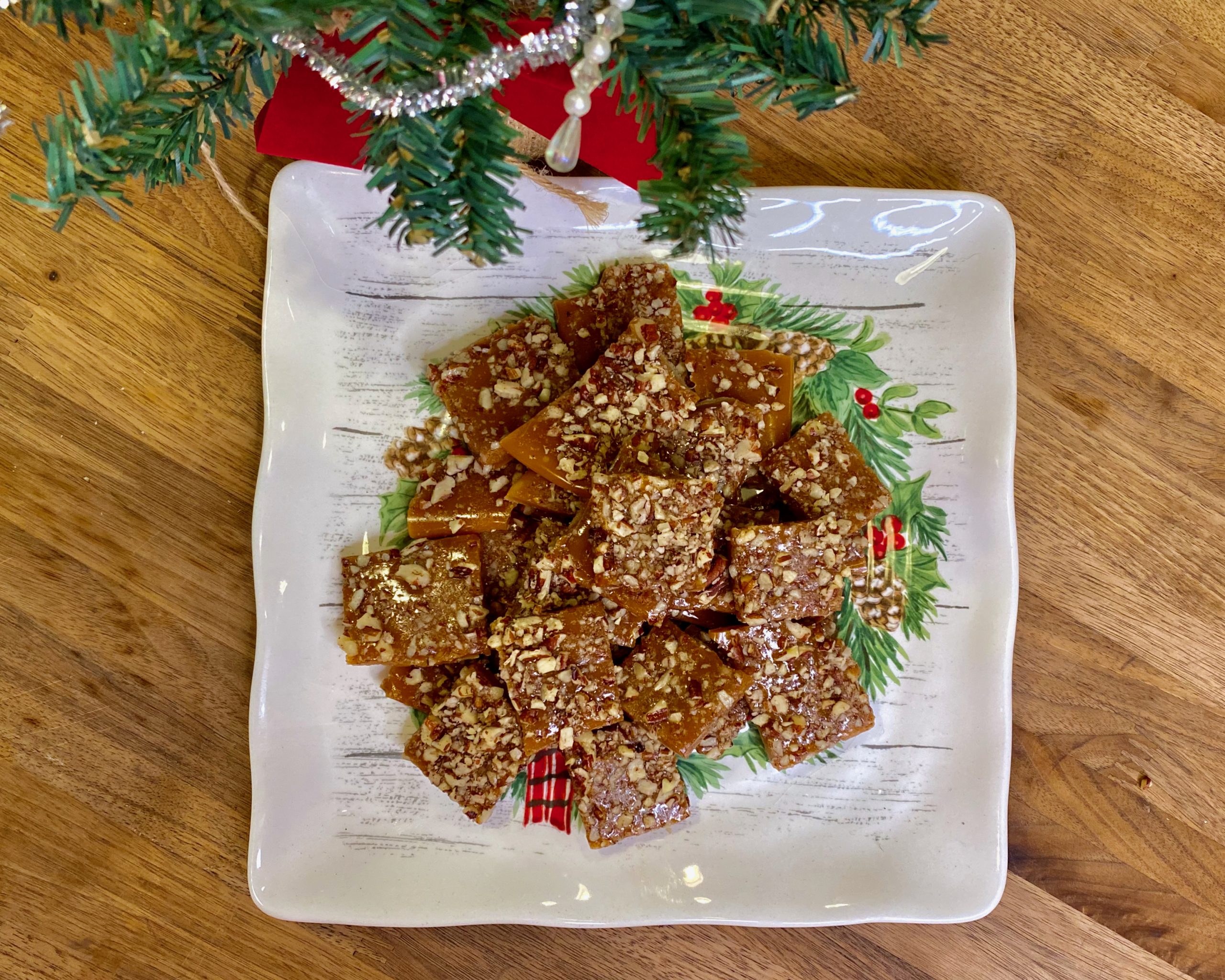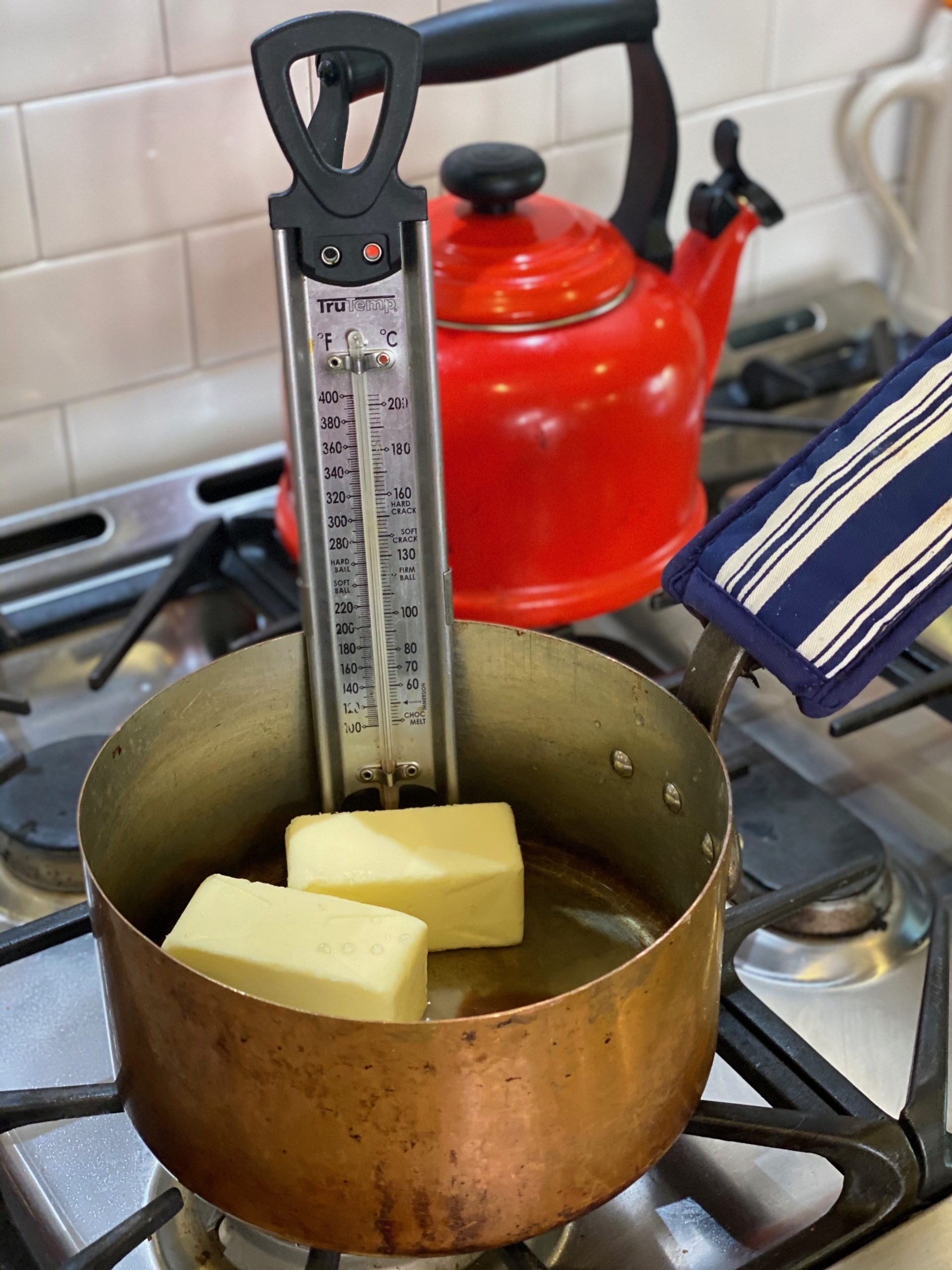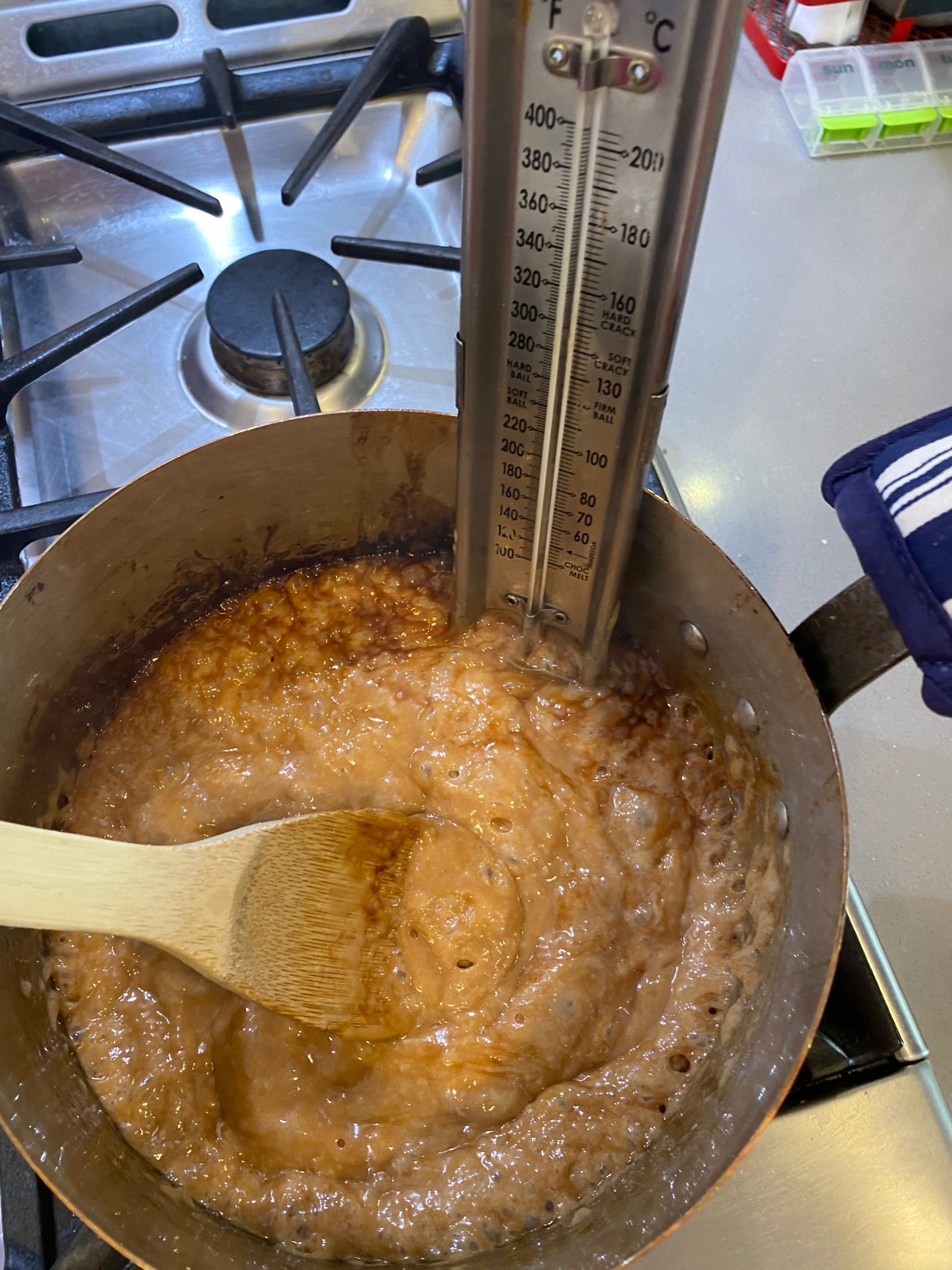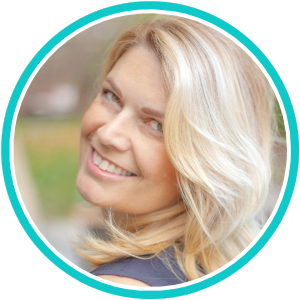 Mom of two and seeking sanity in the everyday. Let's chat about family, school struggles, travel, and living our best life. Located in the San Francisco Bay area.