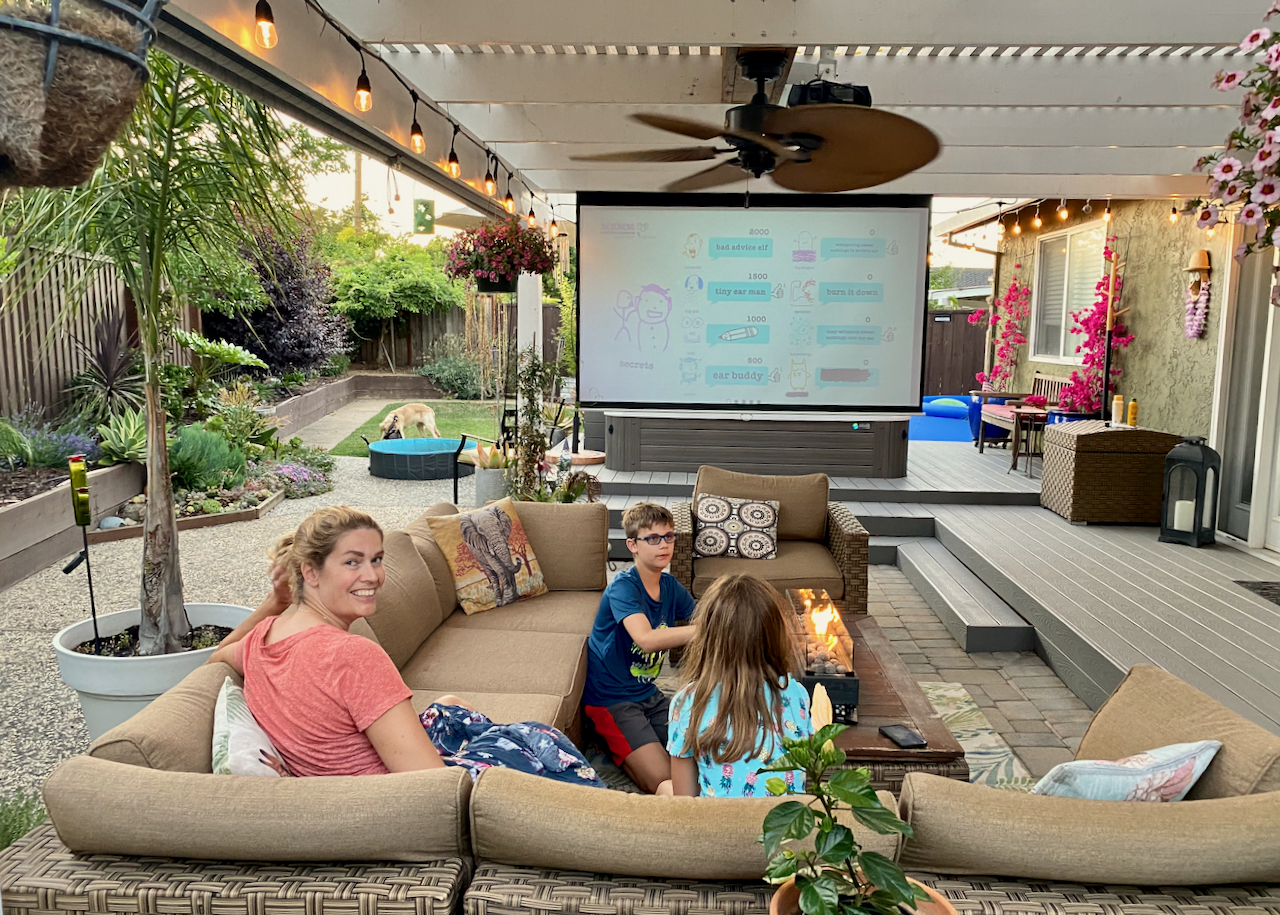 No matter where we've lived there is one thing my husband and I have always agreed upon— we need to have an outdoor space we love. Because we will spend so much time there, the backyard needs to be a place we want to escape, unwind, and relax. Our backyard has always been our family's little sanctuary. It gives us that extra space to spread out and not be on top of each other all of the time. Since we have been home pretty much 24/7 since this pandemic started, our outdoor space has become more important than ever. We worked extra hard this spring sprucing it up knowing that much of our summer will be spent back there. We had already invested in a few big tickets items like our hot tub and pergola, but we have found that it is also the smaller things that add those finishing touches that really turns the space into a place we want to be.  Below are my top ten tips that helped turn our backyard into an oasis and vacation worthy retreat..
Seating
First thing, you have to decide how you want to use your space. Do you want to primarily be dining outside, lounging, entertaining, or what have you? We knew we wanted our patio to feel like an extension of our home, with a little "we are on vacation" thrown in, so we purchased a large sectional set. When the weather is nice, we use our area under the pergola essentially as an outdoor living room.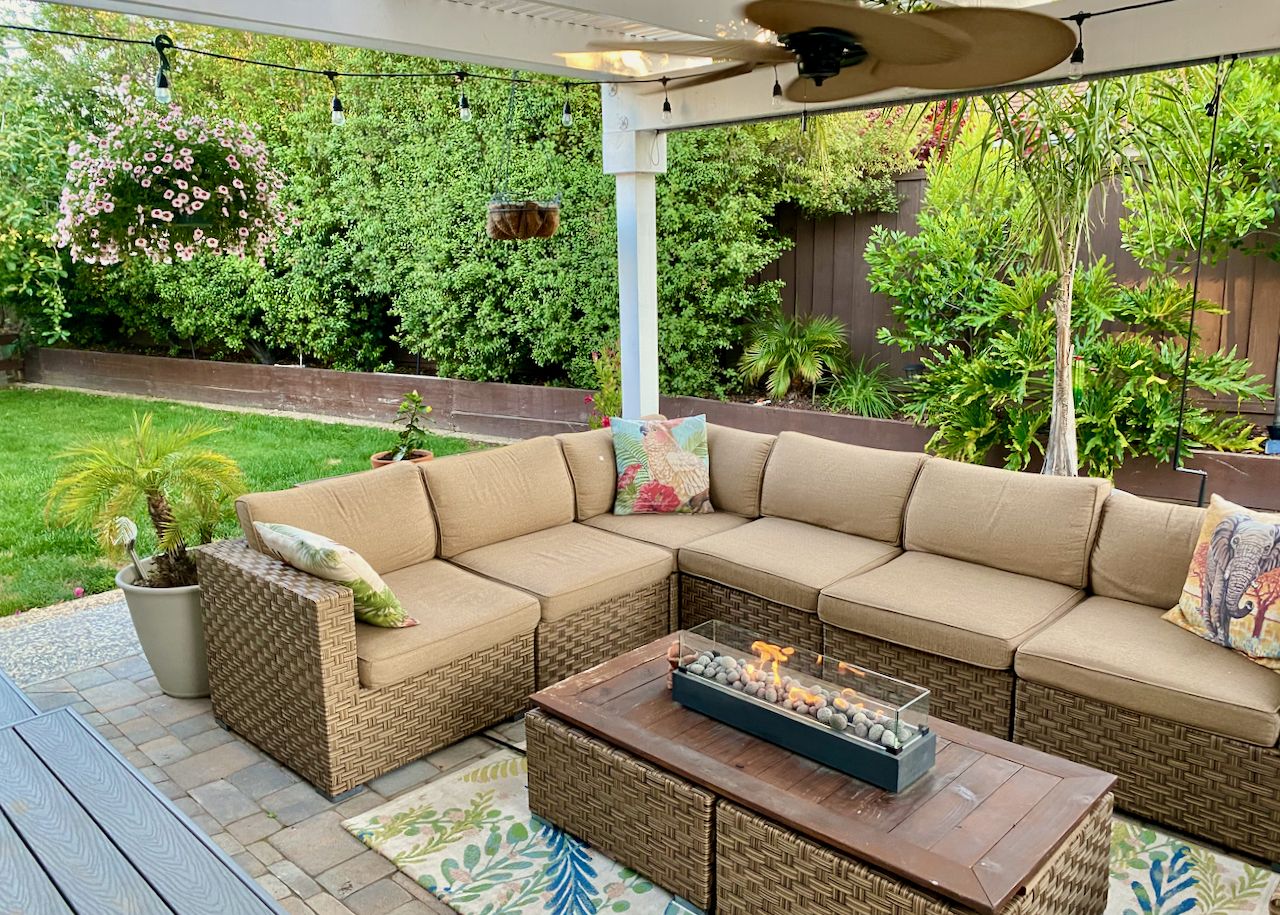 Shade
The summertime sun is wonderful, but it's also hot. One of the most important things we found is having adequate shade. We built a pergola over our patio a few years back and it has allowed us to greatly increase our time spent outdoors. If you don't have a natural shade source or are unable to fit or build a pergola, umbrellas are an excellent and stylish alternative. We use several of them in other parts of our yard.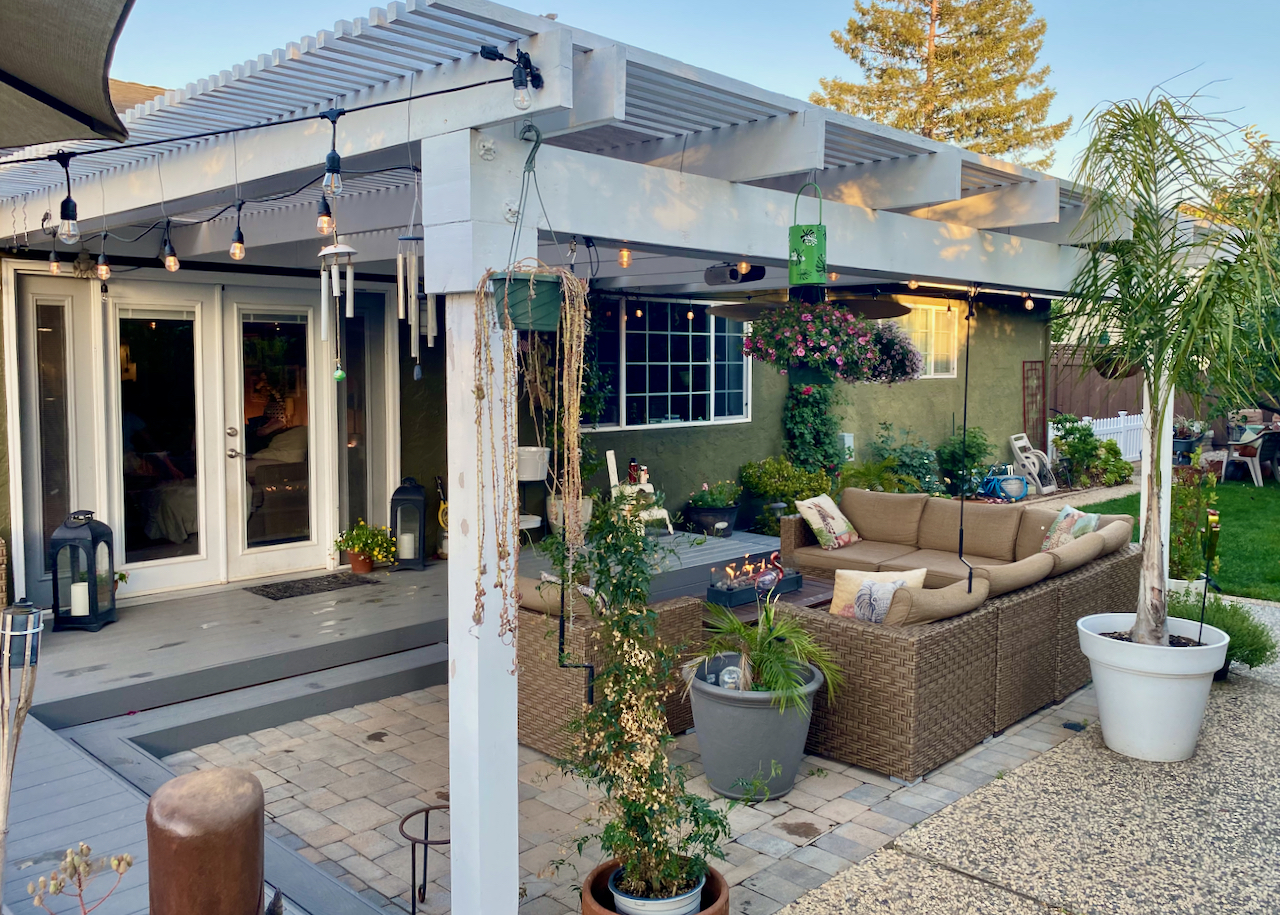 Lighting
Sometimes lighting is overlooked when designing an outdoor space. Adding the right type of lighting can really increase the amount of time spent outside and help create a mood. It is not terribly expensive, and it quite easy to install. We went with a combination of hanging lights and spotlights for key trees.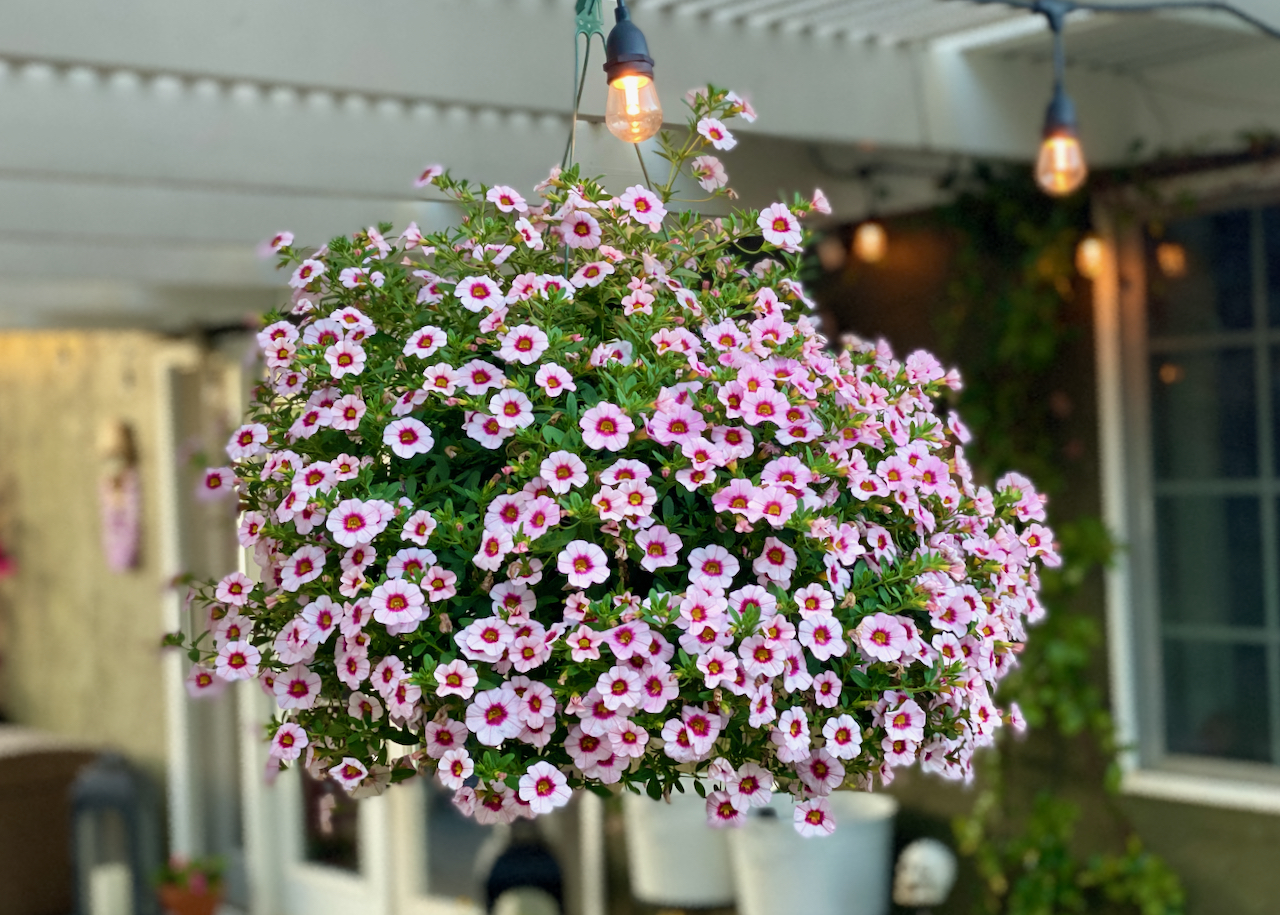 Plants
Whether you have a green thumb or not, it's worth adding some plants to your space — they set the tone for the area and make the difference from just being outside to being in more of a personal oasis. It can be as easy as buying a few pre-potted plants to add some color and life to your outdoor area. Just make sure you do enough research to know what will thrive in your space. We found out the hard way that some plants definitely prefer to be in the shade!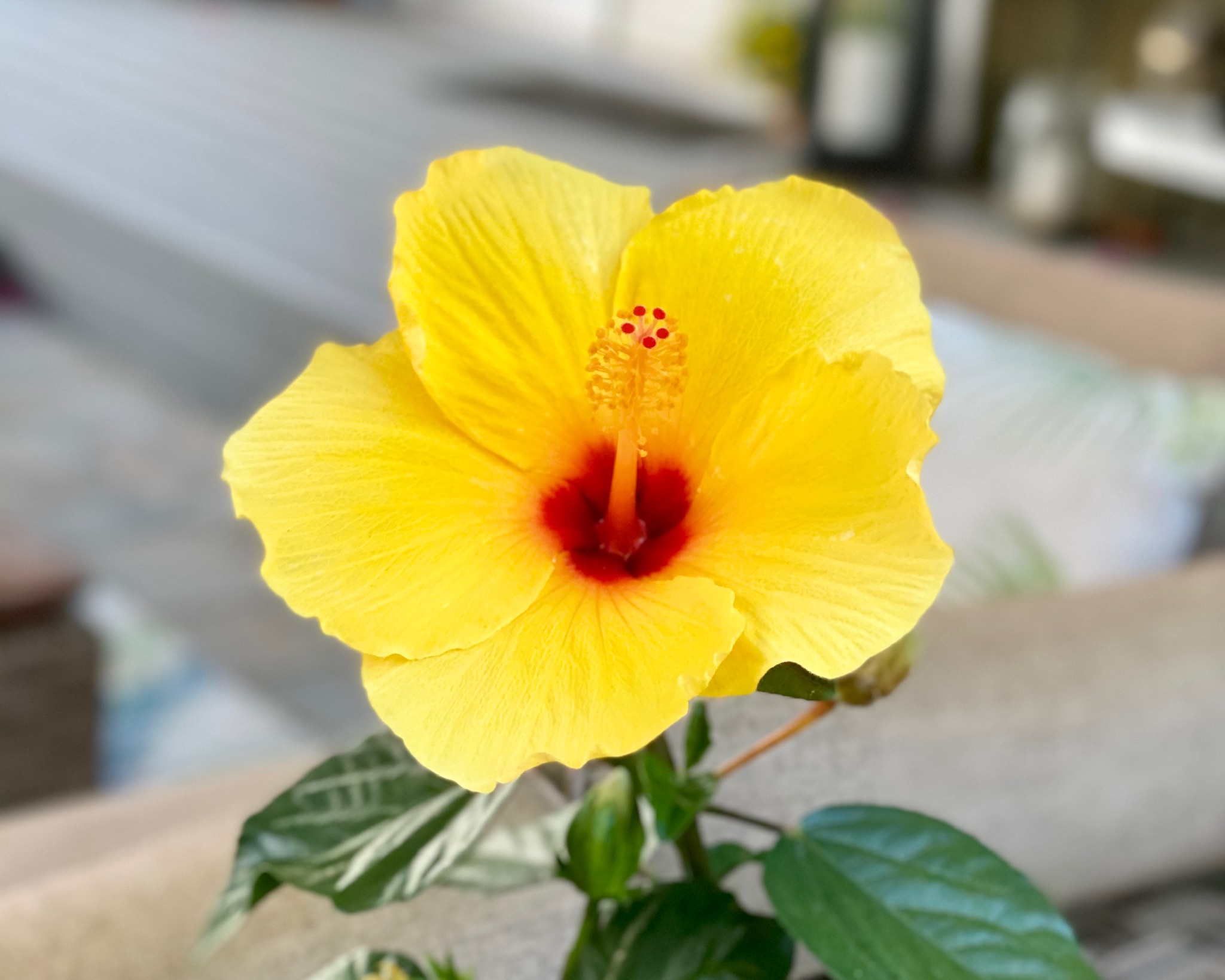 Theme
Having a theme around how you want to feel in the space helps when decorating any part of your house, and it is also important when decorating your outdoor space. We have always liked the feeling of being away on an island somewhere, so we went with a tropical vibe when decorating. It is actually a cross between the tropics and Los Angeles. The theme is also key when purchasing plants for your space. To get that tropical feeling we added palms and hibiscus to our patio area. They offset a wide variety of succulents and rock features. The theme doesn't have to be mono-thematic, though. We have beds of roses, fruit trees, and various California Native plants. You just want to make sure they are in harmony with your larger theme.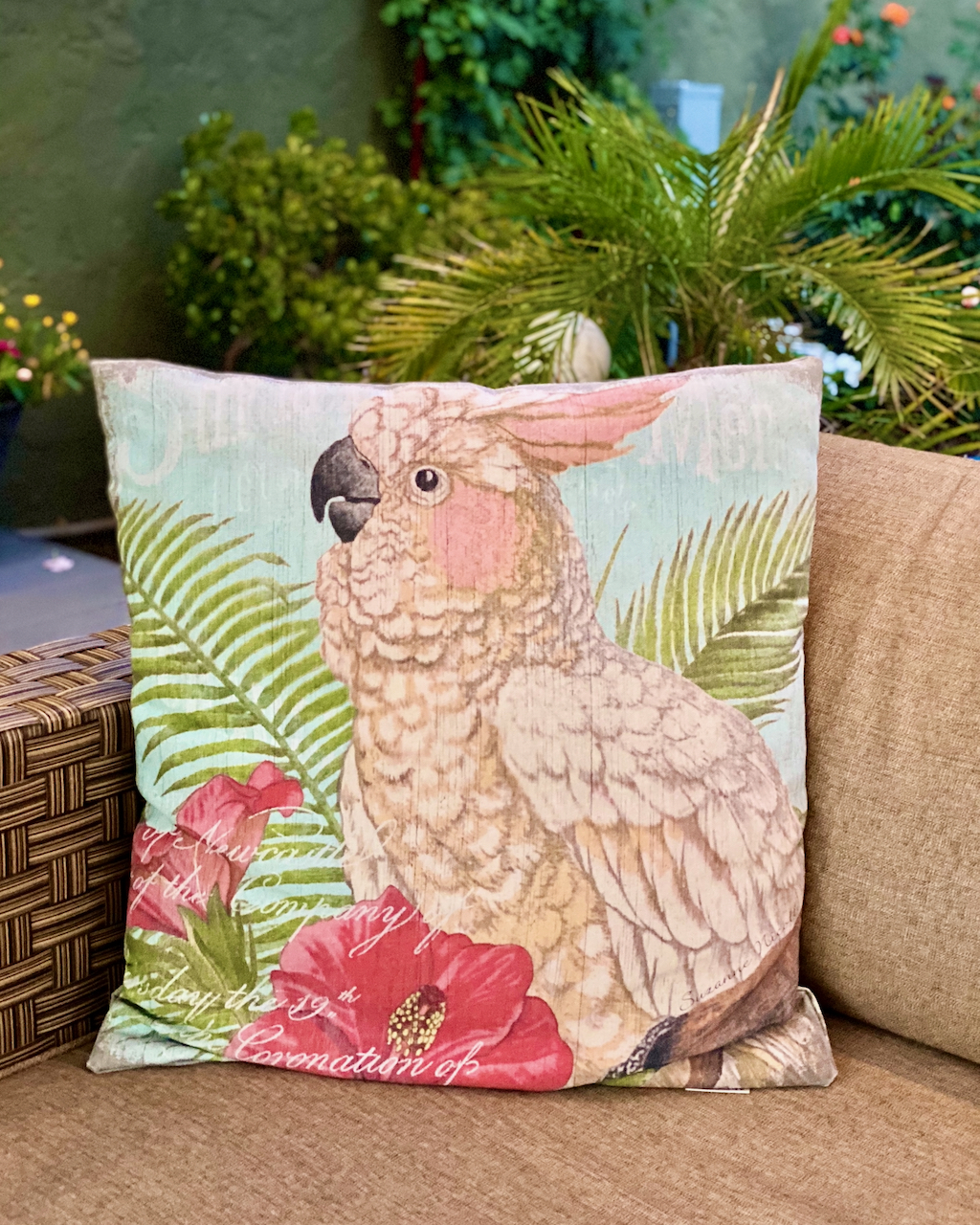 Water Feature
It's just something about water that instantly transforms a space into a calming retreat. It can be something simple, like a small fountain, or you can go all-out with a hot-tub or swimming pool. Since quarantine began quite a few people I know have taken the "plunge" (bad pun intended!) and put in a hot-tub or pool. We'd already put a hot-tub in our backyard space, but we invested in a small pool for the kids. Now they can splash the day away while mom and dad quietly relax in the warm tub.
Fire Feature
There's nothing like an evening sitting around a fire roasting marshmallows and having a cocktail. A fire feature is perfect for those evenings under the stars, when it is chilly, or after popping out of the hot tub or pool. My husband wanted to build a full blown fire pit and I wanted a fire-table… so we compromised and got the fire table — that is how compromise works, right?!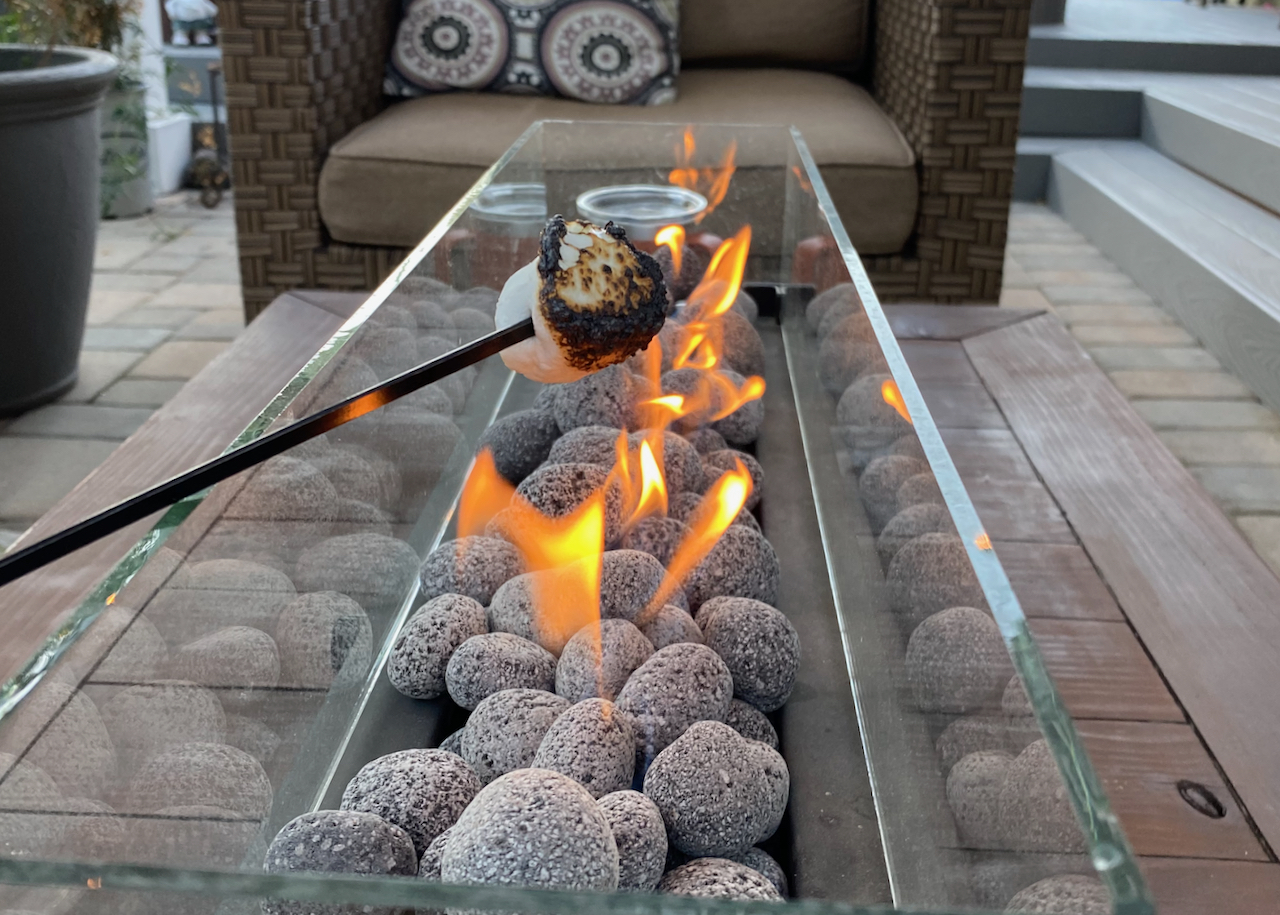 Entertainment
Our outdoor movie theater is one of our favorite additions. We bought a screen that pulls down from our pergola and mounted the projector from the rafters. It sounds fancy, but honestly it is very affordable. For the cost of a few trips to the movie theater you can have a similar experience right in your backyard. It is also a great way to set the kids up outside while the adults get some alone time indoors. We love watching movies outside under the stars.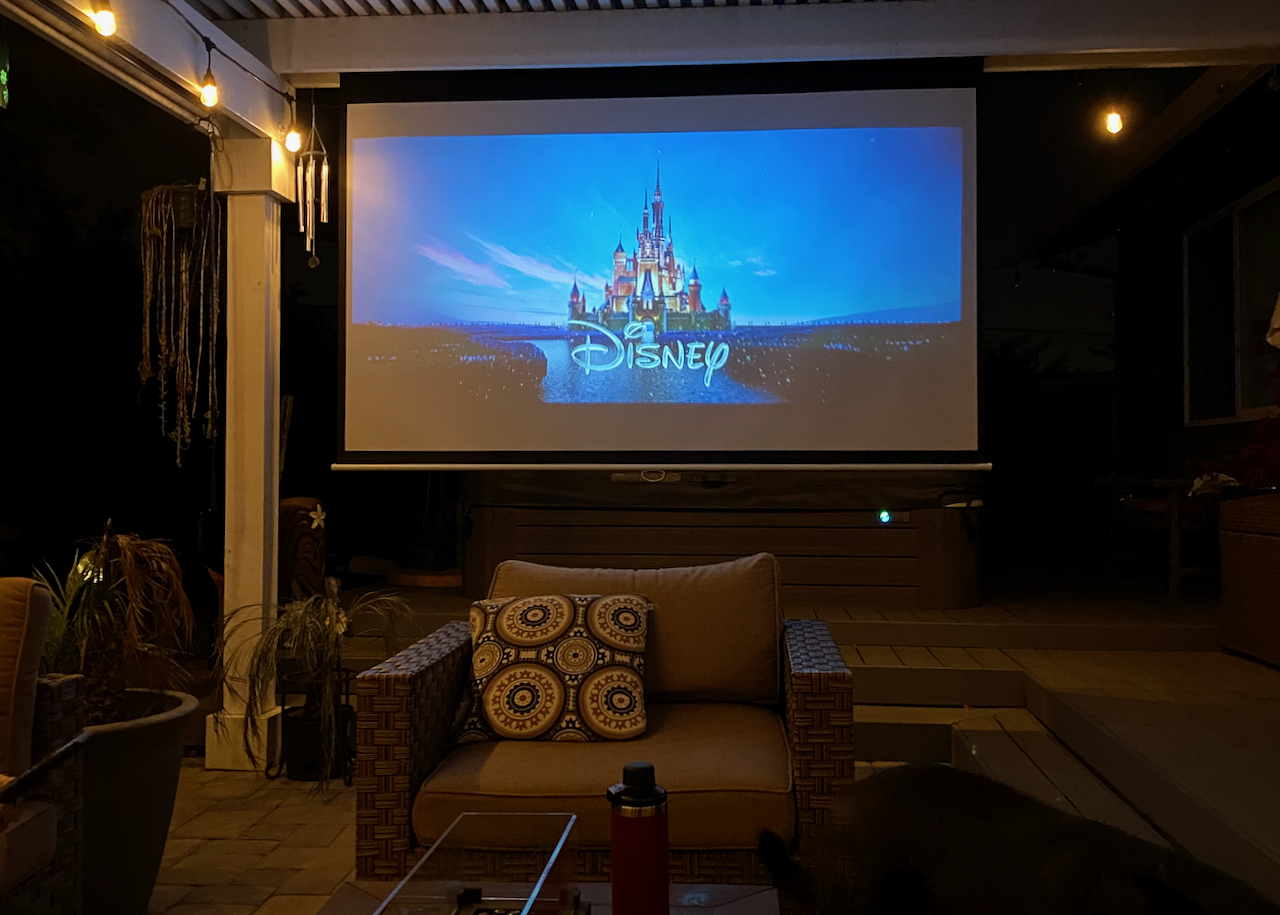 Play Space for the Kids (away from the adults)
We have a nicely sized pie shaped yard on a cul-de-sac. This gives us a good amount of space on each side and the back of the house. This configuration has allowed me to create an area for the kids to play in that isn't right on top of our patio area. If you have the space, it's nice to have all the kid-gear in one section of the yard without it overflowing into your cozy retreat. For it to be an escape you can't have it become just another play area.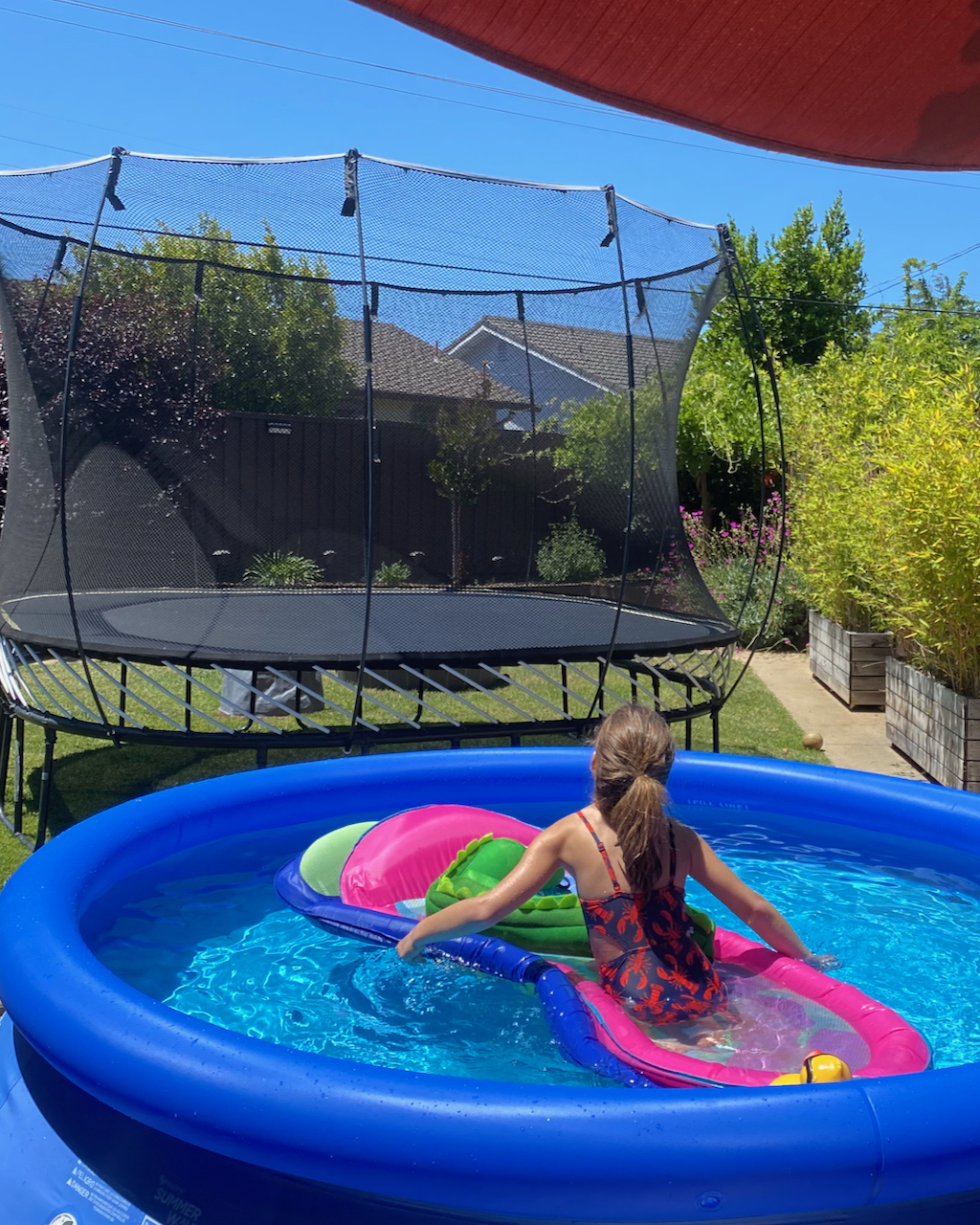 Declutter
You know that wonderful feeling you get when your house is clean and organized? I don't get that feeling very often these days with all of us home all the time, but when I do it's amazing. You also get that same feeling when everything is decluttered and cleaned up in your outdoor space. The key is to make sure the things you keep out add joy to your life and won't be yet another thing you need to maintain. Things get dusty, spiders spin their webs, and yard clipping gather in every nook and cranny. Make the things you put out worth it. Decluttering outside just a little bit seems to go a long way — don't forget, this will be your go-to place to escape the clutter and chaos inside your home. lol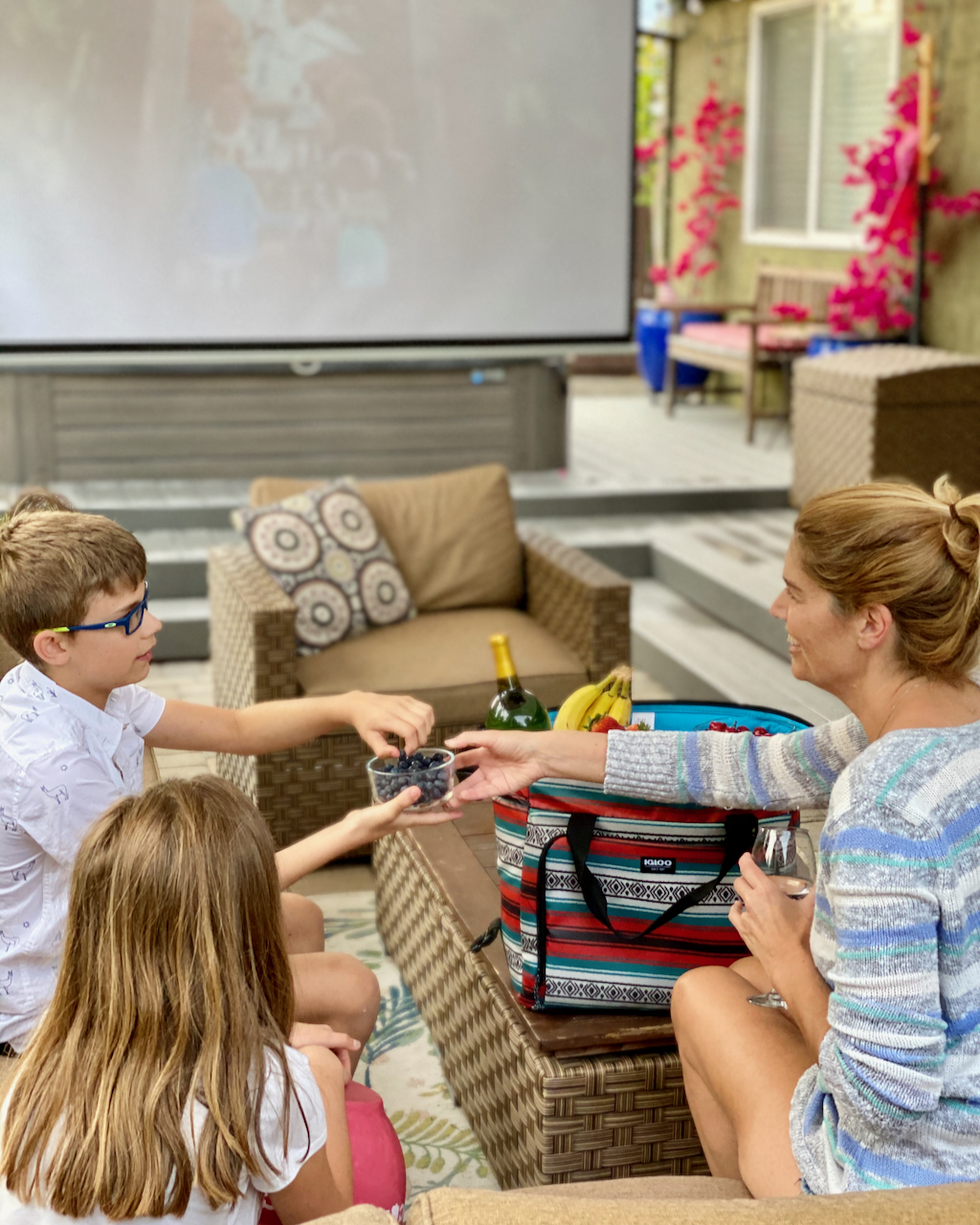 These are just a few things that have helped make our outdoor space that much more enjoyable. I have linked many more ideas to help turn your yard into the staycation of your dreams. If you want a recipe on a great snack while enjoying your backyard, check out my post on grilled pineapple.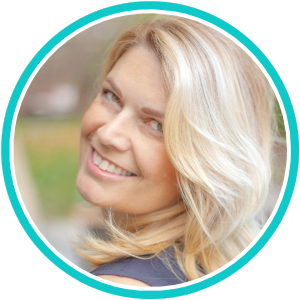 Mom of two and seeking sanity in the everyday. Let's chat about family, school struggles, travel, and living our best life. Located in the San Francisco Bay area.