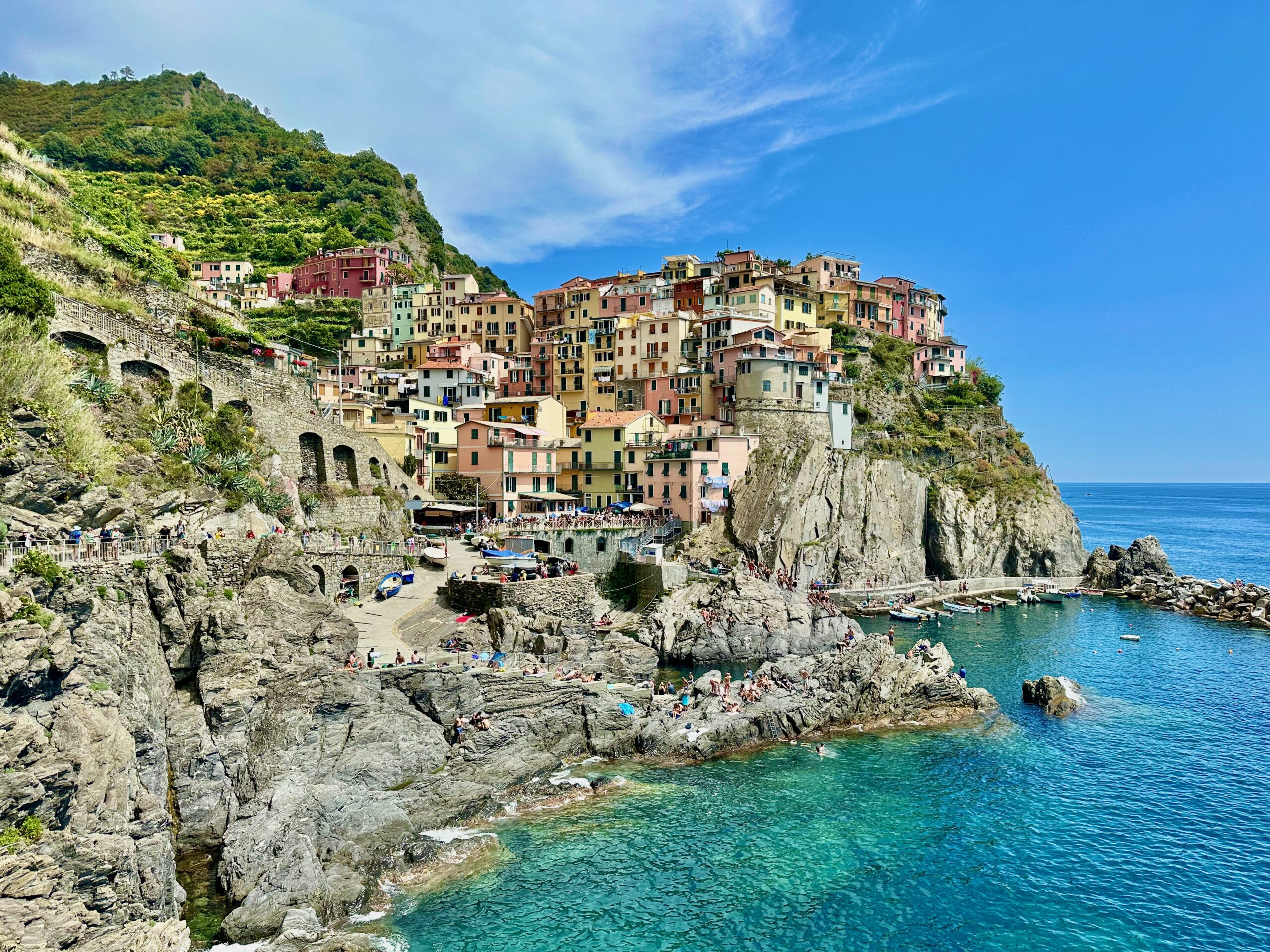 Knowing how much I love to travel, I do not exaggerate when I say Cinque Terre is one of my favorite places to which I've ever traveled. I first came to this charming village 25 years ago, traveling solo, and instantly fell in love with everything about the area. So, It was a dream come true to finally get to come back and spend three perfect days in Cinque Terre with my family.
The beautiful region is located on the rugged northwest coast of Italy and is tucked within the Italian Riviera. Cinque Terre is made up of five colorful, centuries-old fishing villages connected by both a local train and a series of scenic hiking trails. Something I love about Cinque Terre is that there are nearly no cars here. As mentioned, you explore the area on foot or take the local train. The only type of road noise you will hear is the rattle of the local train zipping from village to village.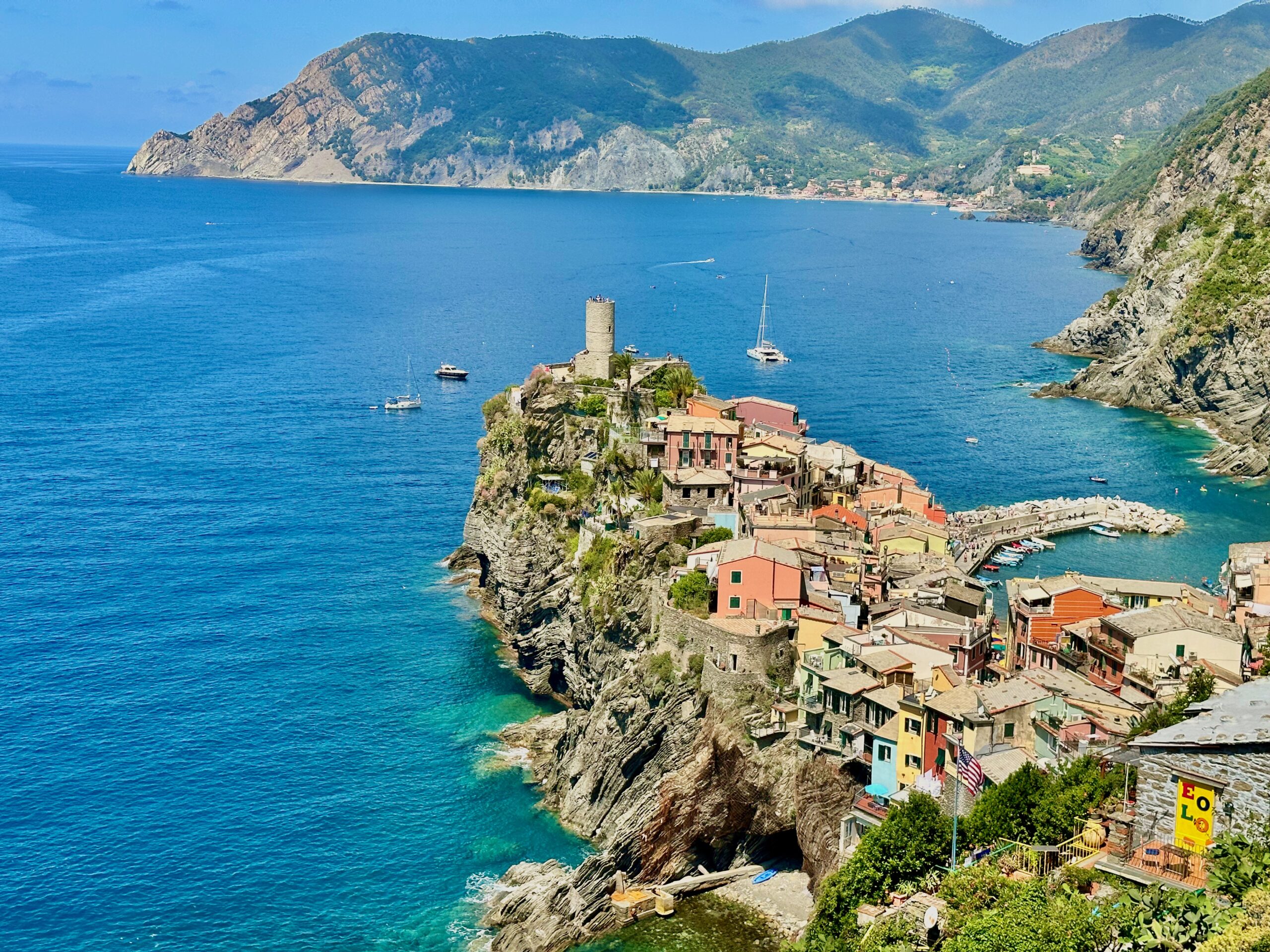 How We Spent Our Time
The best thing about spending time in Cinque Terre is that there is no wrong way to spend time in Cinque Terre.  Just about anything you do here feels magical. The only mistake anyone can make here is not spending enough time thoroughly enjoying it.  Cinque Terre is a place best enjoyed at a slow pace to be able to take it all in. We truly loved and enjoyed our three days in Cinque Terre. We hiked the trails, explored the towns, swam in the Mediterranean, and experienced more than a little dolce vita.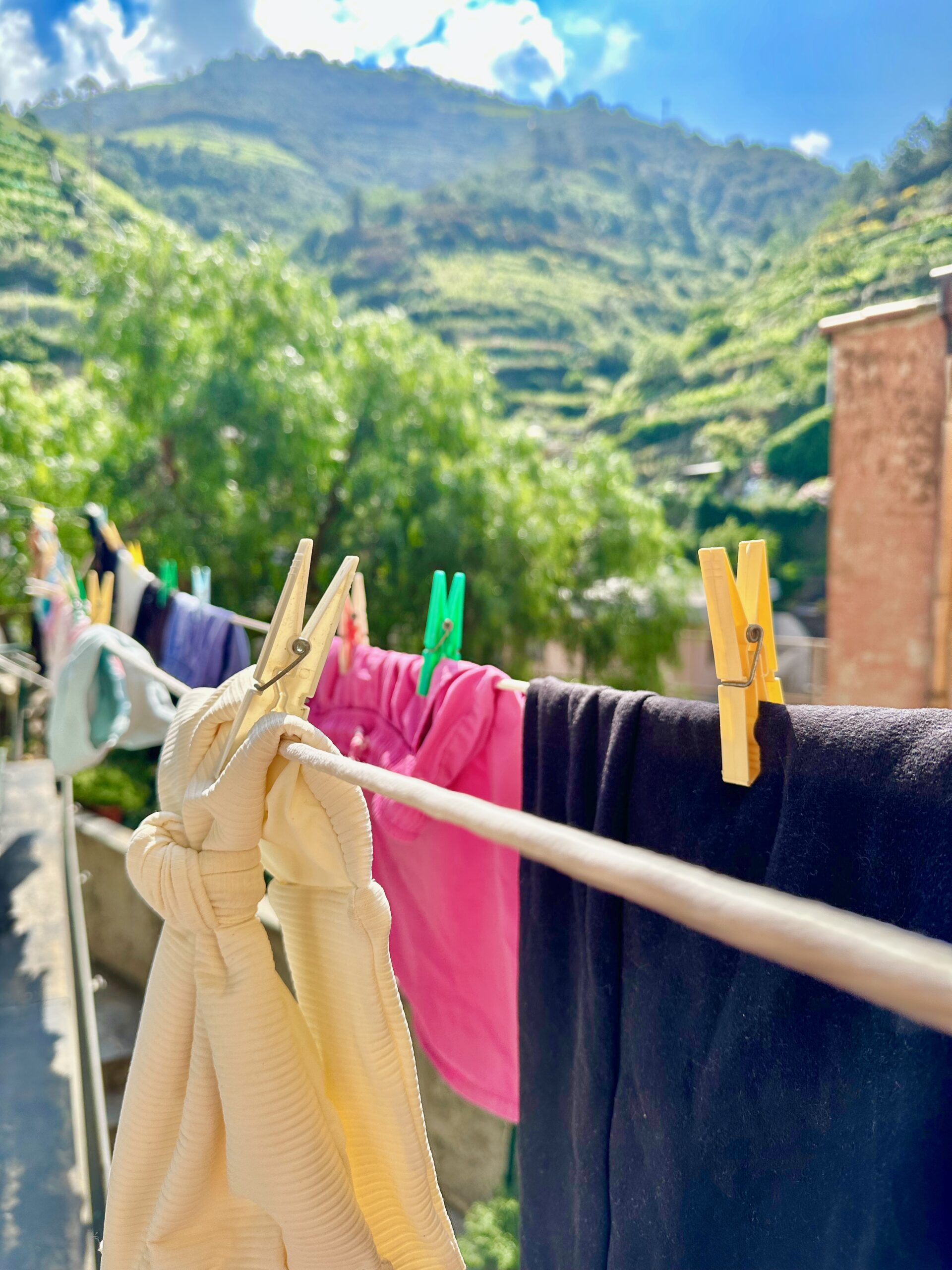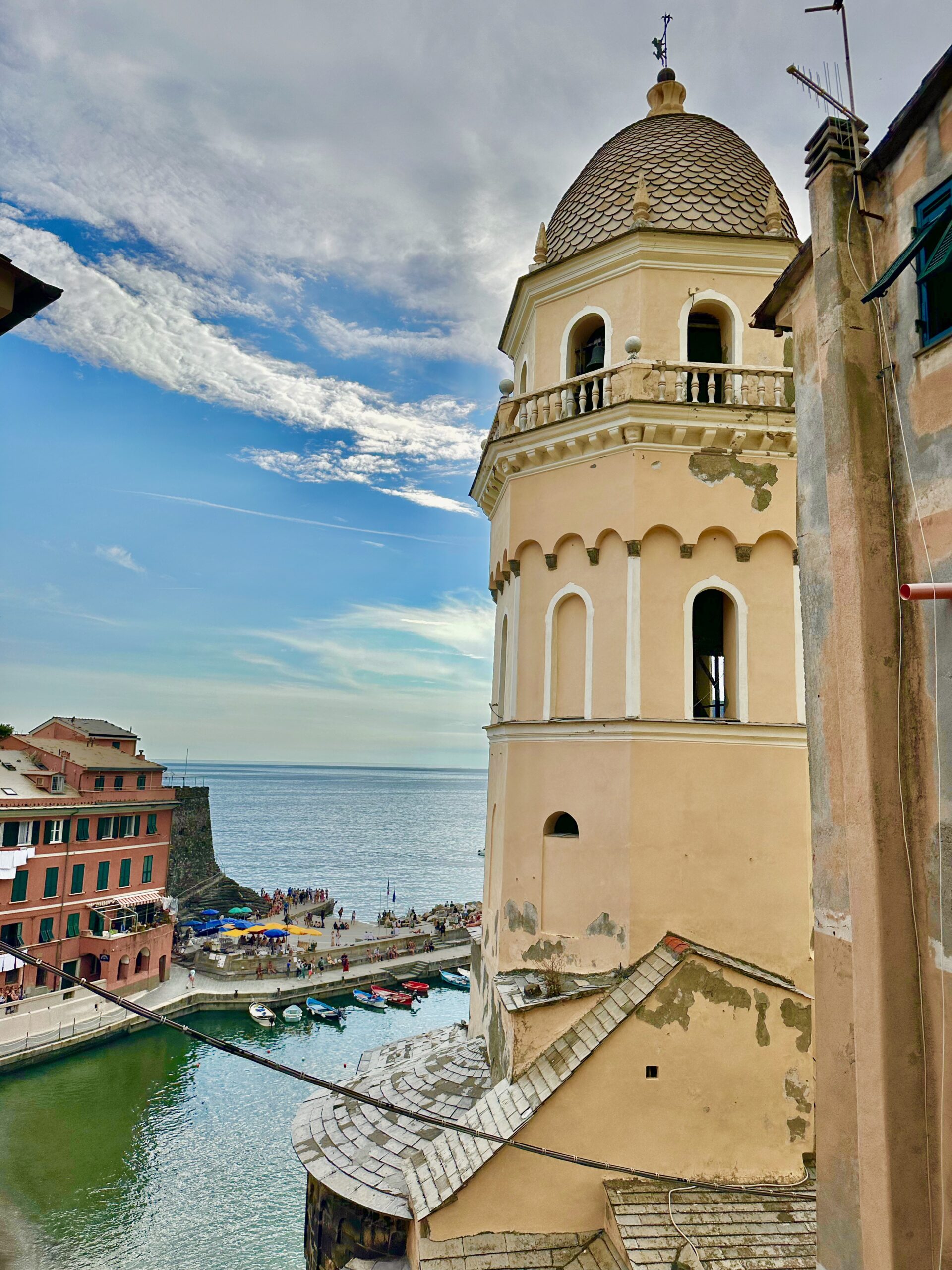 Where We Stayed
We stayed in the town of Vernazza. It's where I stayed 25 years ago, and it's my favorite of the five towns.  I first remember reading all about Vernazza in my trusty,
Rick Steve's guidebook
back when I was traveling solo. Vernazza was a recommendation I was so happy that I took from the guide book because this quaint little seaside village ended up being one of my favorite places in the world. I find it just as charming today as I did when I first visited it many years ago.
Vernazza is the perfect home base for whether you are traveling with kids or without. It's small, it's safe, and has a great little beach within a protected harbor. We very much enjoyed our days in Vernazza swimming in the sea and soaking up the sun. Shops and food were always just a few steps away.  Our teen and our tween were both really happy to be able to enjoy a little independence in Vernazza — a nice change of pace from having to spend time with mom and dad all the time.   The town is small enough to let them wander without worrying about anyone getting lost or anything happening to them.
We stayed in a wonderful, family-owned,
one-bedroom rental
I found on Air BnB. It is located right in the middle of town, just up some stairs, and comes complete with a full kitchen, washing machine, and a large terrace with a beautiful view of the surrounding hills and vineyards.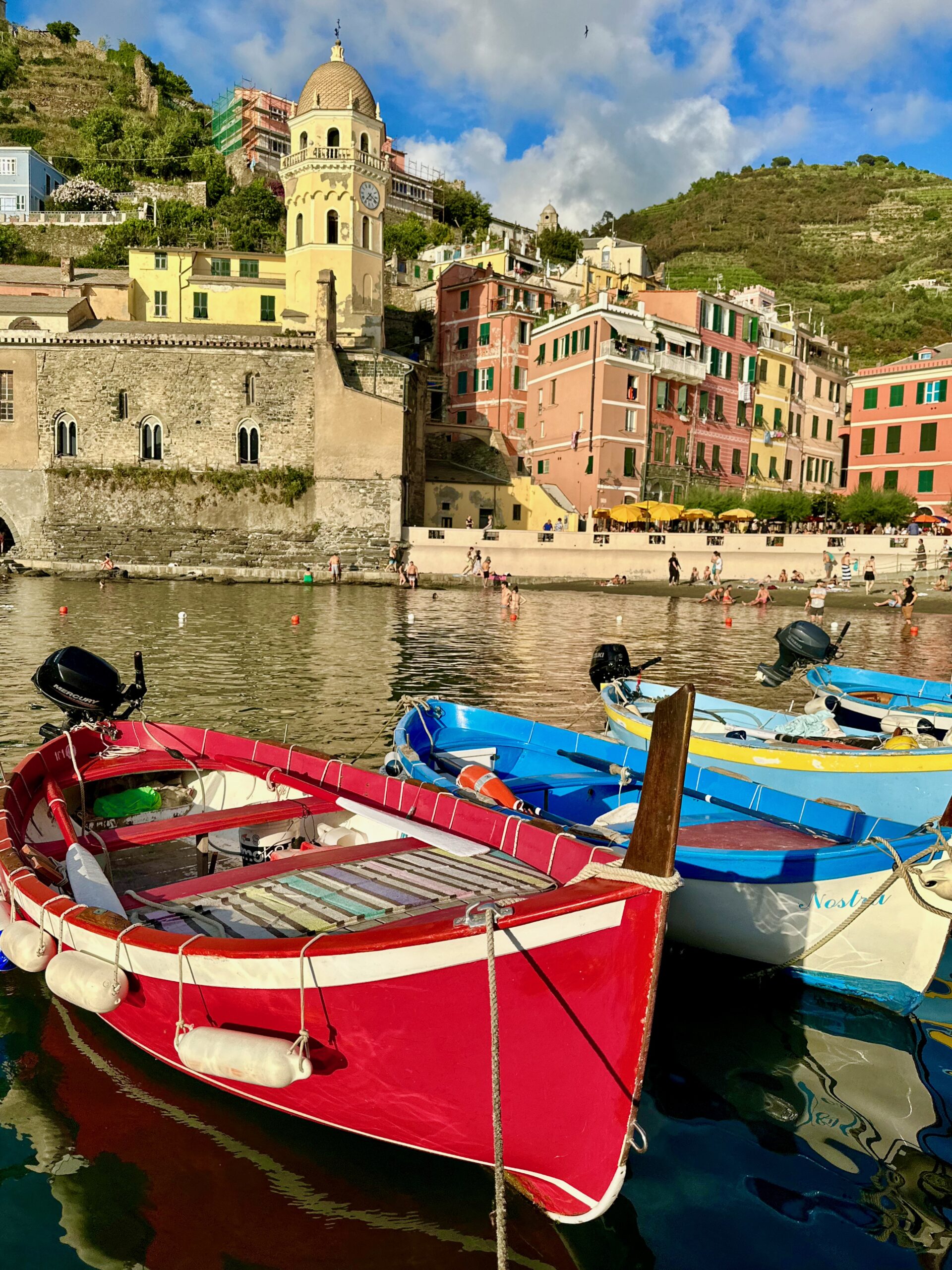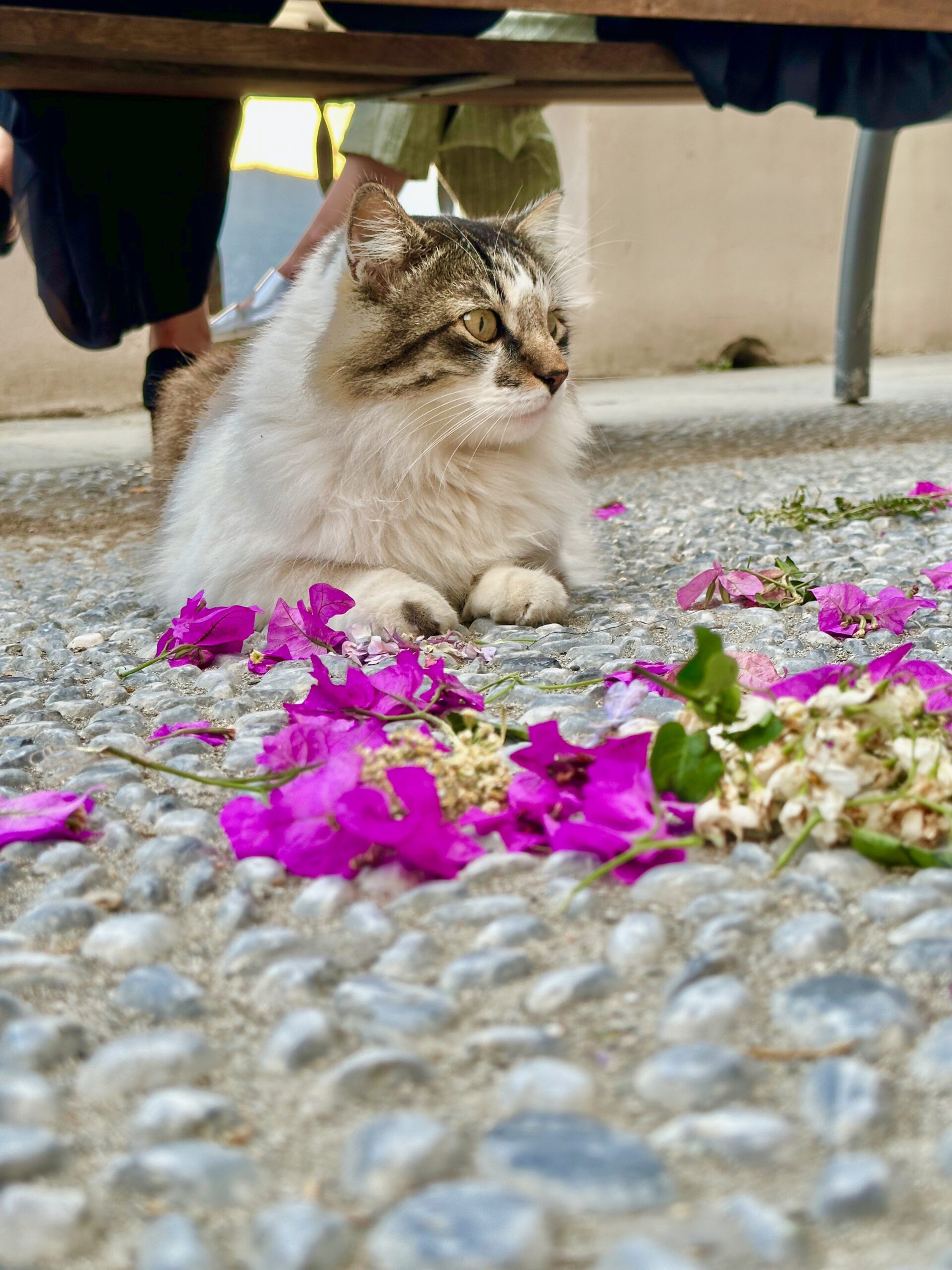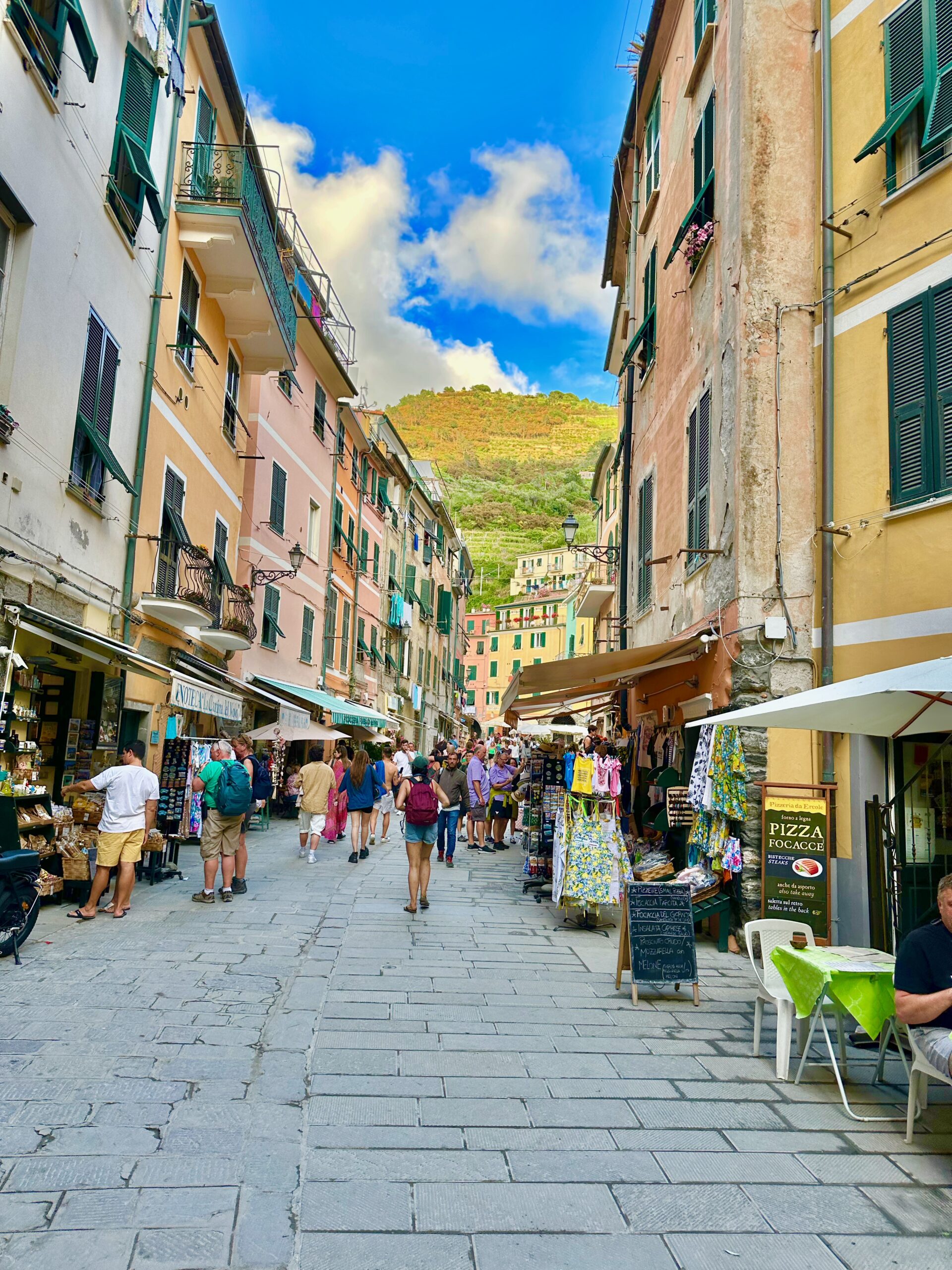 A Vacation While On Vacation
I can't say it enough, there is no wrong way to spend time in Cinque Terre. Our stay in this charming village almost felt like a vacation while on vacation. Believe it or not, we didn't even get to see all five of the villages during this visit. This was absolutely fine by us. The great thing about this area is you can do as much or as little as you like and it still all feels perfect in every way.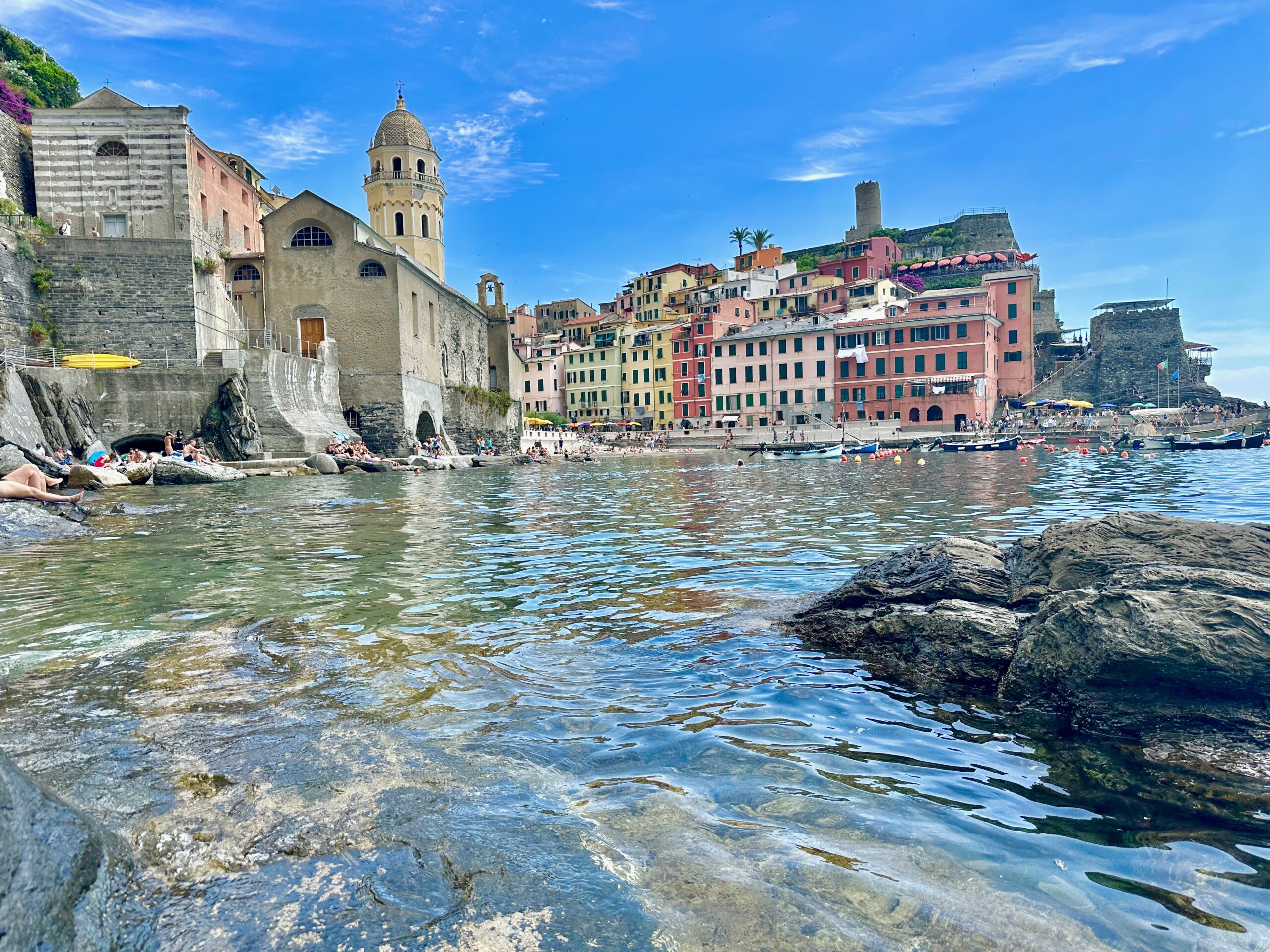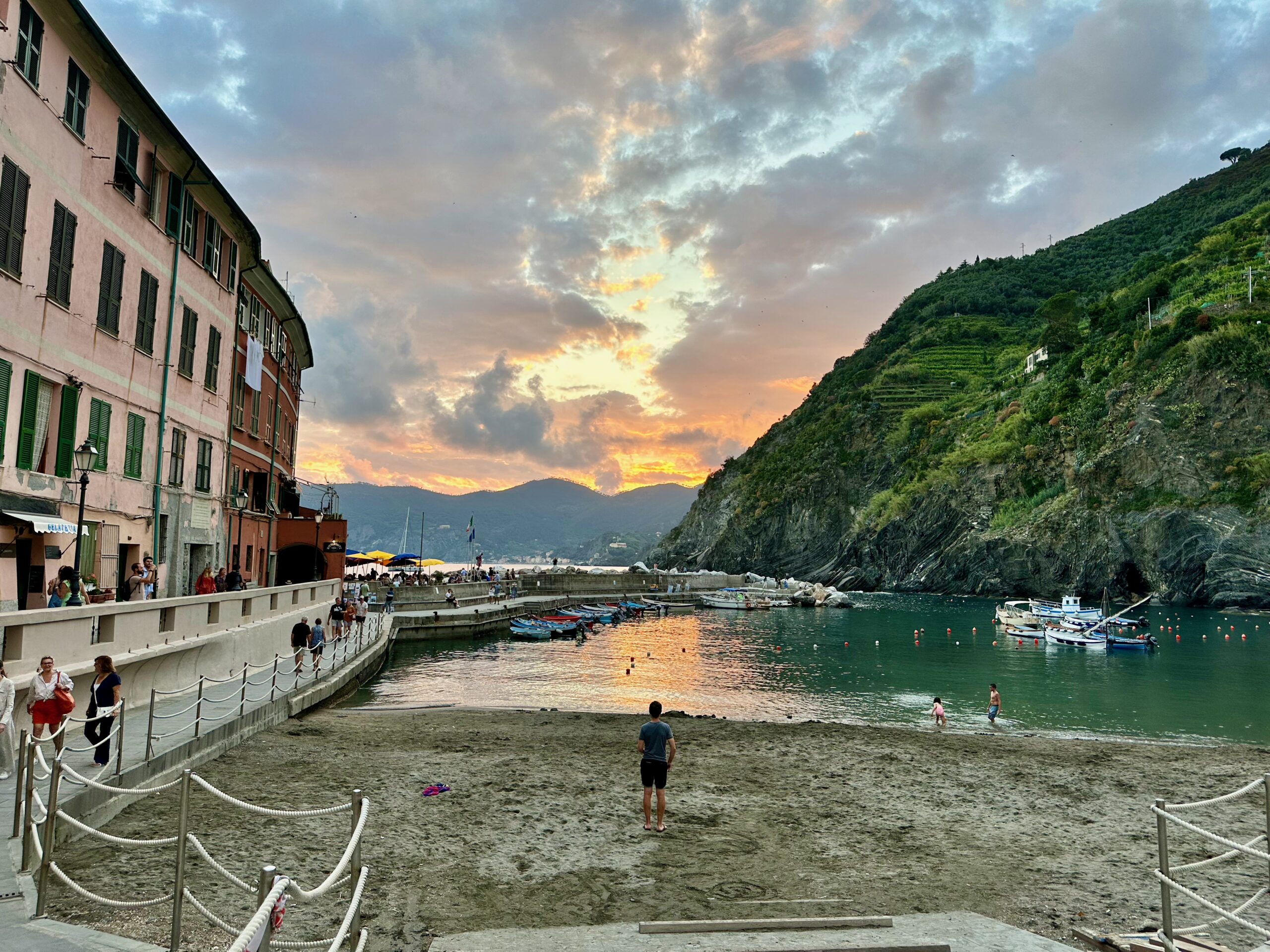 Day 1 – Settle into Vernazza
We spent our first day getting acquainted with the village of Vernazza.  Having had a long day of travel, we were all pretty tired. It was great to spend the first afternoon having lunch in the square, sipping on Aperol Spritzes, and indulging in some fantastic gelato.
For dinner, we had reservations at Ristorante Il Gambero Rosso. The dinner was absolutely delicious.  We watched the sunset right from our table before heading back to our apartment to get some much-needed rest.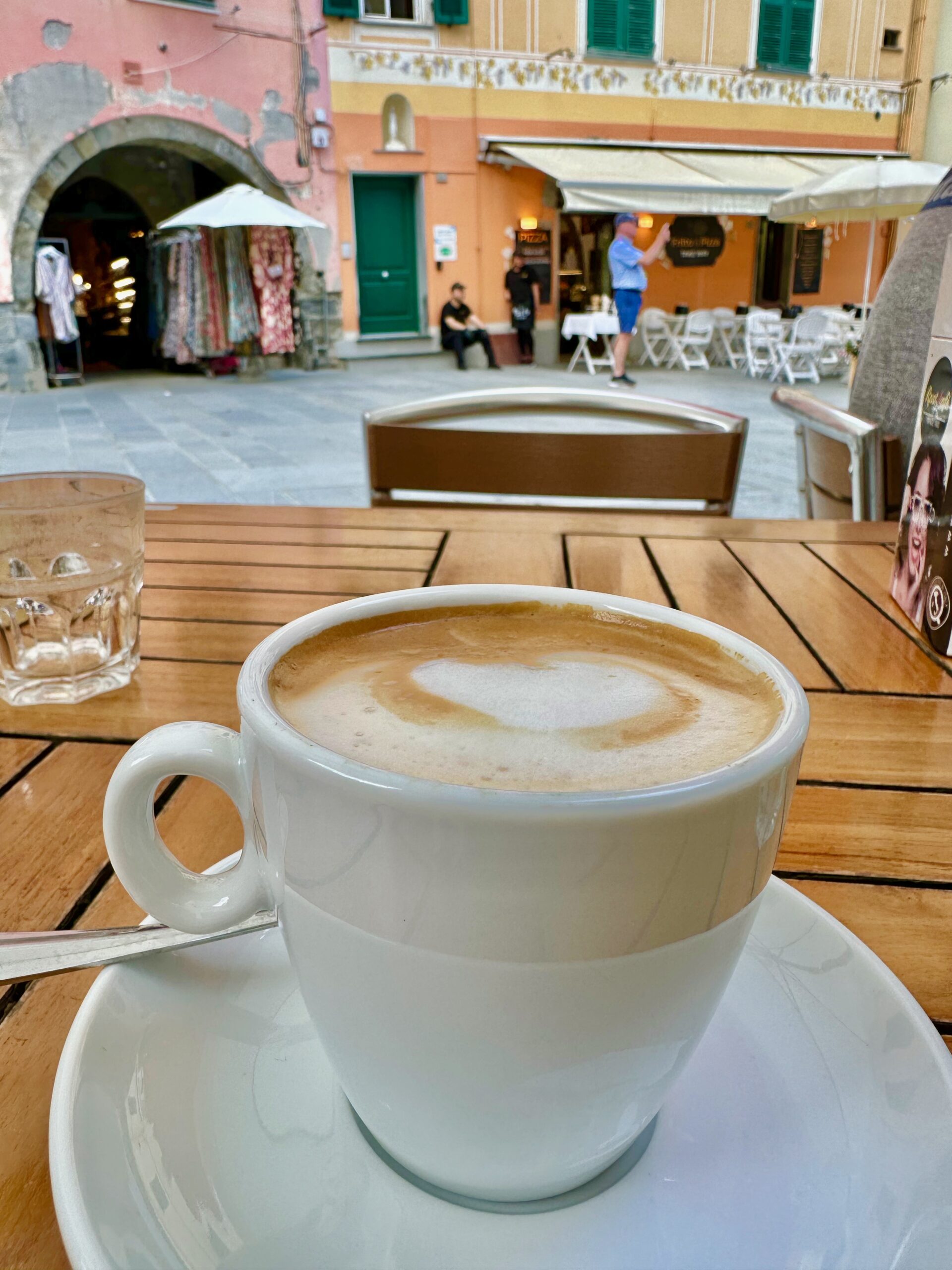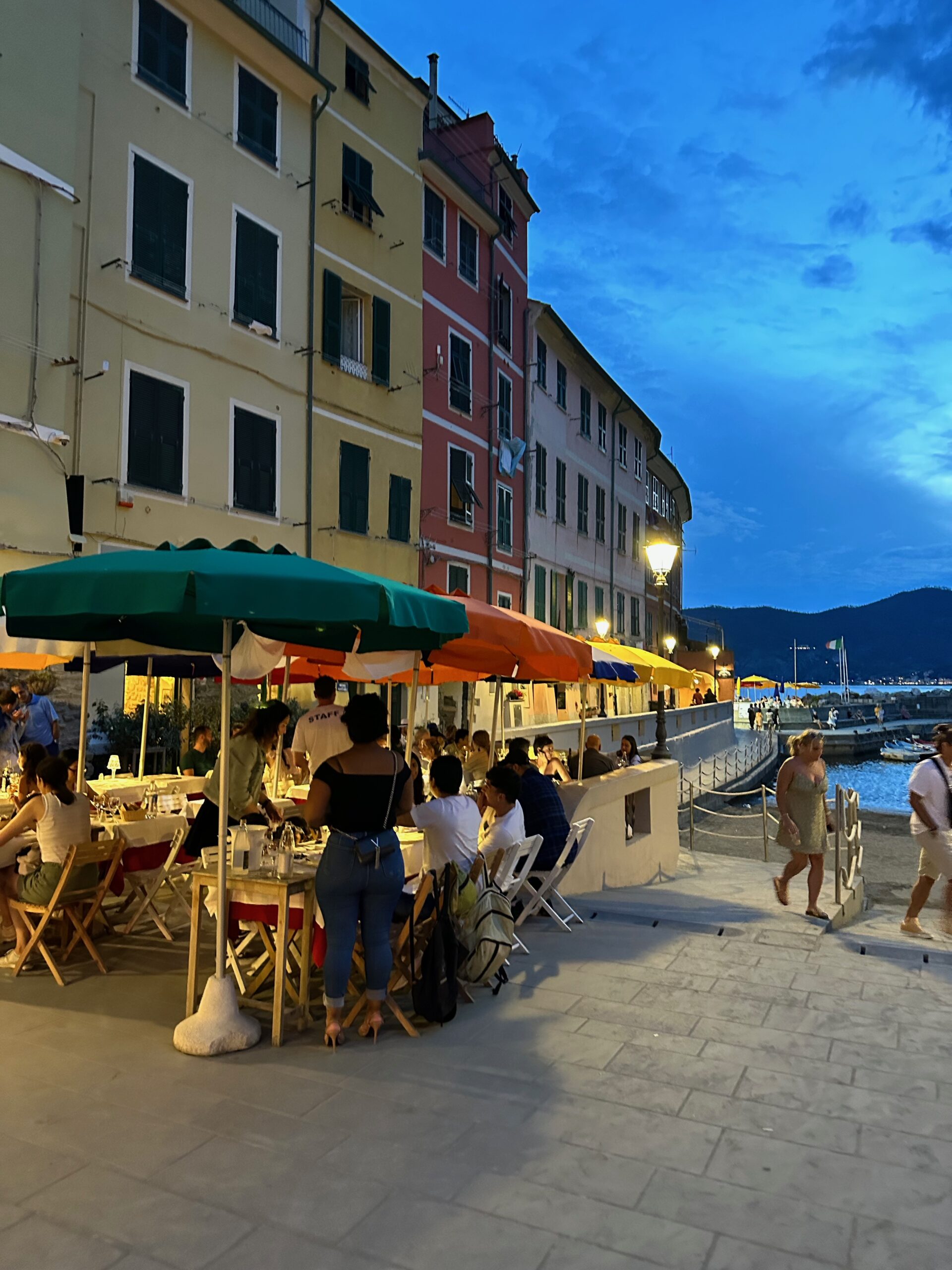 Day 2: Shop, Hike, Visit Corniglia and Manarola
Shop the Local Markets
One of my favorite things to do while traveling is to shop in the local markets. On this morning I headed to the market right in the center of the village to pick up groceries for breakfast. Shopping in the local markets is one of the best ways to feel like a local and experience true village life.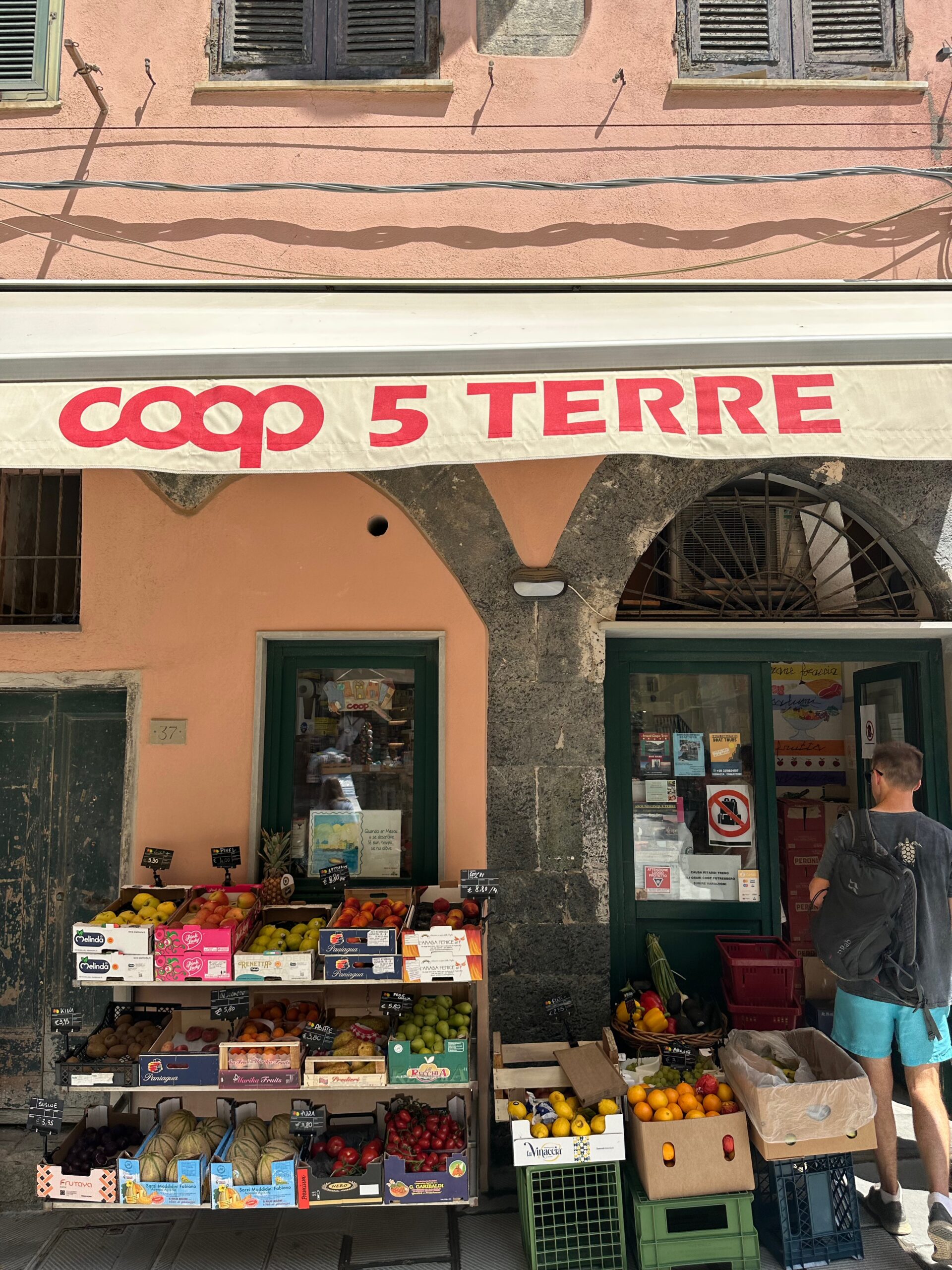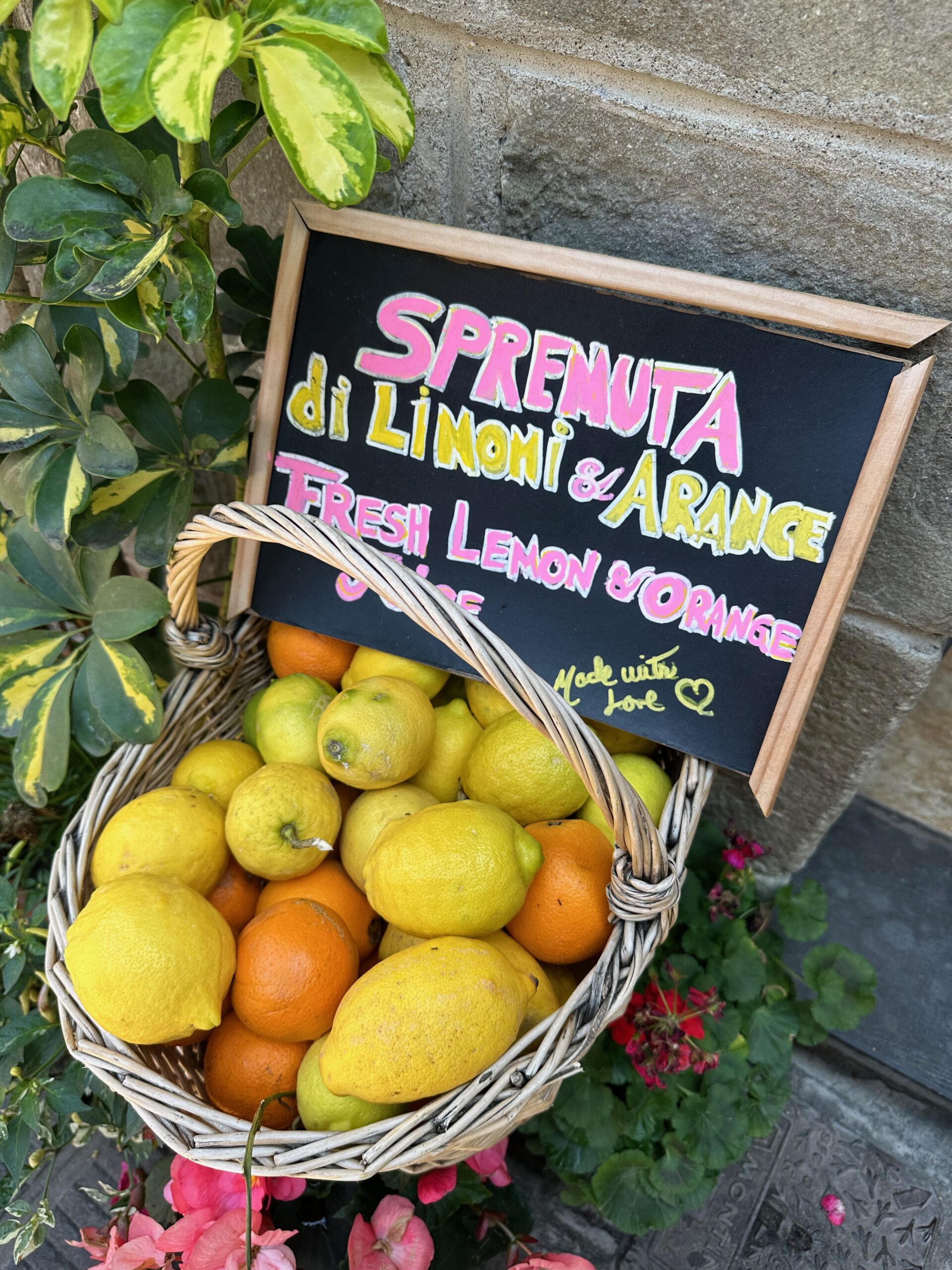 Hike to Corniglia
After breakfast, it was finally time to hit the trail from Vernazza to Corniglia. The trail starts right in the middle of town and begins its steep uphill climb right away. The hike is a little over two miles long and is considered moderate. My kids would disagree.  It was definitely a "hard" moderate for us, but it was doable.   We ended up stopping at a restaurant located at the halfway point between Vernazza and Corniglia. We'd earned a rest and deserved to grab a much-needed cold drink.
This trail actually took us a lot longer than we had planned. Upon arriving in Corniglia, the kids made it clear they were done with hiking altogether.  While there we grabbed some gelato, explored the town, and did a family vote deciding to take the train, instead of hiking, to Manarola.
A note about the hiking trails:
  Cinque Terre is part of a national park and some of the trails cost money.  You can buy your
trekking pass
in advance online.  If not be sure if it costs money or not, it is best to bring some cash with you as you can also pay on the trail.  A single-day trekking card for ages 12 and up costs 7.50 Euros.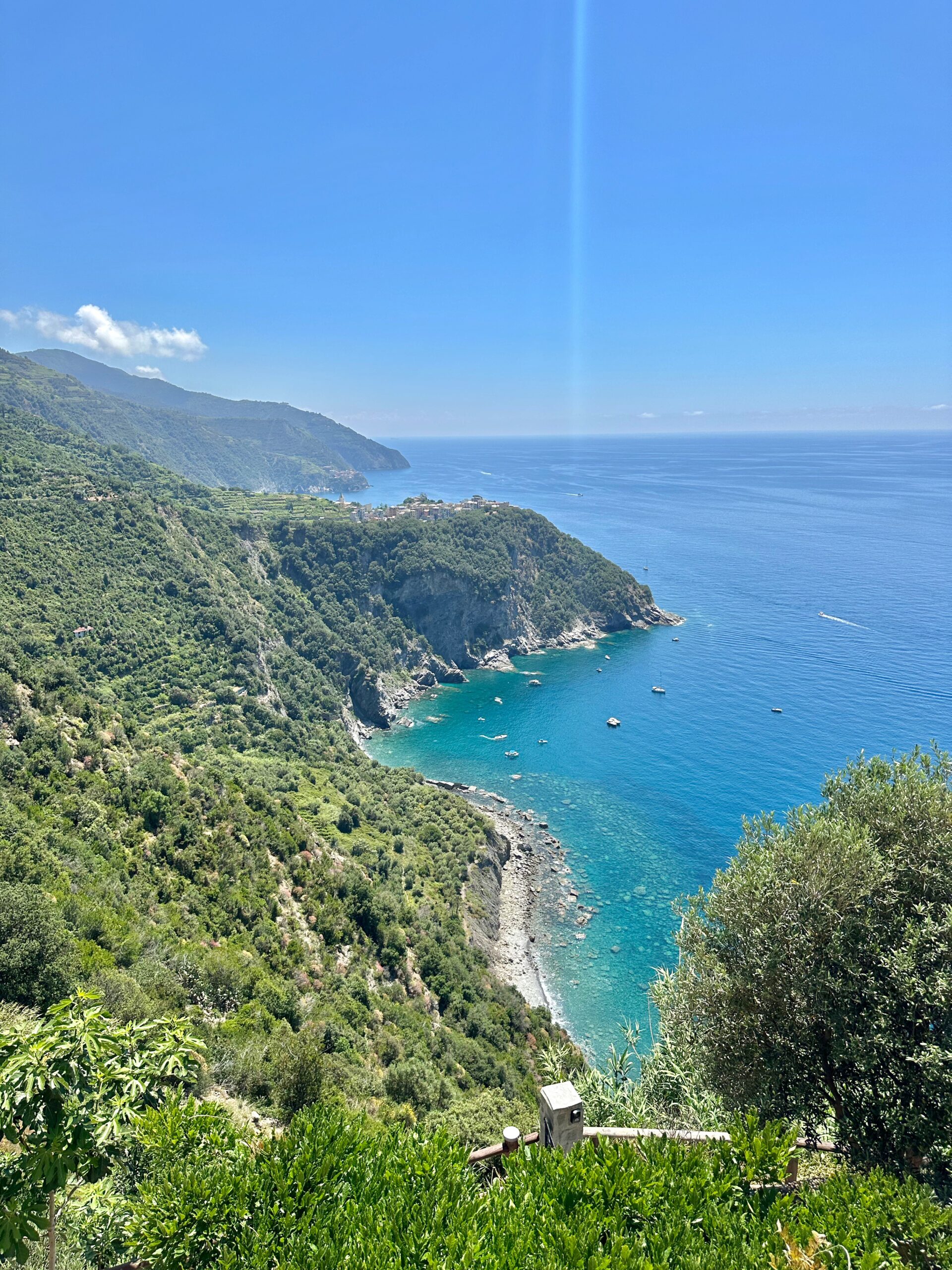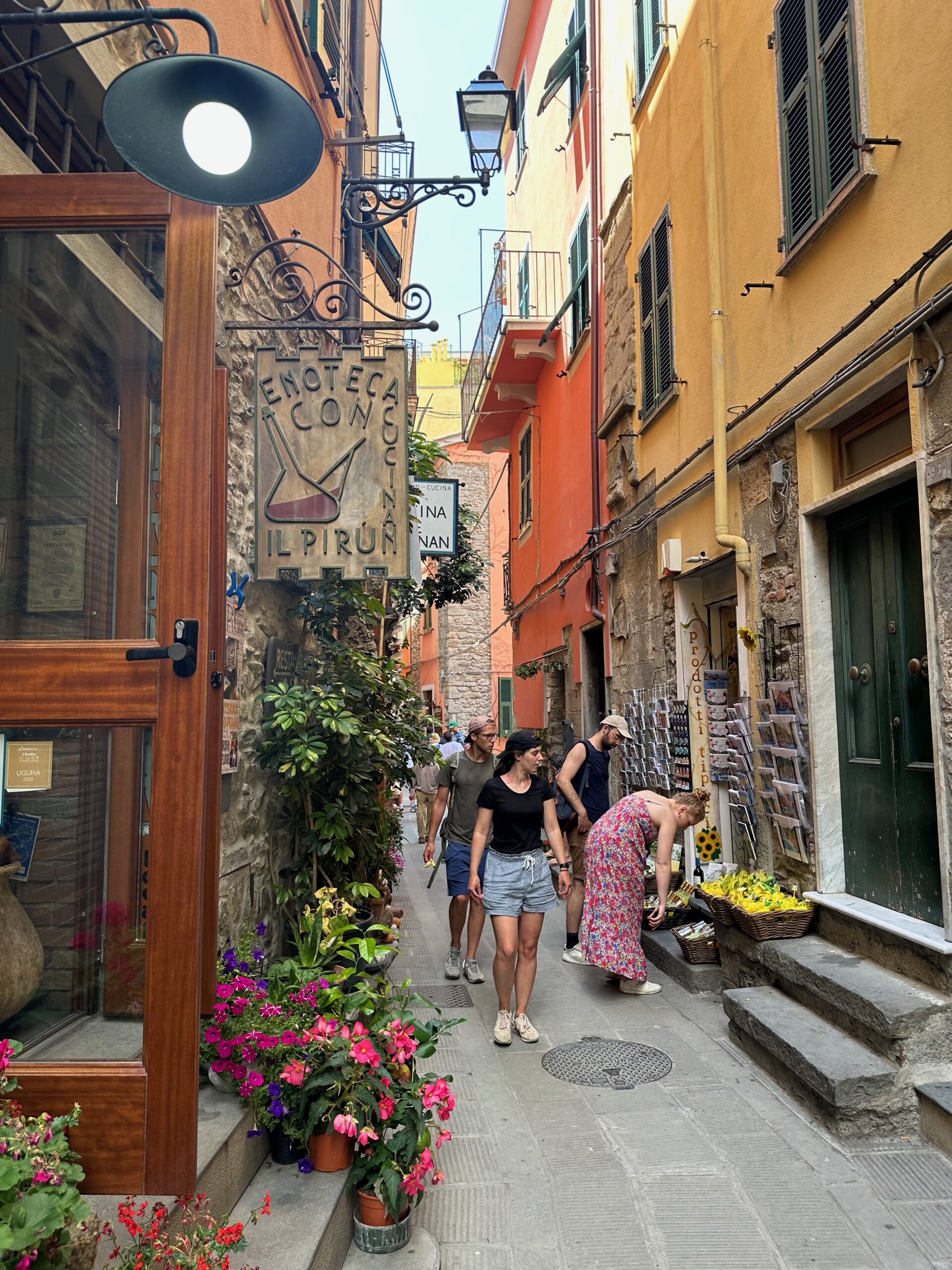 Train to Manarola
As mentioned, we voted to take the train to Manorola. Once there we enjoyed a delicious lunch at
La Scogliera
.  The kids said the pizza in this restaurant was their favorite in all of Italy. It didn't hurt they were super hungry from the hike. We spent a little time checking out the town and taking in the views before we hopped on the next train back to Vernazza.
Train Tip:
You can buy
day passes
for the trains online just like the trekking cards.  Tickets can also be purchased right at the train station.  Be sure to get the ticket validated before you get on the train. Don't be afraid to ask for help as it can be a little confusing.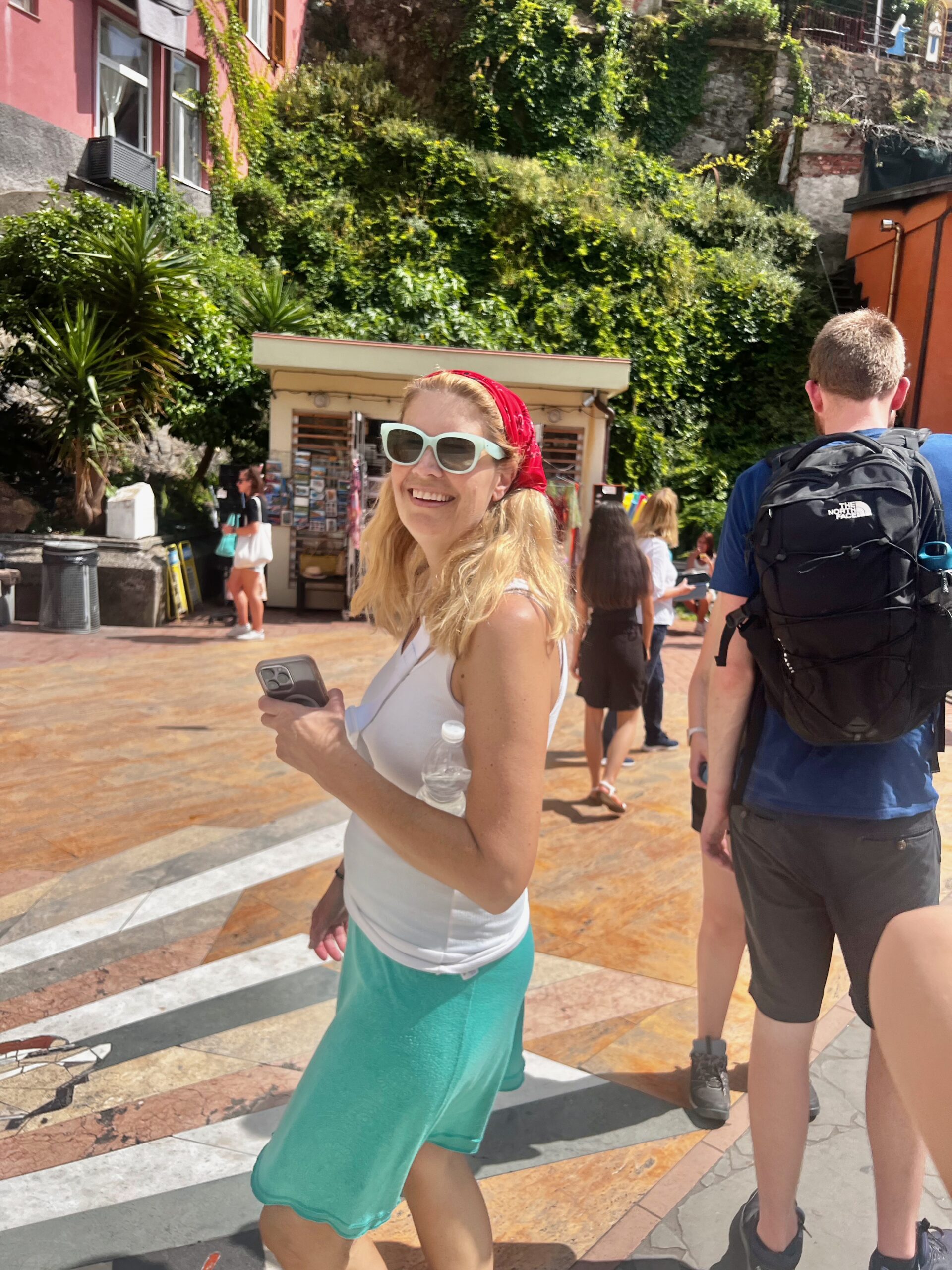 Back to Vernazza for the Evening
While taking the train back to Vernazza after lunch in Manarola we reflected on how much we loved the hike… but were delighted to be on a train! Upon arriving home we rested a bit and enjoyed some drinks and snacks on the square. That evening found us back on the square for a fabulous dinner. It was a long day, so after a bit of people-watching, we called it a night.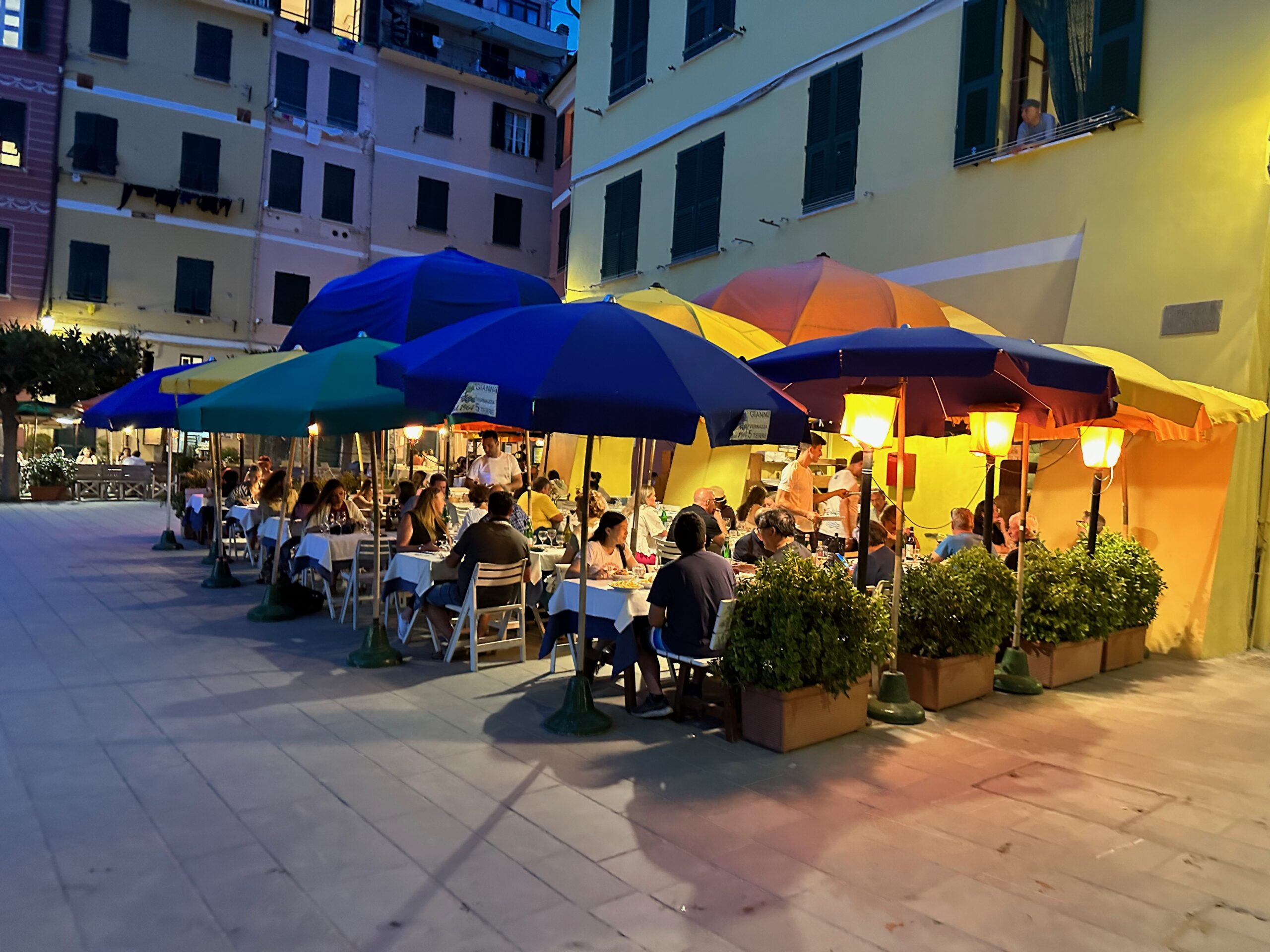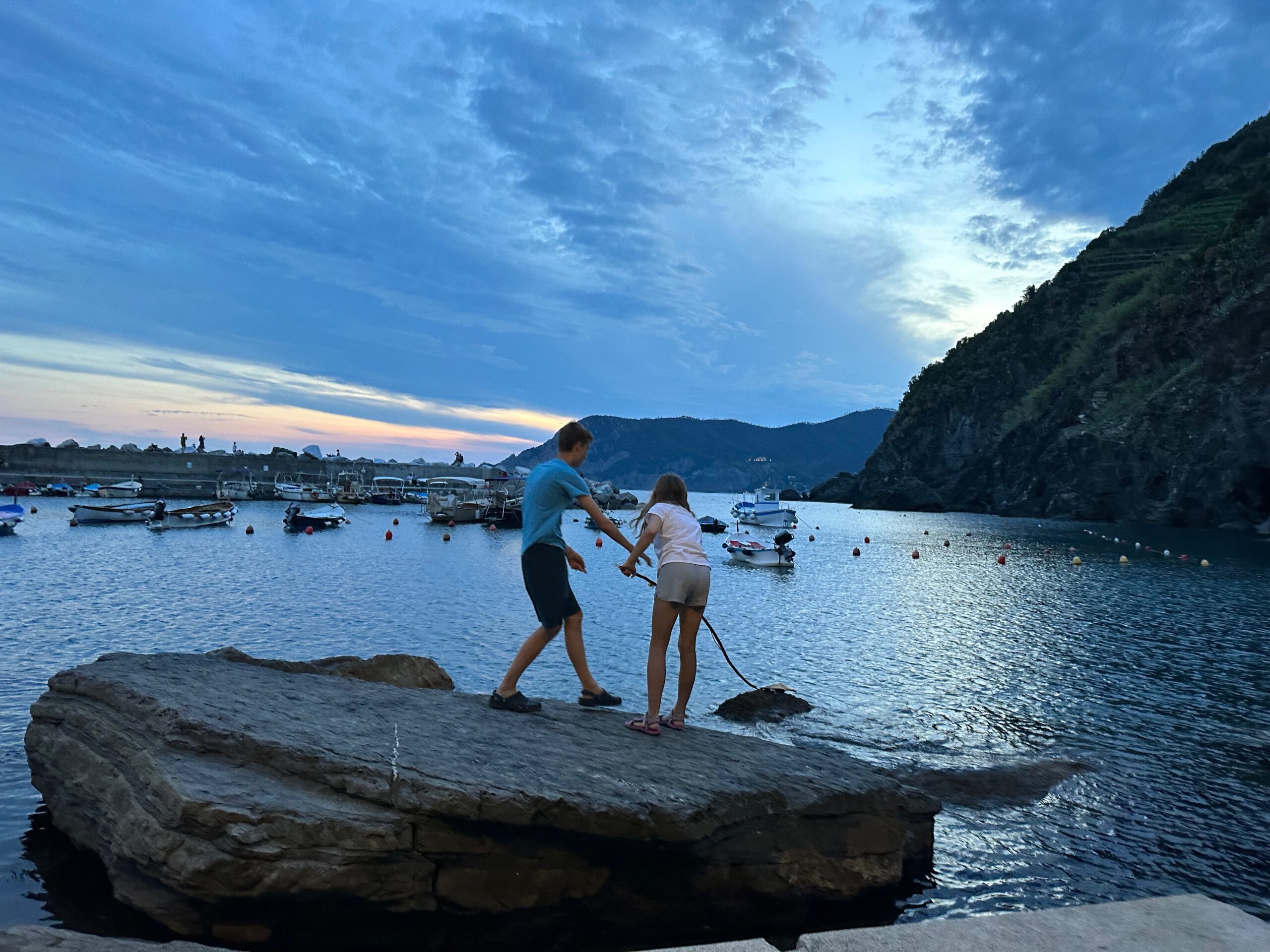 Day 3 – Beach Day, Enjoy Vernazza
Beach Day
Today we let our kids choose what they most wanted to do. We could hike or we could take the train to Monterosso or we could spend the day swimming at our own little beach in Vernazza. Of course, they opted to stay in town. This was absolutely fine by me. Honestly, I was kind of hoping this would be their choice.  At this point, we were all ready for a beach day.
The great thing about having a beach day in the town where you are staying is that everyone has the flexibility to stay and swim as long or as little as they want without having to worry about catching a train back to the apartment.  Today almost ended up being more of a free-day in town for all of us to enjoy the day how we wished.  And being able to do something like that when you are traveling with kids is the beauty of staying in a small town.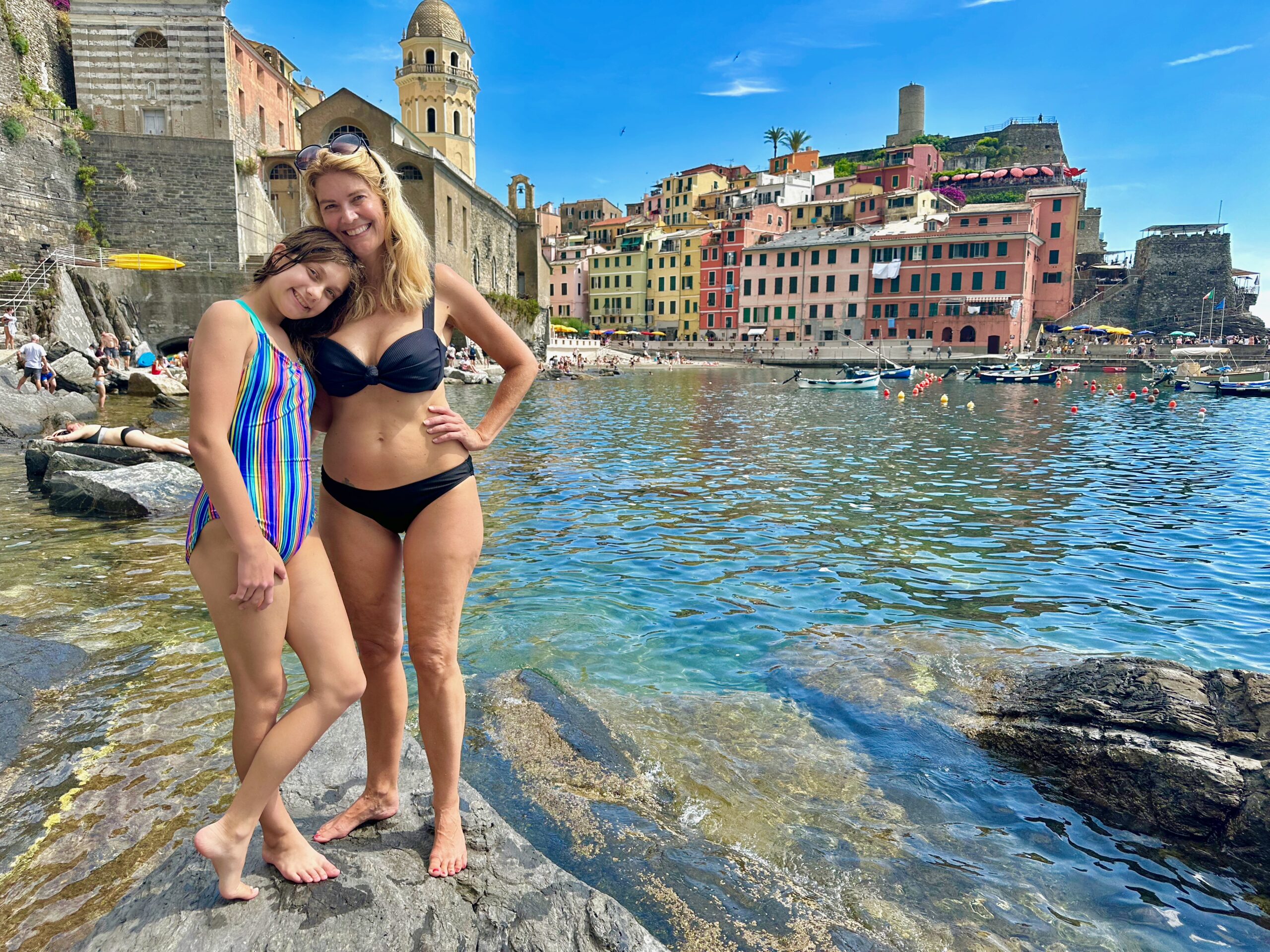 Drinks with a View
Both kids were wiped out after swimming and wanted to rest in the room for a while. This gave my husband and I the rare opportunity to hike just a bit of the trail toward Monterosso to check out the views sans kids.  After our short-but-steep hike, we discovered the most beautiful spot to grab a drink: the
Giani Franzi Deck
.  This delightful place offers delicious local wines accompanied by some jaw-dropping views of the rugged coastline.  If you make it here for drinks, be sure to try the cheese platter. It is amazing!
For our last evening in Vernazza, we met back up with the kids for dinner in the square. For one last night, we watched the sun go down over the Mediterranean. The nights here are magical and are the things of memories.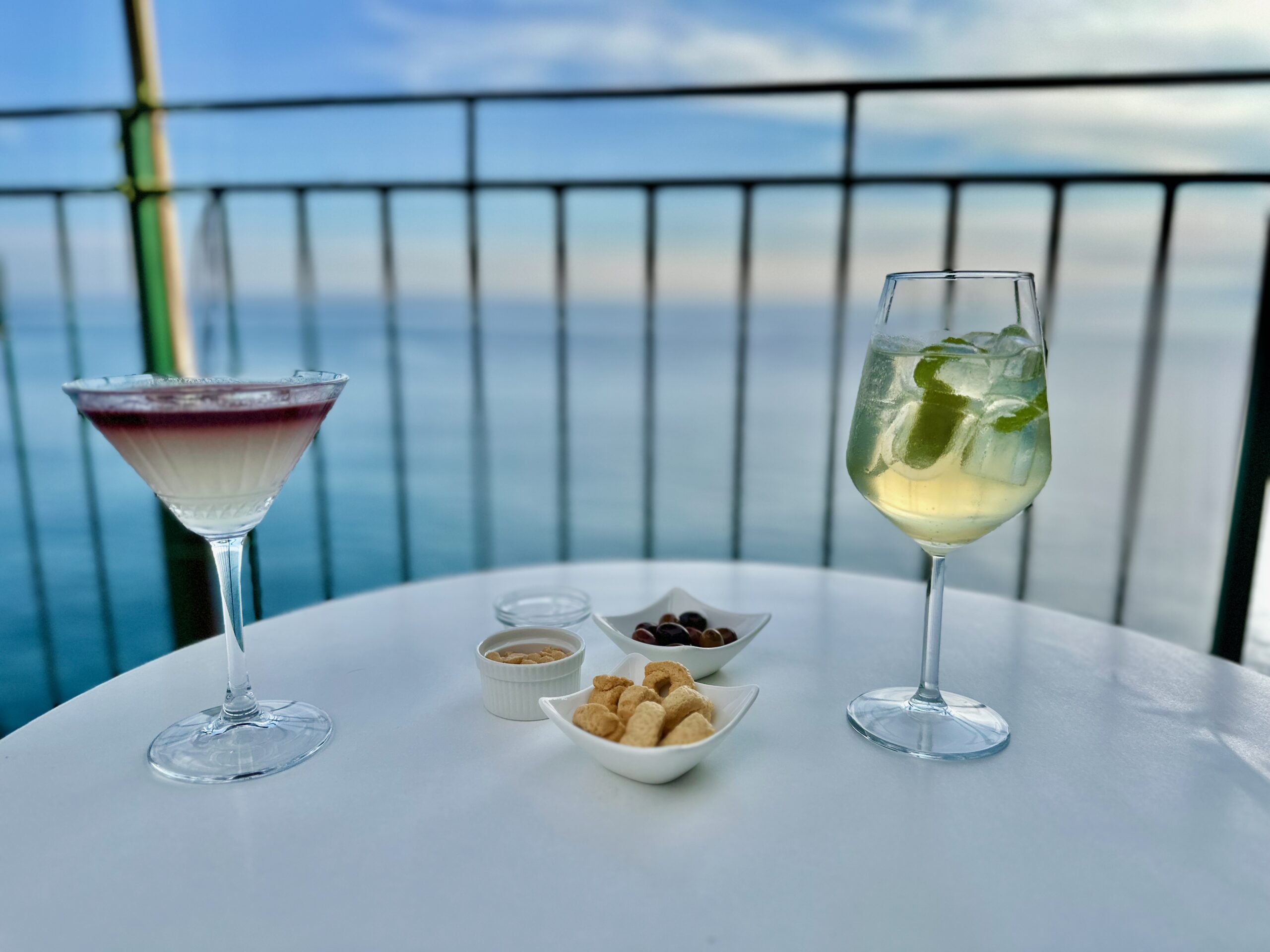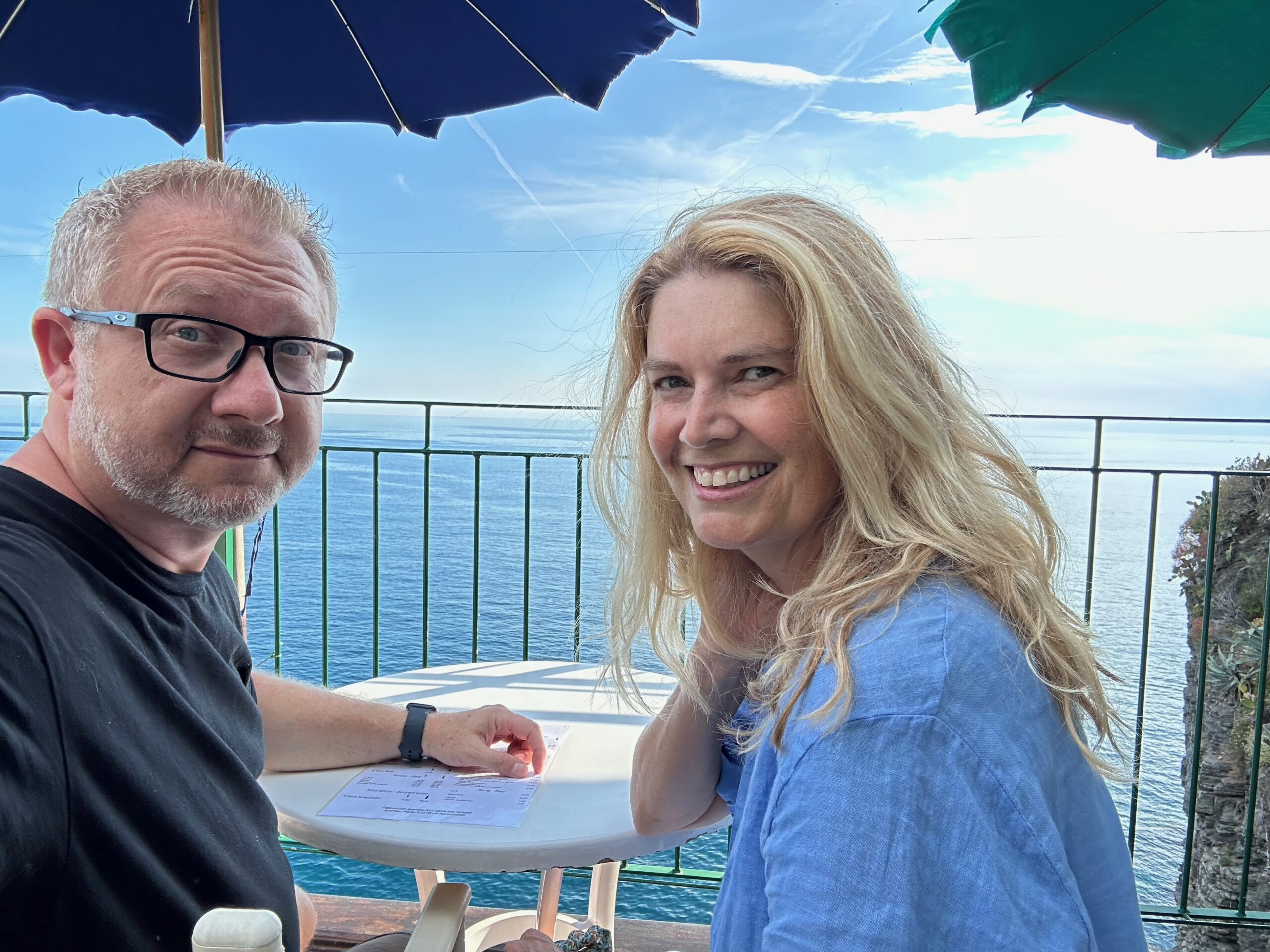 Three Perfect Days
As you can see, we only really had one busy day during our three days in Cinque Terre.  For the most part we spent our time soaking in the atmosphere.  To my delight, the town of Vernazza ended up being our daughter's favorite stop of our European travels, much as it was her mom's 25 years earlier.  Vernazza goes to show that you don't have to fill up your itinerary in order to make lasting memories.   Our perfect three days in Cinque Terre weren't packed full of excursions, cooking classes, or hikes.  Instead, they were filled with relaxing, eating, and enjoying La Dolce Vita.
To see more of our Italy travels be sure to check out our Ultimate Italy Two Week Itinerary.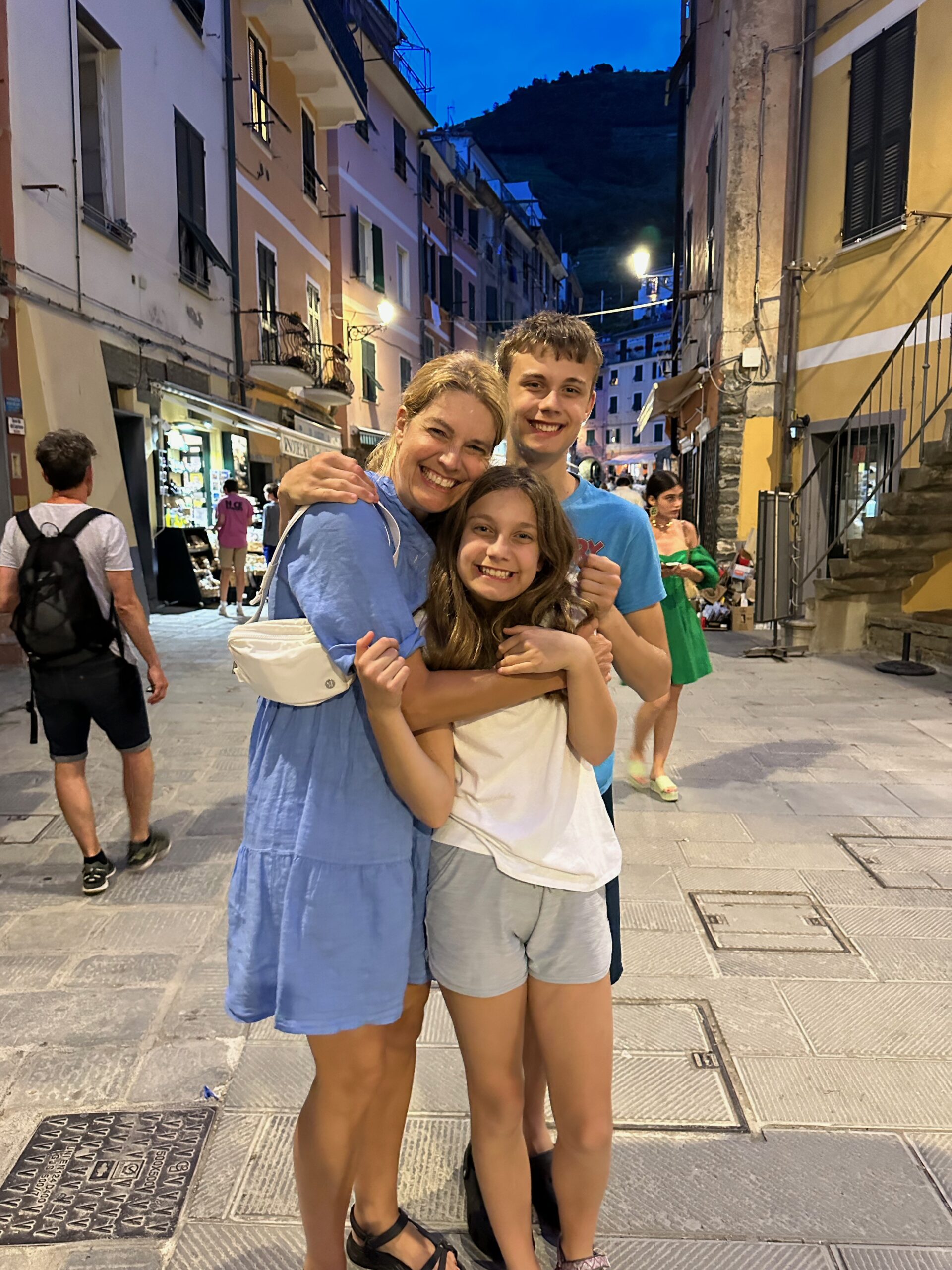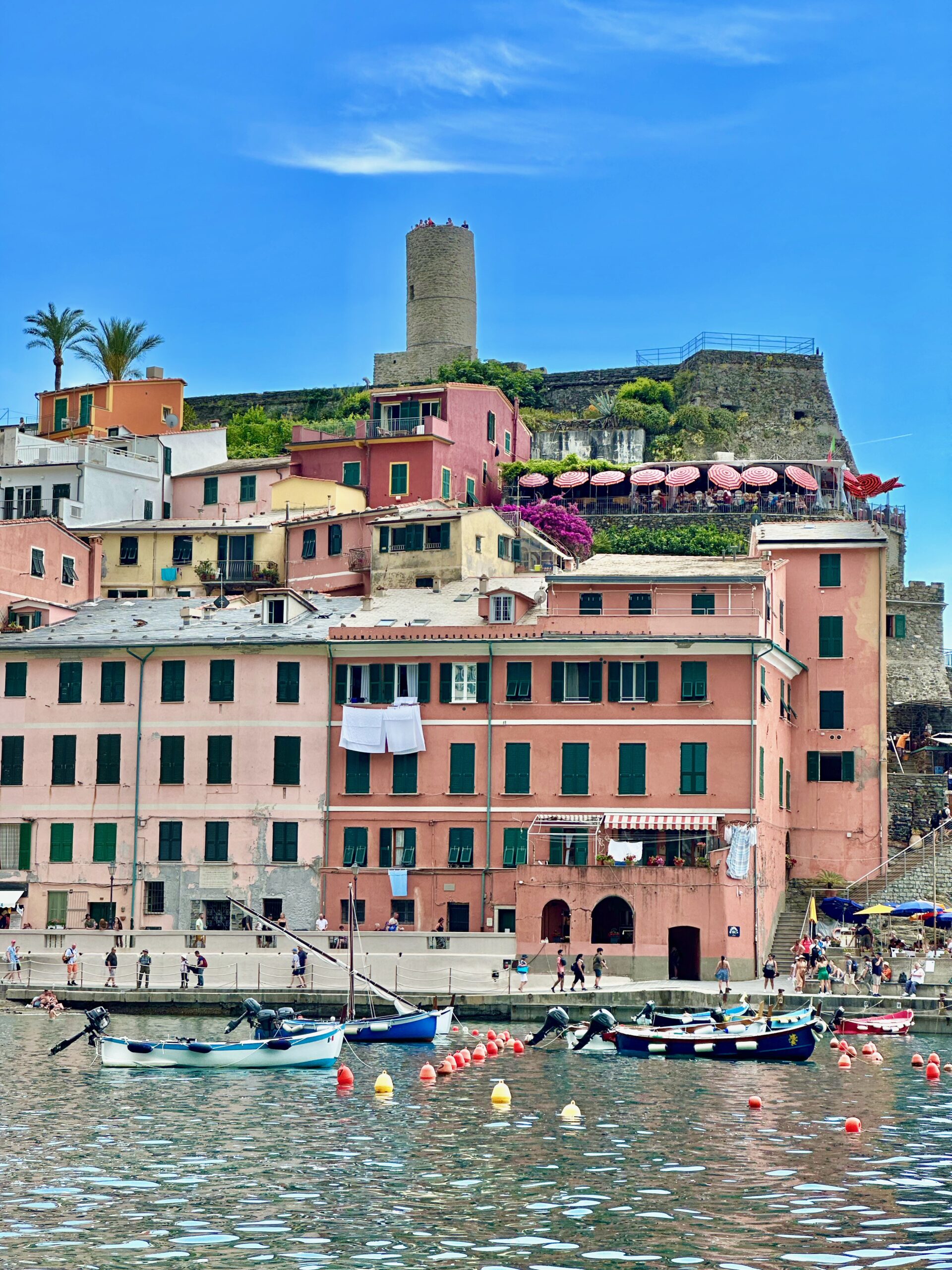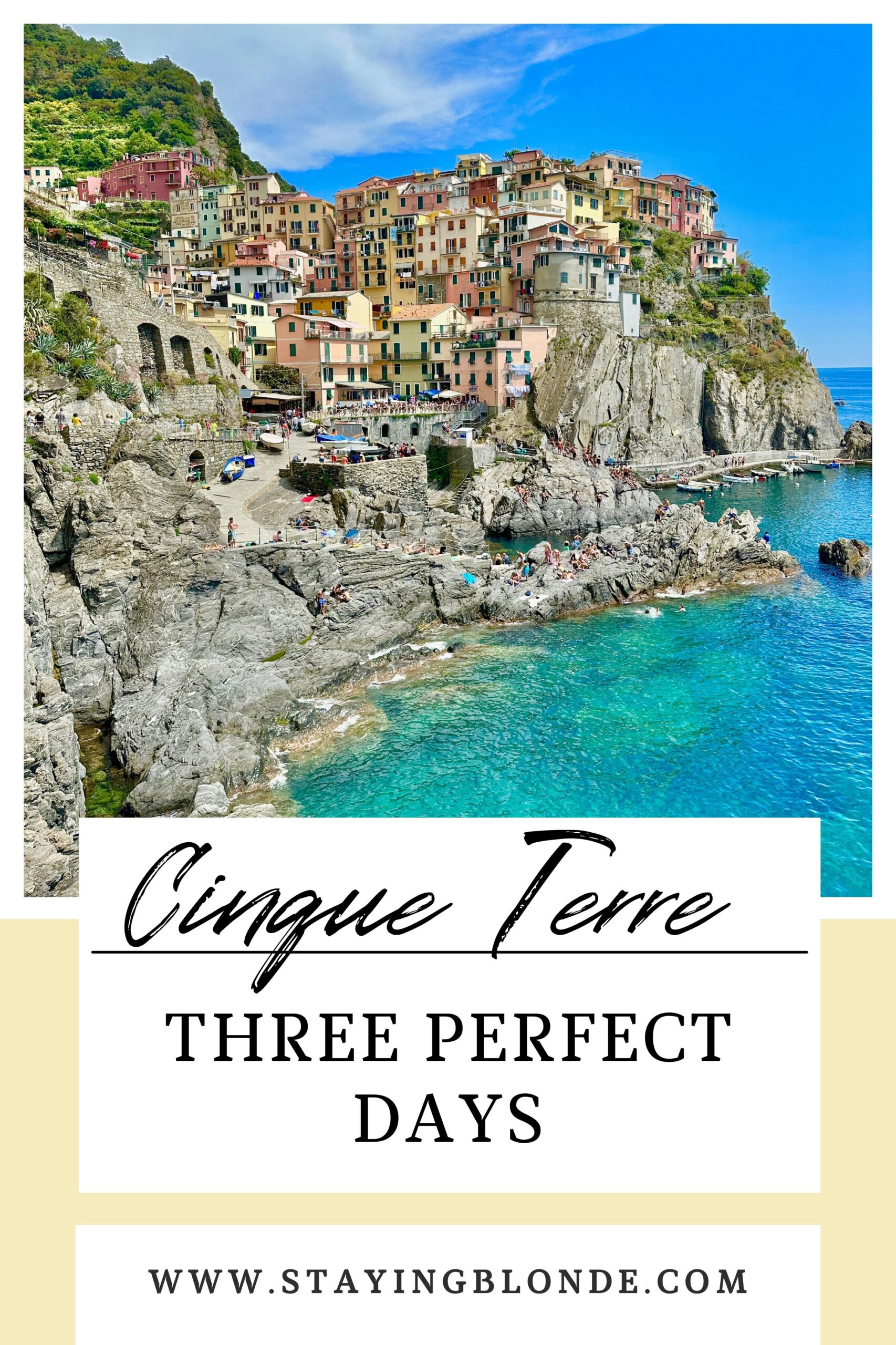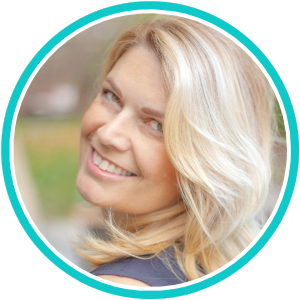 Mom of two and seeking sanity in the everyday. Let's chat about family, school struggles, travel, and living our best life. Located in the San Francisco Bay area.