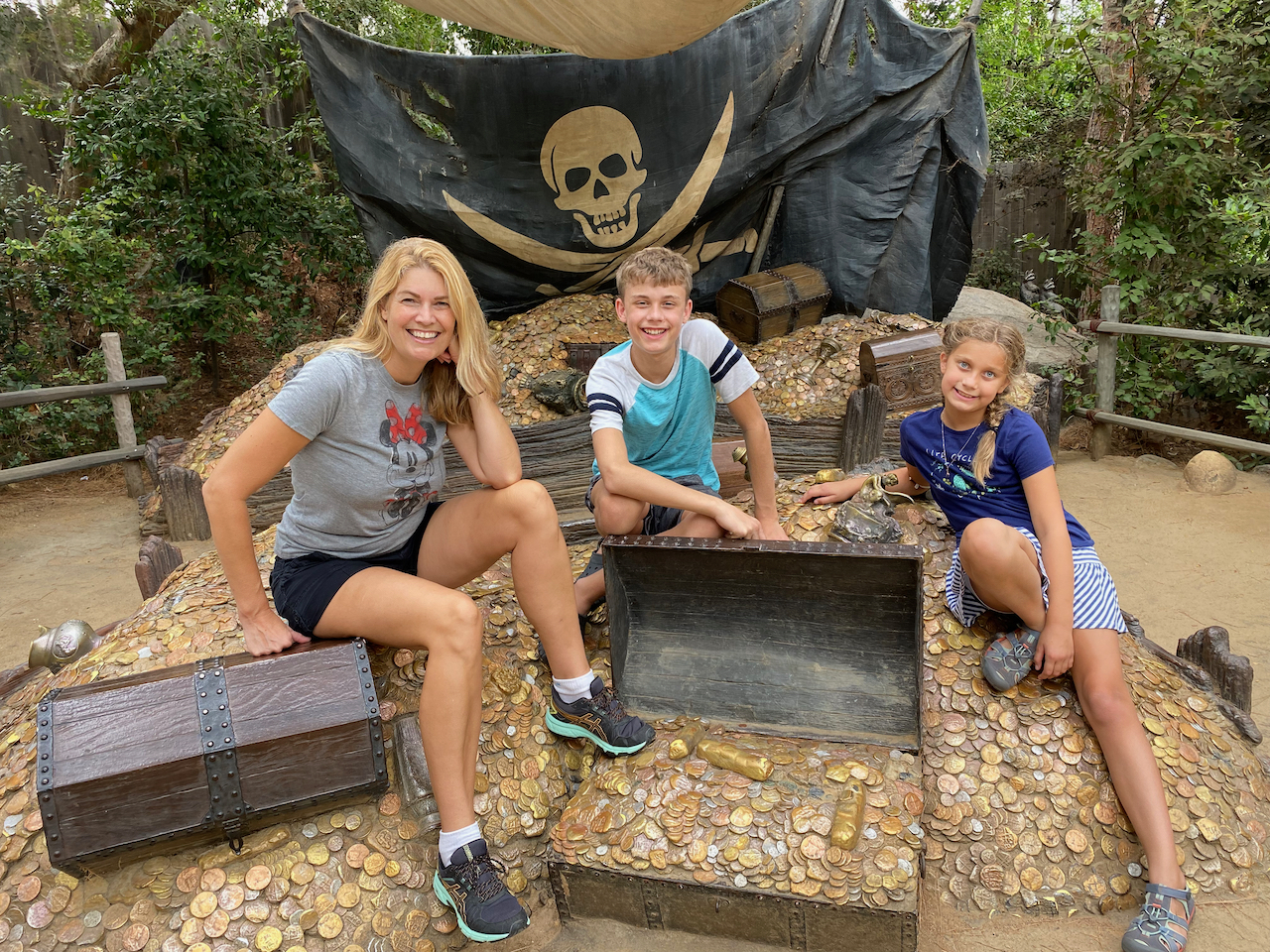 Disneyland is wonderful, but it can also be exhausting. Sometimes we need a little break from the crowds and craziness.  Let me clarify that I when I say "we," I'm talking about us as parents.  Kids, they're like energizer bunnies, they keep going and going and going.  I'm usually the the first one who needs to find some spots to relax at Disney to recharge my battery.
We've found a few places that we like to go that are perfect for a quick breather. Even better, these are places that the kids can still roam and explore while I sit back, relax, and recharge.  Here are our three favorite spots to visit inside the parks when mom or dad needs to chill for a minute or two.
Pirate's Lair on Tom Sawyer Island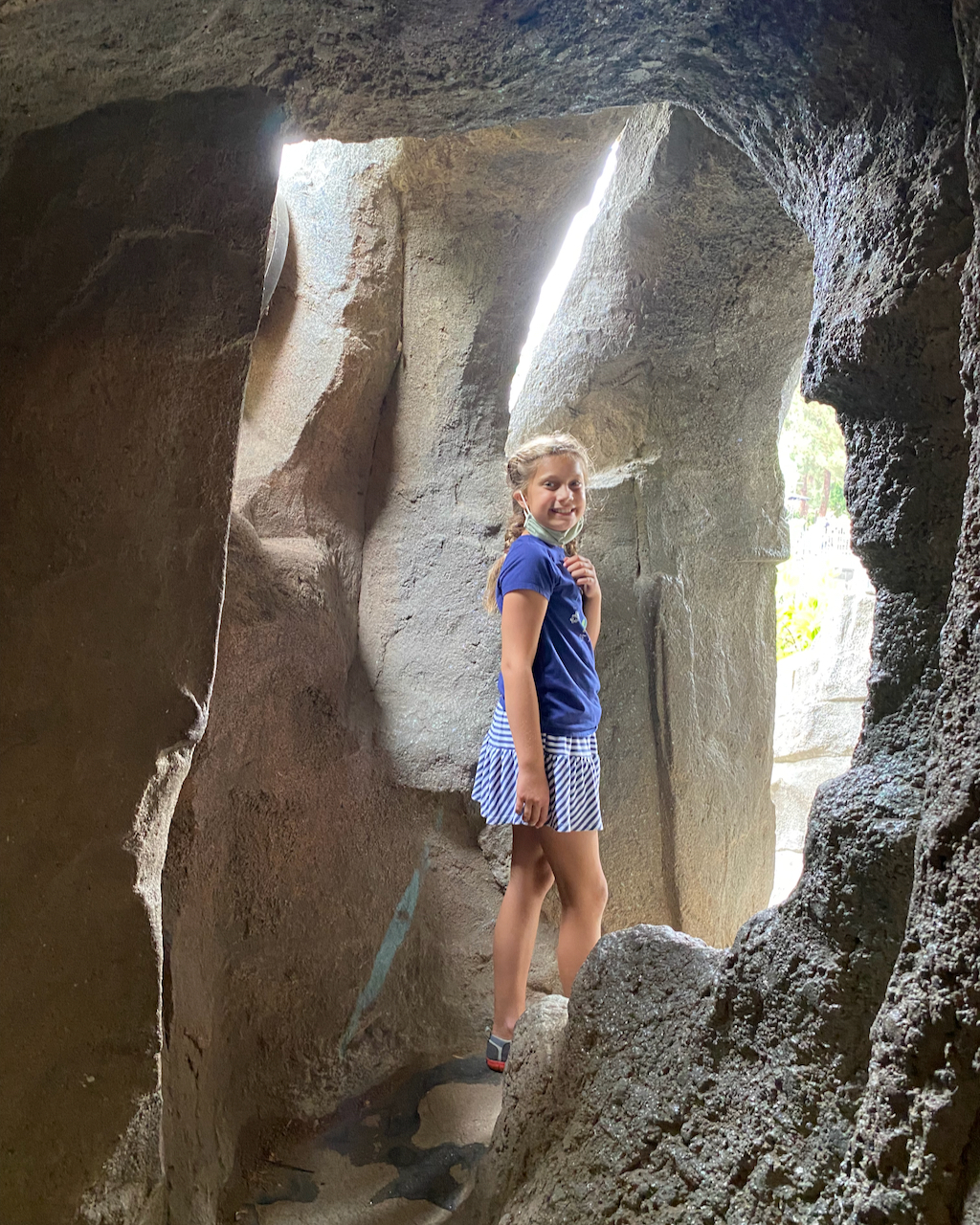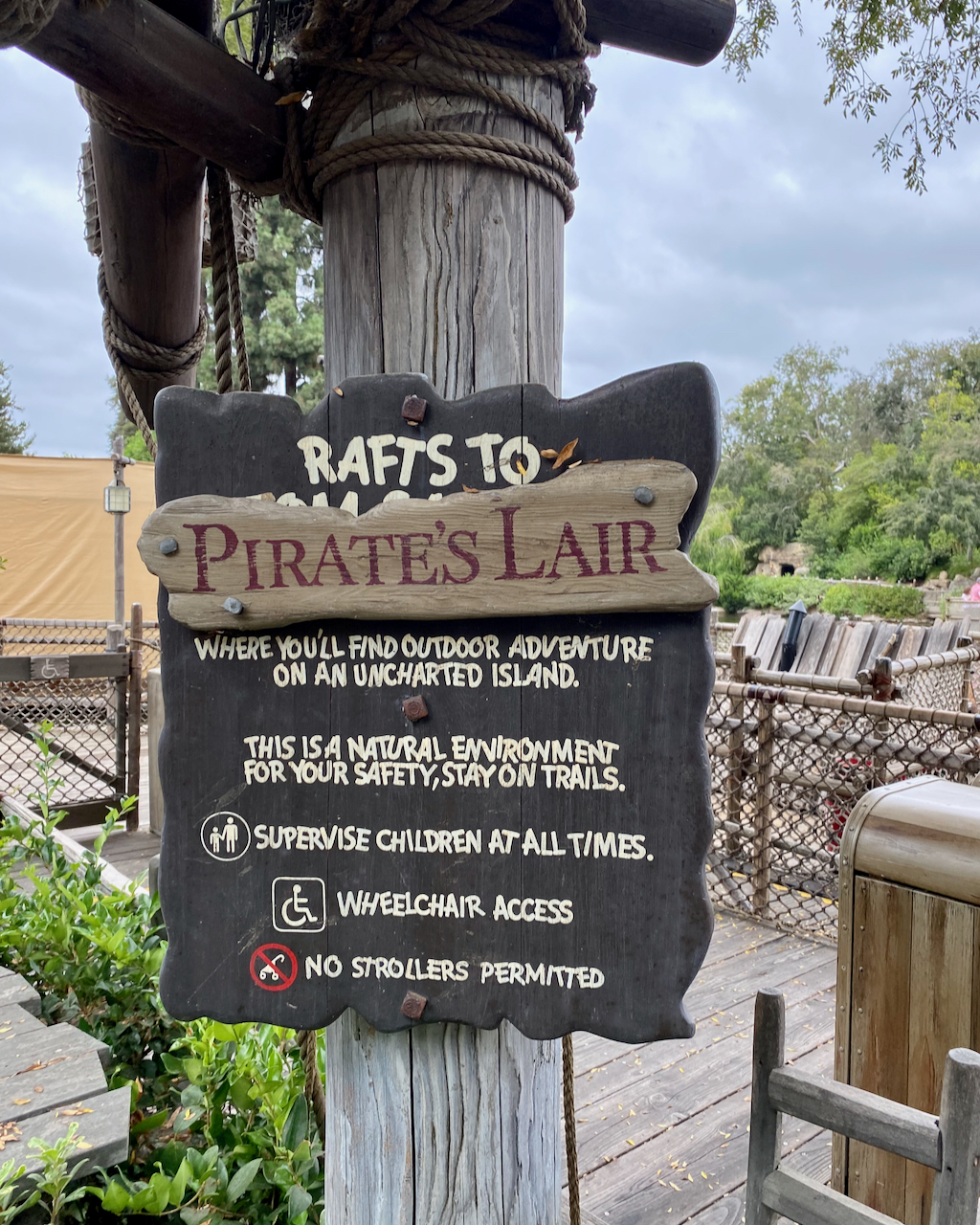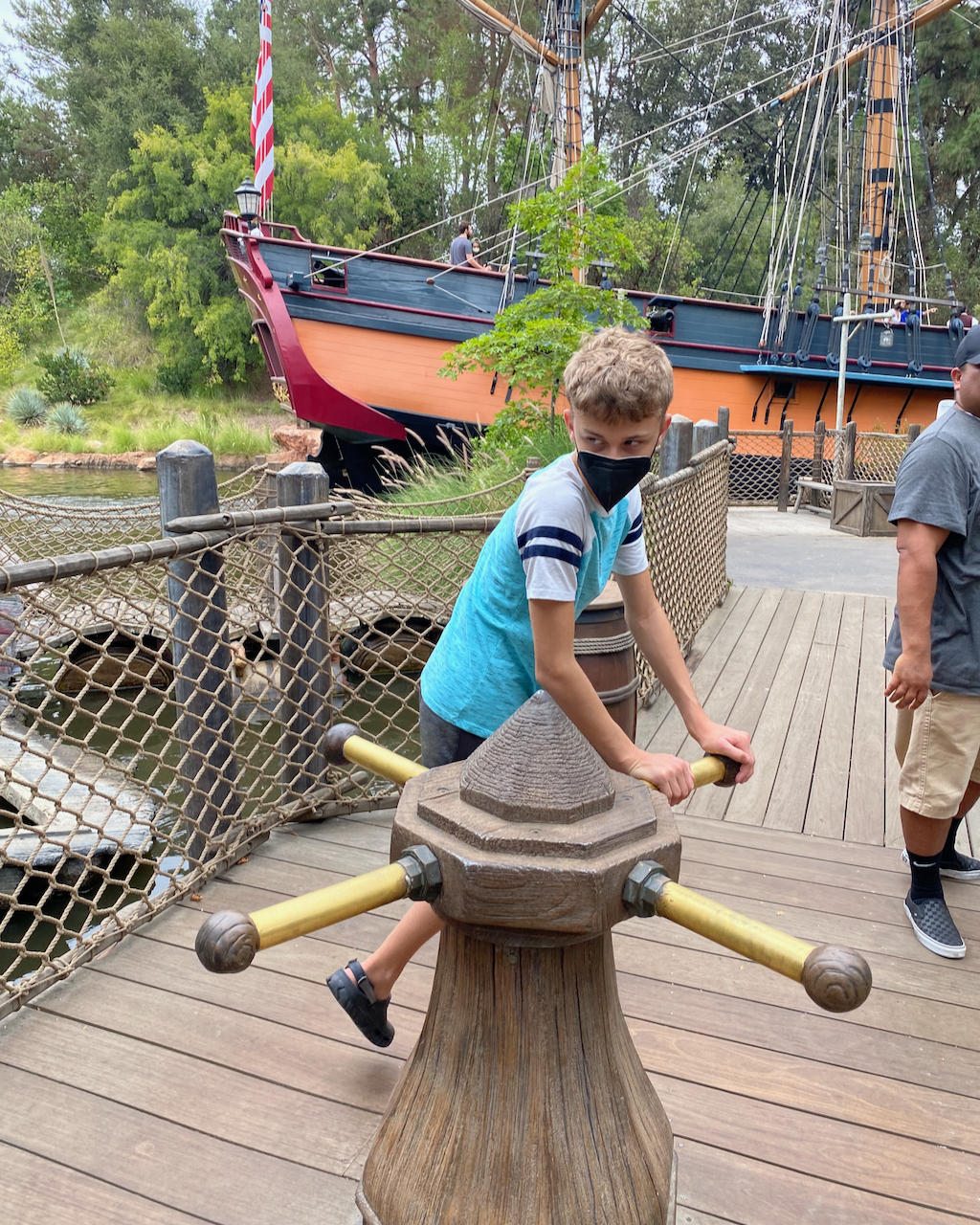 Pirate's Lair, on Tom Sawyer Island, is one of our favorite spots to relax at Disney and escape the crowds.  I love that it's an actual island.  You have to take the ferry to get to or from the island, so it's impossible for large crowds to wander over there.  In our many visits to the island it has never felt crowded.  Finding a spot on the island to just sit and relax while the kids play has never been a problem.
You can take as long as you want explore Tom Sawyer island.   My kids can seriously spend hours there.  Everytime we go we always find something new that we've not seen or experienced before — there are so many hidden coves and caves.
Another super cool thing about Tom Sawyer Island is that it has the distinction of being the only attraction designed by Walt Disney himself.  He designed the island to reflect the world created inside Mark Twain's stories and novels.  You definitely get a feel for that kid-like sense of adventure he was going for as you explore the island's inlets, coves, and trails.  In 2007 the island received a few swashbuckling enhancements which turned it into the Pirate's Lair on Tom Sawyer Island that it is today.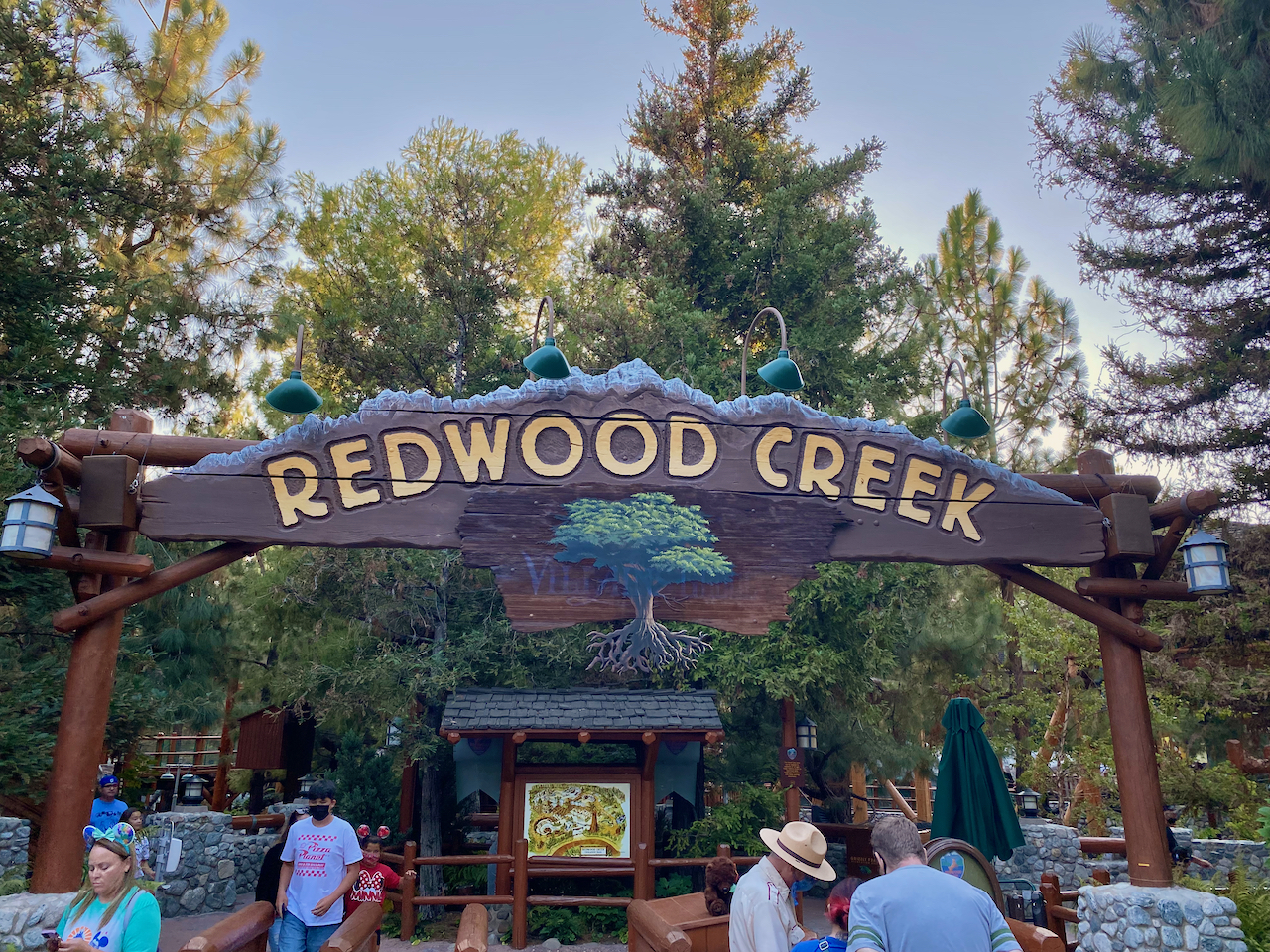 Redwood Creek Challenge is located inside Disney's California Adventure.  It is a walk-in attraction near the Grizzly Rapids. It is similar to Tom Sawyer Island in that it's a place where kids can roam and play in a safe space without constant oversight from parents.  It's essentially a giant playground nestled inside a redwood forest.  I love that there are many shady places for parents to relax while the kids burn some energy.  My kids love the play structure so much that once they are off climbing, crawling, and navigating the rope-net bridges it is sometimes hard to get them  back into the rest of the park.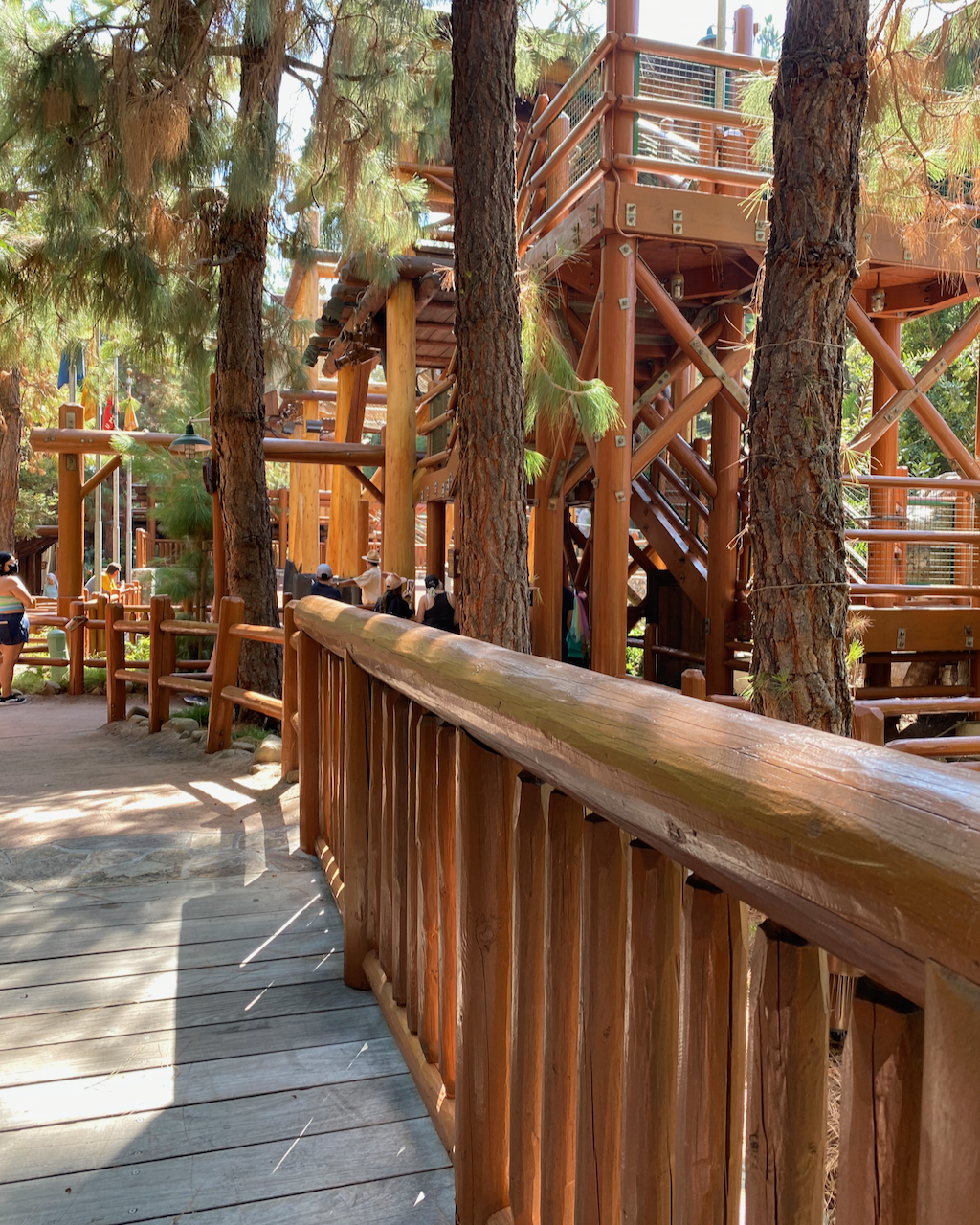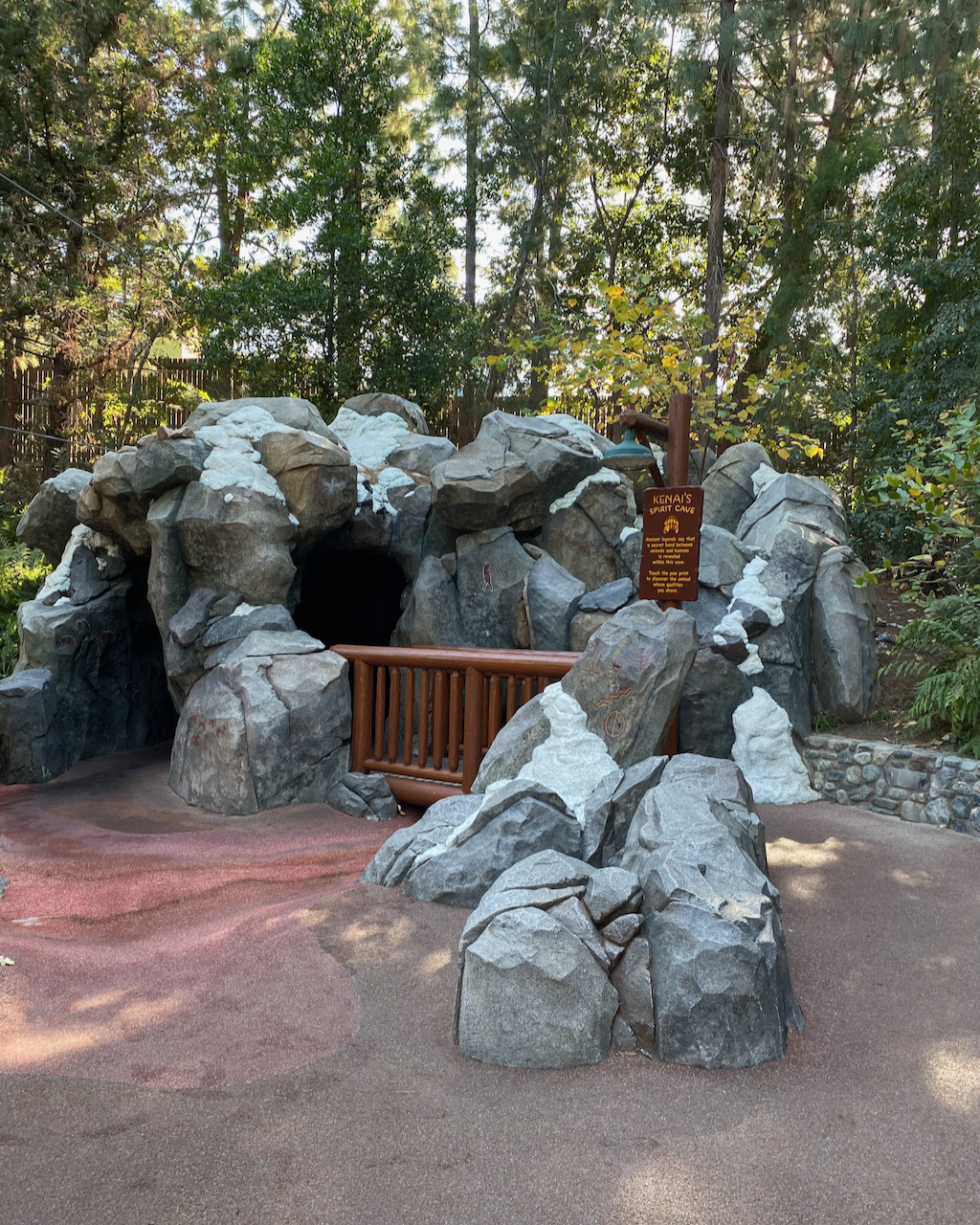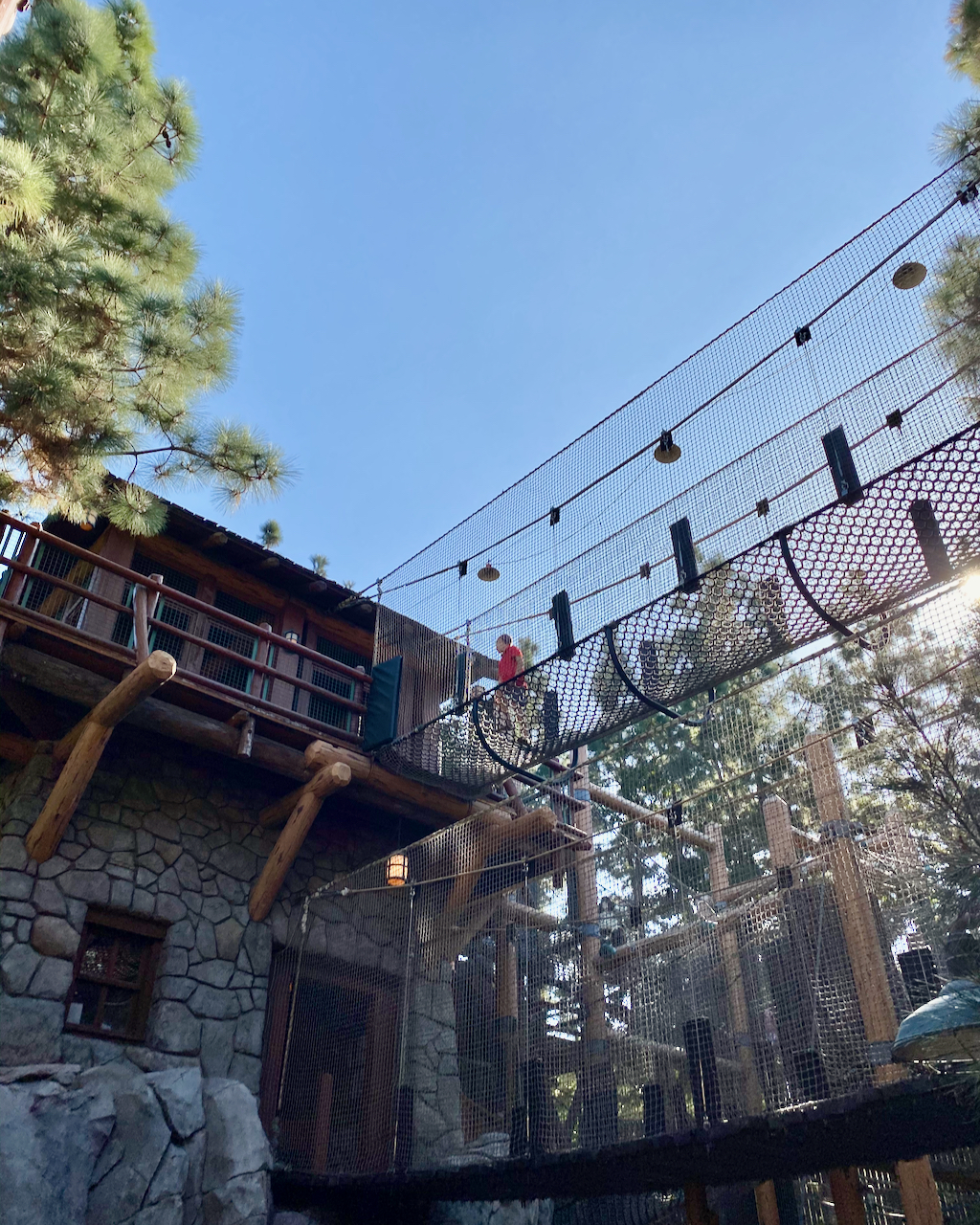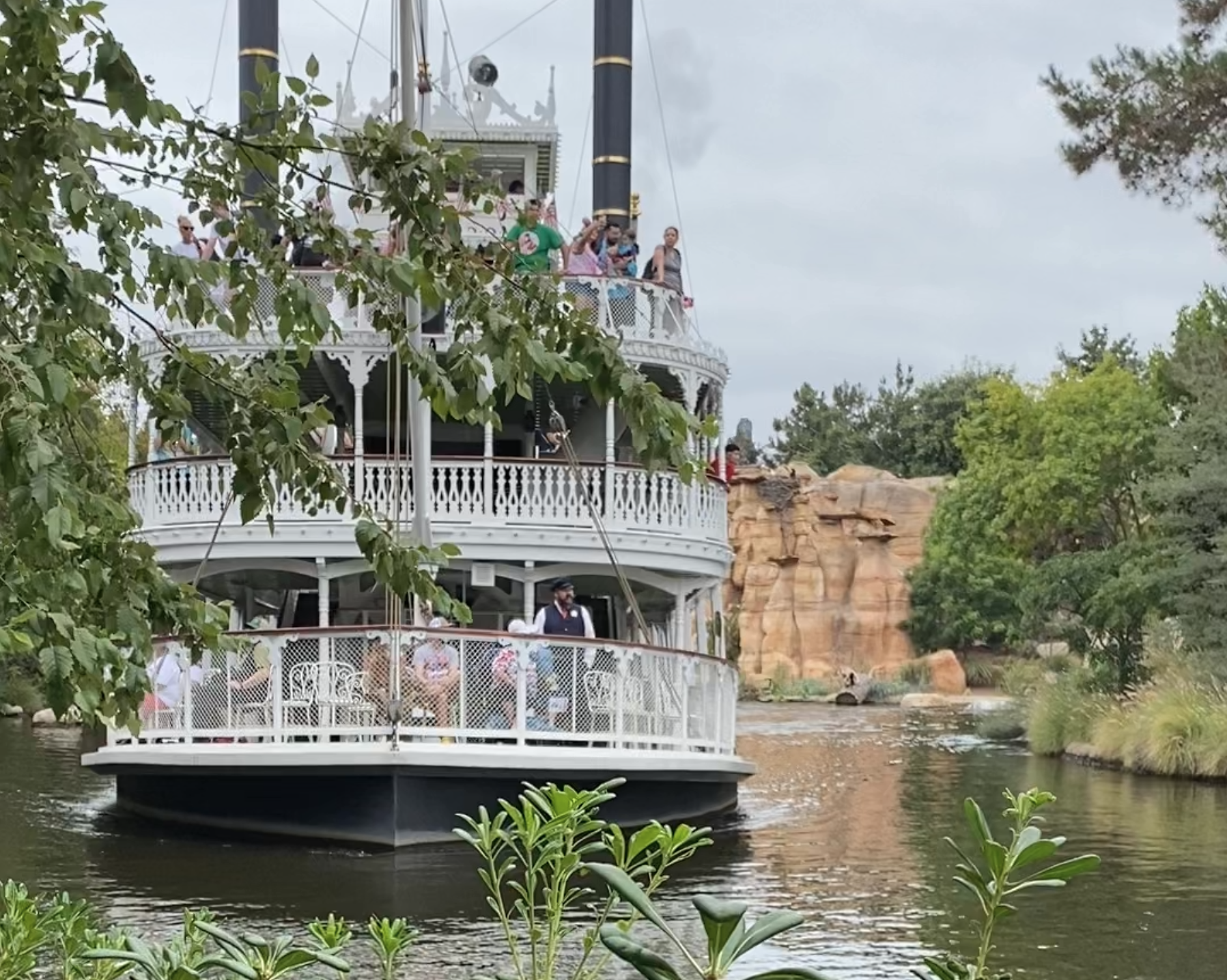 Our final favorite spot to relax at Disneyland is on the Mark Twain Riverboat.  This relaxation escape is great because the attraction is so calming. The sounds of the steam engine and the water rushing through the paddle could almost send you to dreamland. I've found there to be plenty of seating and spots to relax across the ship's three decks, so no need to stress out and rush to find a seat.  It's a perfect attraction to kick back and recharge as you take a 14 minute, 1/2 mile cruise along the rivers of America complete with various scenes of wildlife and adventure along the way.  You will find kids and adults alike enjoying experiencing a ride on a steam-powered paddle boat circling Tom Sawyer island.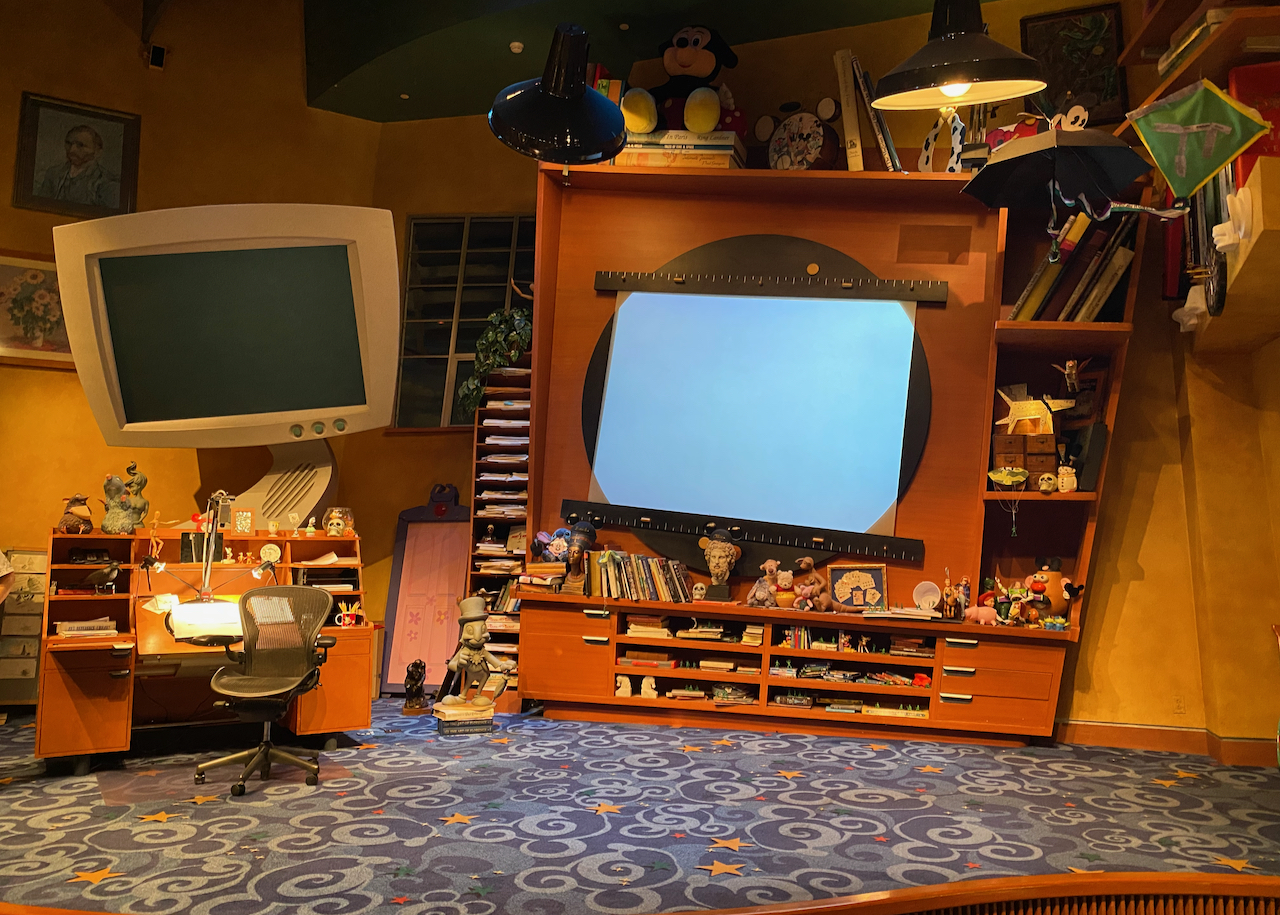 The Animation Academy is located in Hollywood Land at Disney's California Adventure.  It's one of my favorite spots to relax at Disney. It offers a fantastic, calm, air conditioned place to unwind while also allowing me to tap into my creative side.  
The Animation Academy experience is perfect for all ages and all levels.  You don't need to be great at drawing to have fun. As a matter of fact, you might think you are bad and will be delighted by what you are capable of.  There is a teacher at the front of the class that teaches you, step by step, how to sketch some of your most favorite Disney characters.  The best part is you get to keep your work of art.  It's seriously one of the best souvenirs from the park. Better, it's free!
You don't need reservations to get in.  Just show up inside the animation building and stand in the waiting area. After a bit, someone will come out and usher in the next "class" once space is available.  I've never had to wait more than 10 minutes to get into a class.  They are scheduled every 30 minutes and is well worth a visit.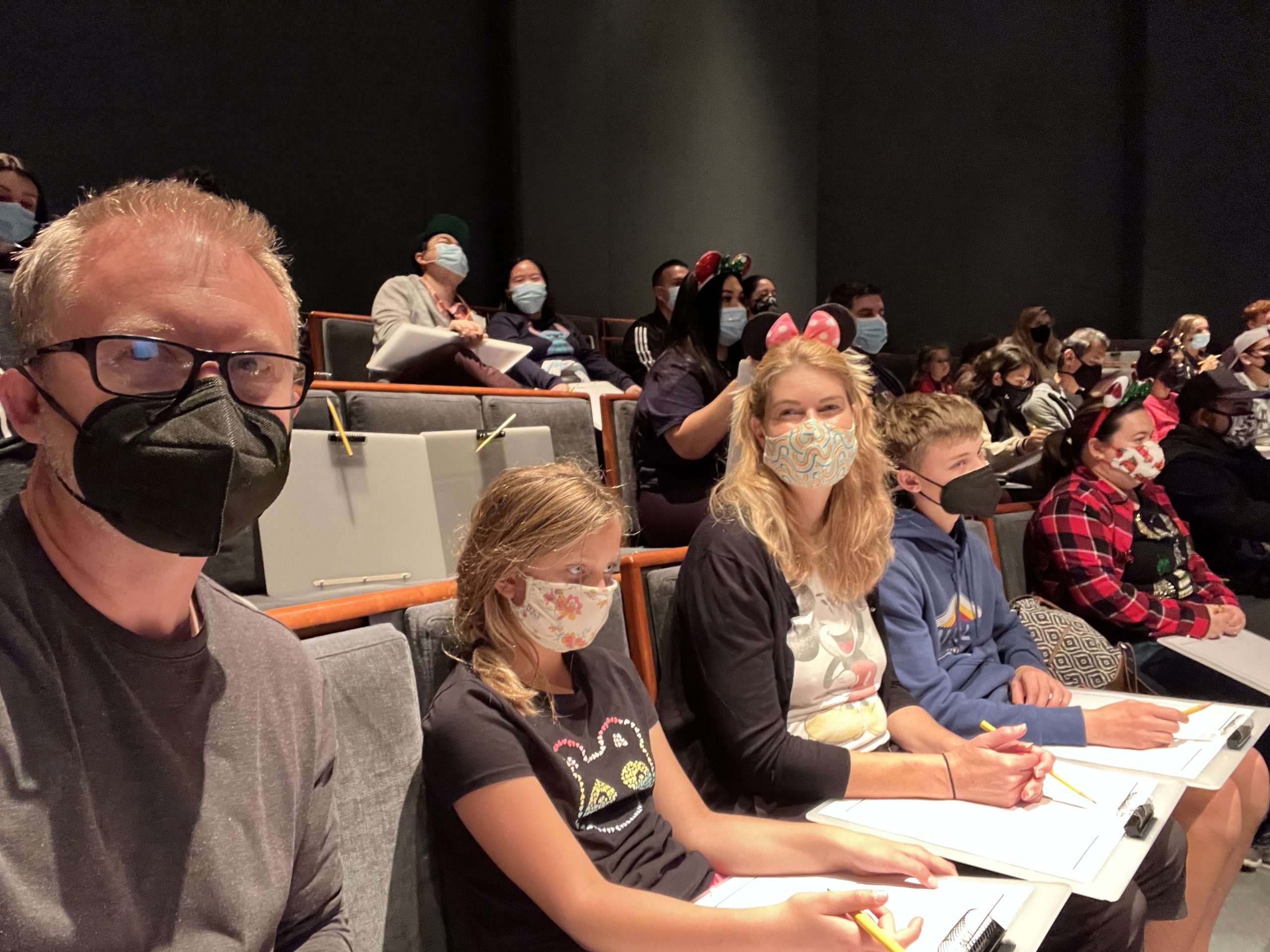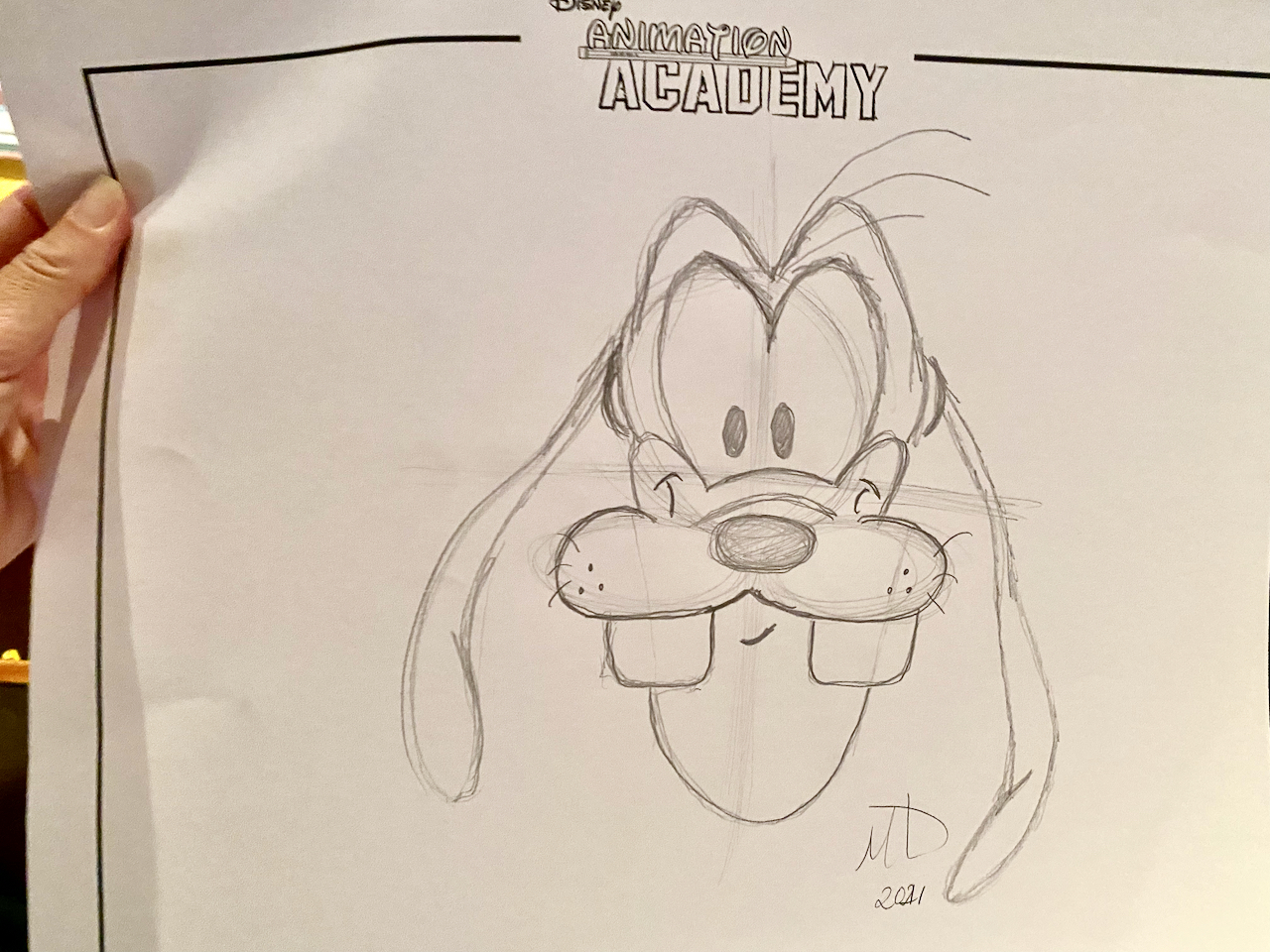 While there are many spots to escape, relax, and take a break from the crowds without leaving the Disneyland parks, these are our favorites..  Do you have a spot that isn't on the list?  I would love to hear from you.  If you want to read more about some of our Disney favorites check out Holding onto the Magic.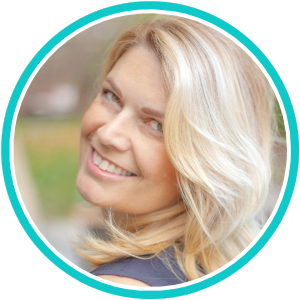 Mom of two and seeking sanity in the everyday. Let's chat about family, school struggles, travel, and living our best life. Located in the San Francisco Bay area.